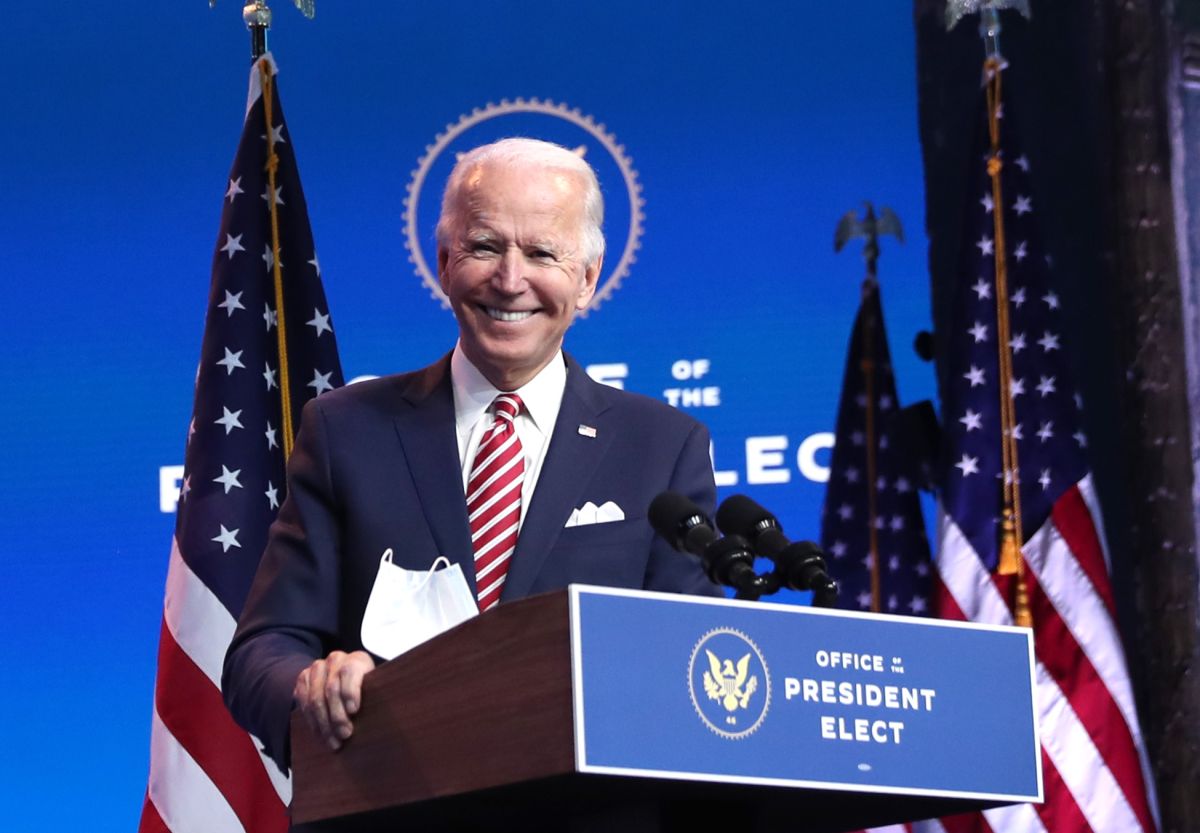 President-elect Joe Biden said Monday that he wants the economy to get back on track and for workers to get jobs back. But for this "you have to have the virus under control."
The Democrat, whom President Donald Trump is denying the transition process, anticipated a harsh winter and asked Congress to pass the stimulus package HEROES Act, passed by the House of Representatives six months ago with the sole support of Democrats.
In his first speech on the economy and after speaking with managers of companies such as GM, Microsoft and Target, as well as union leaders, Biden referred to this stimulus package, the most ambitious of all, $ 3 trillion, as a tool to create jobs and end what is already long-term unemployment due to COVID.
This package includes, among other measures, the granting of a check ($ 1,200) to consumers and key transfers to states and localities. "For that the federal government can have a deficit, so that positions in the local police and firefighters are not eliminated." For many economists this plan or a similar one was urgent months ago. Senate leader Mitch McConnell, Republican, supports one that is one-fifth of what the HEROES Act calls for and has not shown much rush to renegotiate either.
BIden made critical reference to the fact that Trump does not stop playing golf and misses the opportunity to leave the presence "on a positive note." "This is to keep the country afloat," he explained.
The president-elect explained that "more people can die if there is no coordination," given the sharp increase in COVID cases, and applauded the Republican governors who are issuing mandates to wear a mask. He supports a national mandate and when it comes to the vaccine he says he will not hesitate to get it.
The call for the approval of this stimulus comes at an important moment. All economic indicators are returning to trouble after most of the provisions of the CARES Act expire. On December 26 more than 13 million workers will lose unemployment insurance and it will be difficult to maintain demand if there is no stimulus that activates it.
Although he welcomed the advances of the Pfizer and Moderna vaccines with hope, the next president of the country said that while waiting to know what the Administration has thought about how to distribute it, it is convenient to ensure that the economy and families are maintained. In this sense, he said that both the employers with whom he has spoken and the unions agree on measures such as family leave, support for those who take care of children and small businesses, among other measures.
Biden said he is working to be ready on the first day of his presidency even if he does not have help from the current White House for the transition. As for finally having a concession and an orderly transition like there was when Trump won, Biden said he maintained "the hope that the president is slightly more enlightened."
The future president explained that he is committed to production in the US and the state contracts will reflect that, he has opted for investments in infrastructure, new technologies and the environment, all with a workforce with a reinforced union movement. He also reinforced the message of his campaign that there are going to be fiscal changes because "it is time to reward work and not just heritage"

eldiariony.com
Digsmak is a news publisher with over 12 years of reporting experiance; and have published in many industry leading publications and news sites.