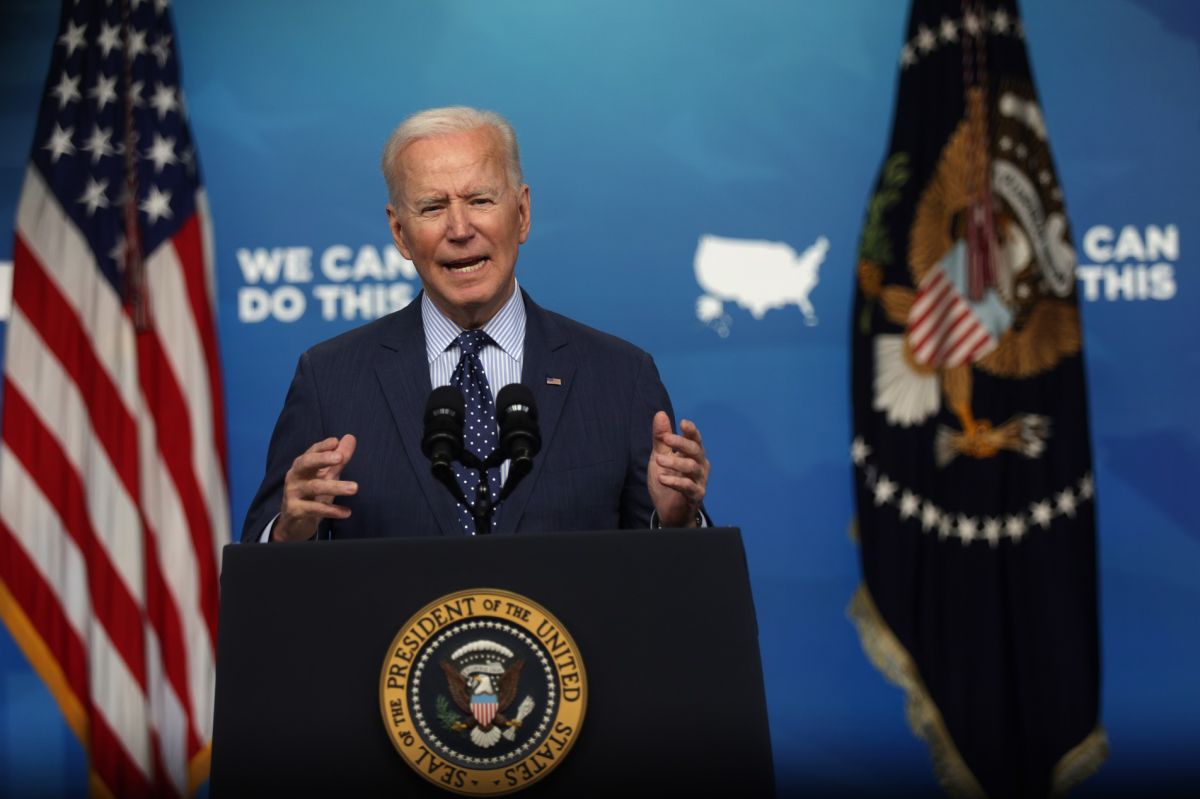 Foto:
Alex Wong / Getty Images
Although the United States has vaccines against COVID-19 for all its citizens, the country barely exceeds 49% of fully immunized people, amid a growing wave of infections with the Delta variant, therefore President Joe Biden asks state governments to offer $ 100 to those who will be vaccinated.
State and local government funds that can be used to increase the number of people vaccinated comes from the American Rescue Plan (ARP), which had already been used by some governments to offer different incentives to their residents.
"The American Rescue Plan … provided states, territories and localities with resources that can be used to provide incentives to increase vaccination rates," the White House said in a document. "The President will call on all states, territories, and local governments to use these funds … to provide $ 100 to anyone who gets vaccinated.".
The document lists four actions of the Biden Administration to improve vaccination levels, especially in southern and central regions of the country where coronavirus cases are increasing considerably.
The Biden Administration cites that the economic incentive has worked in several territories, such as when the Kroger grocery store began offering $ 100 to its employees, then vaccination rates increased from 50% to 75%.
"States like New Mexico, Ohio and Colorado have piloted $ 100 incentive programs that have also helped move the rate of vaccines," advanced the White House.
The Government also cites research from the University of California, Los Angeles, which notes that approximately one-third of unvaccinated people said a cash payment would be an incentive to receive a vaccine from Pfizer, Moderna, or Johnson and Johnson, which are those available in the US.
Reports from the Centers for Disease Control and Prevention (CDC) indicate that except for the states of Minnesotta, Wisconsin, New York, Pennsylvania, Michigan, New Jersey, Maryland and those corresponding to the New England region, where most of the counties with "moderate" cases are located, in the Most of the counties of the country, 63.45%, the infections go from "substantial" to "high", while they are entities with low vaccination rates.
Other actions
President Biden's new actions include pressure on federal employees, support for companies to incentivize their employees, among others.
Federal employees.- The Biden Administration asks all federal government employees and contractors to show that they have been vaccinated or must use easy protection, as well as maintain their physical distance from other co-workers. COVID-19 tests will also be ordered twice a week or weekly.
Protected military.- Recent official statistics indicate that between 30 and 40 percent of the military have not been vaccinated, so President Biden asks the Department of Defense to investigate how and when they will include the COVID-19 vaccine in the list of mandatory immunizations for members. from army. "This is particularly important because our troops serve in places around the world, many where vaccination rates are low and the disease is prevalent," it said.
Free time for workers.- The Biden Administration had urged employers to give their workers time off to get the vaccine, including days off – paid for by the government – in case of adverse reactions. ARP funds also apply to this program.

eldiariony.com
Eddie is an Australian news reporter with over 9 years in the industry and has published on Forbes and tech crunch.