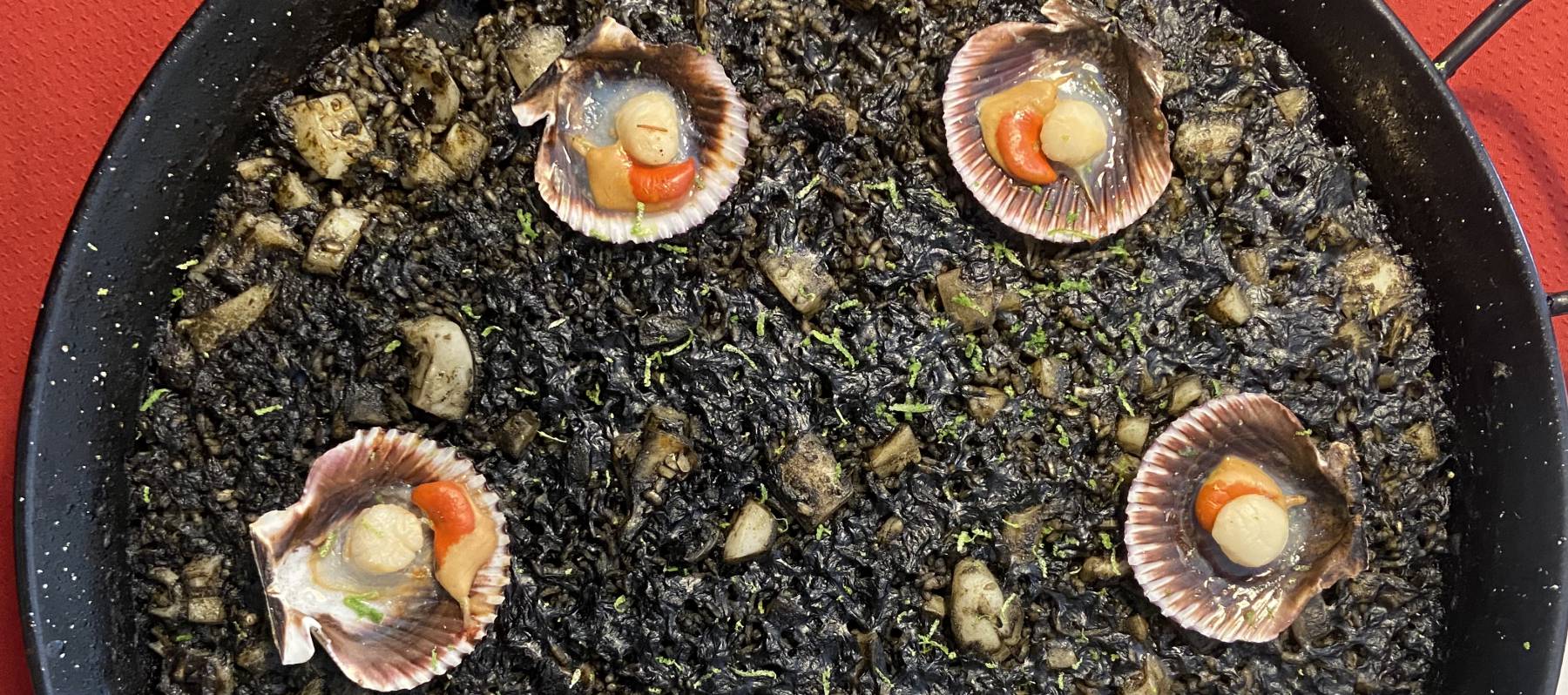 Black rice is a great way to dress a festive table with few ingredients, and take advantage of the mollusks that are not always used, such as the ink bag or the melsa (the spleen of the cuttlefish and squid, containing a substance of a color that can go from brownish to beige and tastes like pure marine umami). If you cannot find fresh cuttlefish or it is already clean, you can do without the melsa and buy the ink in the sachets that are usually found in the frozen section.
A powerful and very dry sauce -so that no water remains in it, which would soften the rice-, a tasty stock and some seafood or mollusks, in this case scallops, will finish off the rice game. Do not forget that few of the ingredients that you are going to put on top have the same cooking time as the rice; usually they need much less (something that we can easily fix by placing them on top when playing; if we want to briefly mark them before in a pan if it is shellfish and a good size).
If you don't have cuttlefish on hand, but you do have squid, they will serve exactly the same; If scallops are impossible to find in your area or you are on budget, you can use clams or mussels. Expect that the first ones will release a little water when they are opened on the rice, and put them four minutes before turning off the fire so that they do not overcook and remain chewy; the mussels are better to open them apart in a covered casserole, remove them as soon as they open and put them on top when turning off the heat (you can also add the juice they release to the broth).
If you don't want to add the lime zest and prefer to serve it as is, go ahead. If you want to serve it with all i was, go ahead too; In addition to serving it on the side as it has been done all your life, you can distribute dots with a bottle directly on top of the rice. That he all i was he repeats you but you don't want to get the rice bareback? In La Zorra they prepare a similar rice that topped with a hypnotic spiral of salmorejo: It may sound weird, but it's great.
Difficulty
The most difficult thing is to get the melsa of the cuttlefish, but you can also do it without it.
Ingredients
For 4 people
2 medium onions, chopped
2 small cuttlefish (about 400 g already clean) with their melsa and their ink bag
2 grated tomatoes
1 clove garlic
1.25 l of fish or shellfish stock
360 g of round rice
Olive oil
Shall
8 zamburiñas
Lime zest (optional)
Preparation
Peel and chop the onions, and fry in a paella pan over medium heat with a splash of oil, until they have completely dehydrated and are light brown (it is advisable to monitor and stir the sauce often).
Add the finely minced garlic when the onions are almost done so they don't burn. Add the tomato and cook over medium heat until the sauce is brown and quite dry.
Cut the bags of cuttlefish ink lengthwise with scissors, put it inside a stocking glass and stir with a fork to release it. Strain and return the stock with the rest. Heat the broth so that when you pour it over the rice it is boiling.
Add the small cuttlefish and, if necessary, a little more oil. Also add the contents of the melsa bag. Turn up the heat and brown it, turning for two or three minutes.
Add the rice and pearl until transparent. Spread it over the paella and pour all the broth at once. Stir once and cook for 15 minutes over medium heat -after 13, put the scallops on top-, rest for five more and serve, if you like with a little lime zest to refresh and add aroma.
If you make this recipe, share the result on your social networks with the hashtag #RecetasComidista. And if it goes wrong, complain to the Chef's Ombudsman by sending an email to [email protected]



elcomidista.elpais.com
Eddie is an Australian news reporter with over 9 years in the industry and has published on Forbes and tech crunch.