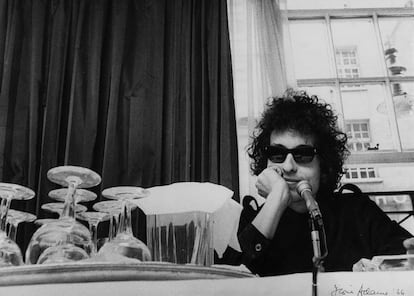 You can be walking quietly down the street when something suddenly bursts in and grabs your lapel and throws you into a Dylan song. His work is there as the backdrop in which people of different generations project and continue to look at and explain themselves. Probably there are not very great coincidences between what one finds and what another finds, and the one from beyond, in that immense repertoire in which there is a bit of everything. Bob Dylan has changed many times, hit hard brakes and spun dizzyingly (like a top). He ran away from being turned into a hieratic figure and, by becoming unpredictable, got into numerous eggplants. It doesn't matter, he turned 80 on Monday, so he's still there and he's still being considered.
What can be said at this point is that his songs no longer even belong to him, they belong to everyone, each one does whatever he wants with them. He loves them or vomits them, they can even provoke the most perfect indifference. Of course, the mark of his style remains beyond the letters and sounds and sneaks in as an essential part of the spirit of an era. The nasal voice, that fondness for compliments, the harmonica, the frayed thing, an intimate conviction in what is done (despite everything), the possibility of changing and changing everything: the road, the nomadic spirit, the eagerness to merge with the wide world.
The fact is that, indeed, it is very easy for an air blow to come and you land in Dylan's world. Let's put All Along the Watchtower. "There has to be a way out," says the first verse of the song, and a thousand times and in such different circumstances it will be repeated as many times as necessary: ​​there has to be a way out. Tearing or kicking or battering, running across an abandoned wasteland or leaning against a wall under a barrage of flashing neon signs in the center of a big city, in a teenager's room, or in a grandparent's hand who blesses his grandchildren, crossing a border or in a hospital bed fighting the covid.
There has to be a way out, a buffoon tells a thief about it, and there, in the tiny crossing of words between these curious characters, the world is largely summarized. Jimi Hendrix recorded it in Electric Ladyland, and it is also convenient to listen to the wail of his guitar for a moment to listen to the wail of the lynx to which the last verses allude. There is some tear in this piece, of tragic and distant and wise acceptance of the complications of life, but there is also a point of hope. Dylan made it and Hendrix made it and then Dave Matthews came along and made it his own like so many others. Each in their own way.
The history of a single song already shows the very different ways in which each one makes it their own. That is why Dylan is a vast universe that has many possible paths. "Two horsemen were approaching," he says at the end of that topic, "the wind began to roar." There we are, we continue watching from the watchtower, the roars that come from within remain unchanged, and the voices of the thief and the jester. And Dylan in the meantime, well that's where he is. Happy Birthday.

elpais.com
Eddie is an Australian news reporter with over 9 years in the industry and has published on Forbes and tech crunch.