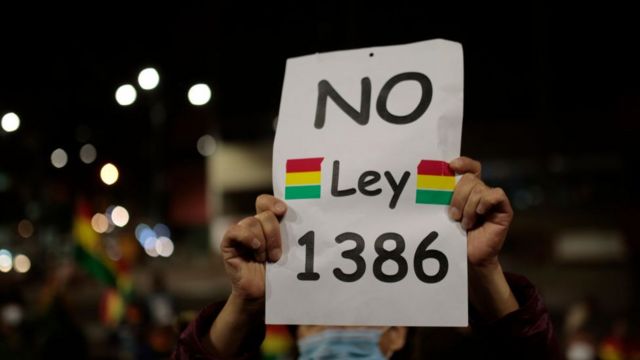 The president of Bolivia, Luis Arce, announced this week the repeal of Law 1386, also known as "mother law", which had generated a general strike, mobilizations and blockades in much of the territory of the South American country.
Arce asked Congress over the weekend to repeal or repeal the law, a process that began to be discussed this Monday.
"The country does not want more anxiety and uncertainty unnecessarily," said the president in a television message.
In this way, a large part of the unions and civic committees that had taken to the streets for about six days announced this Tuesday the cessation of the strike, but indicated that they will continue in "emergency and permanent mobilization".
The protests had started last week, after several months of tension after the approval in August of Law 1386 or mother law, which tried to impose a control against money laundering.
The law, officially called National Strategy to Combat Legitimation of Illicit Profits and Financing of Terrorism, has seven points, among which the one that establishes that the strategy indicated in the law may be modified by the president through a decree stands out.
Rejection
The law was considered by various social strata of Bolivia as an excess in the exercise of executive power.
Different Bolivian civic leaders indicated that the regulation sought to impose a "economic and financial totalitarianism".
For example, the National Committee for the Defense of Democracy noted in a statement issued after the approval by the Bolivian Congress was known that the law "seeks to generate financial intelligence actions against the population, control of the economic activities of the people, persecution and intimidation, exempting from all this process the main illegal activity that generates illicit profits, which is drug trafficking. "
Roberto Laserna, social researcher affiliated with the Center for the Study of Economic and Social Reality (Ceres), told BBC Mundo that the law was a direct blow to the Bolivian economy, which largely navigates informality.
"The sectors that came out to protest represent a large part of the country's demography and are important from an economic point of view, because they handle a large amount of resources but mostly operate in the informal economy, so they feared being affected by the new legislation ", he pointed.
After several weeks of lawsuits and the refusal of the central government to repeal the law, Unions and social organizations decided to take to the streets on November 8.
The protests were national in scope and were compared to those that ended with the removal of Evo Morales from power in 2019.
Remember that you can receive notifications from BBC News Mundo. Download the latest version of our app and activate them so you don't miss out on our best content.

www.bbc.com
Eddie is an Australian news reporter with over 9 years in the industry and has published on Forbes and tech crunch.