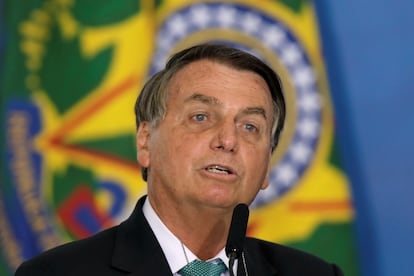 A few days ago, Maria Leusa Munduruku, one of the main indigenous leaders in the Amazon, asked for help on WhatsApp: "They are going to set my house on fire!" And his house burned. The miners had already destroyed the headquarters of the Mundurukus women's association weeks earlier. They also confronted the federal police and the Brazilian national force, who arrived in the Jacareacanga region, in the State of Pará, to put an end to illegal mining on indigenous lands by order of the Supreme Court, thus affecting one of the main Bolsonaro's bases of support. The miners reacted with the violence of those who believe themselves to be the owners of the country. The attack on the Munduruku leader illustrates the worsening of the Brazilian tragedy. Cornered, Bolsonaro becomes more dangerous and so do his followers, who have started a war against the state.
With 120 requests for impeachment Bolsonaro rotting in Congress, every day that the extreme right remains in power the internal war worsens. All efforts are aimed at neutralizing the attacks by Bolsonaro and his followers against Brazil. Illegal miners, public land thieves and loggers are their base of support in the Amazon. And Bolsonaro is his opportunity to legalize the crimes in the jungle. However, at this time, the government's actions to spread the coronavirus are being investigated in Congress and the president is losing popularity. Your allies know that the window of opportunity is closing.
The increase in the price of gold has given illegal mining on indigenous lands an even greater power of attraction, bringing new protagonists to the field of dispute. In the territory of the Yanomami people, one of the most affected, there are indications that mining is linked to the First Command of the Capital, the main faction of organized crime in Brazil. An estimated 20,000 miners already occupy a criminal enclave the size of 2,400 soccer fields. In May, the miners attacked the indigenous community of Palimiú several times and also attacked the police officers who had come to arrest them.
The miners want Congress to pass a bill that legalizes mining on indigenous lands. The project is part of what society has called a "package of evils." If approved, the few barriers that exist against the destruction of the forest will be broken down.
Without the support of Joe Biden and attacking China to please his followers, Bolsonaro finds himself isolated inside and outside the country. His own Minister of the Environment, Ricardo Salles, is being investigated for smuggling Amazon timber to Europe and the United States. Bolsonaro supports the unsustainable by fueling his bases. If it is not stopped, there will be more blood.
Translation of Meritxell Almarza.

elpais.com
Eddie is an Australian news reporter with over 9 years in the industry and has published on Forbes and tech crunch.