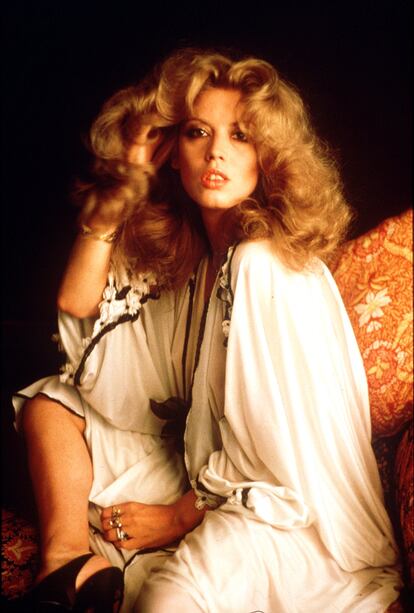 Next Tuesday the fourth season of Blood ties, on TVE and the first installment will star María Jiménez. I always remember the occasion when the singer went to Martian Chronicles to denounce the mistreatment of his partner, in several marriages, Pepe Sancho. It was not an easy visit, the tension was absolute in part because both, and especially him, were friends of the program. Jiménez recounted episodes of violence in detail and the day after the broadcast, Pepe Sancho responded angrily to the journalists who were waiting for him at the airport. The testimony of mistreatment was ignored, reducing it in the media to a "typical reaction of jealousy" (Sancho had a relationship with the writer Reyes Monforte). Or also as "the typical exclusive of a person used to selling everything".
The headlines underestimated these testimonies, taking advantage of Jiménez's personal circumstances. It is a problem that we have with violence and that could be repeating itself with the death of Samuel Luiz. We refuse to accept that it is present in our environment and that costs lives. Those who practice it take advantage of that weakness. So, The weekly country organized an extensive report on homophobia in which I have participated and where I answered questions about whether I have ever been assaulted for my sexual condition. Like many, I have a list. But I preferred to rescue that time when I was punched in the face while buying my ticket to see the premiere of the King Kong of Dino de Laurentiis in a movie theater in Caracas. I wasn't 13 years old, but I had been waiting for that premiere for months. I was always a fan of King Kong. Together with James Bond and Superman they were my intimate altar of male deities. Of King Kong I love his heart, version after version falls in love with the damsels he squeezes in his furry leather-textured hand. The first of his girlfriends was Fay Wray. In the De Laurentiis production, she was Jessica Lange, in her first role. All of that was in my head when I felt myself explode with a hard, dry, stunning blow. The assailant did not know me at all. He hit me that way because he was irritated by my mannerisms. And he broke my face, feeling he had every right to do so. I don't remember anyone coming to help me, not even the movie box office. I was alone, I always loved going to premieres alone. I waited for him to leave and got up off the ground. And I went to the movies. And I saw King Kong with a bloody and sore face. But I went to my premiere.
Perhaps due to that blow in my life premieres accumulate. And changes of government. This week in my gym they have talked about the Government. A partner questioned me, with the audacity of being both naked, if they had called me to become part of that change. A friend intercepted the bad vibes saying that although we are not assimilating it now, the changes of ministers and advisers will be good for the new Pedro Sánchez Government. Then, tidied up, at the kiosk I observed that Ramón García and his wife were divorcing, but in the loving plan of "we will continue to be family". Has the same happened between Pedro Sánchez and his former star adviser Iván Redondo, who woke up outside the Government on Sunday morning? As the separations are increasingly friendly, so is that of Paloma Cuevas and Enrique Ponce, who is very diplomatic, but with the strategy that no one gives up an inch. Even the Duke and Duchess of Sussex, separated from the British royal family, would be awarded an Emmy for their interview with Oprah. I am not meiga, but maybe Iván Redondo returns to the arms of the PP. Who knows what else can happen? We all have a King Kong inside and the right to a rerun.

elpais.com
Eddie is an Australian news reporter with over 9 years in the industry and has published on Forbes and tech crunch.