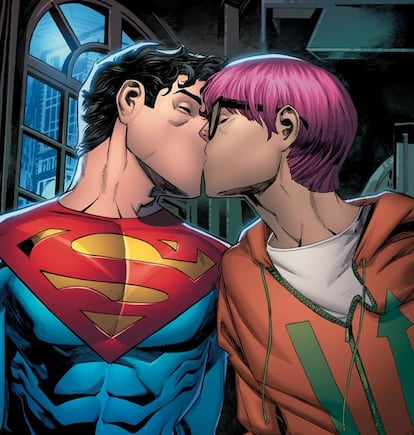 I really enjoy the recording of TVE's Christmas special Telepassion with Ana Obregón. Obregón begins each take with that word: "Enjoy", followed by a pearl from his famous anecdote. After a complicated scene, Ana comes over and says: "You have to avoid tension. They taught me that at the Actor's Studio. Lee Strasberg's wife, Paula, came, you know she was close to Marilyn and she said, 'Ana, what are you going to do today?' Maggie's monologue in The cat on the tin roof. 'Very good,' she told me, pointing to a piano parked in the corner. 'You are going to say the text trying to lift the piano with your hands.' I was blown away. I got to it and was reciting the text, Maggie complaining that she was not loved and at the same time trying to pick up the piano. It was impossible. And I said to Strasberg: I can't, can not. He blurted out: 'Ana, an actor can never be tense. And you are tense ".
Telling anecdotes Obregón is second to none. As a partner too. Listening to it, I remembered my meeting with the kings, Felipe and Letizia, in the anteroom of the Premio Planeta in Barcelona. Perhaps there is no city more tense to meet the kings than Barcelona. Everyone is nervous, probably because of that maximum requirement that the organizers enter when those titles, the King and the Queen, are combined inside a palace. It seems like a story.
With strict diligence, they squeezed a group of award-winners from the Planet into a room of the National Museum of Catalonia. There were no more than 20 people, I stood next to Eduardo Mendoza and Carmen Amoraga, awarded in 2010. Manel Fuentes joined, who, like Obregón, has a lot of training when it comes to waiting on filming and telling curiosities . There we wasted more than an hour. I don't think it was because the kings entertained themselves by reviewing the history of Catalonia but rather because of that excessive zeal of the organization that, as in all filming, wants to make sure they have the talent under control and at hand for when the scene starts. Especially when it comes to figuration without phrase.
After the hour of standing up and on the verge of dehydration, a member of the royal protocol entered who ran into our foursome near the door. "Don't move, please. You are very good for me, that there are familiar faces and that it is the first thing the Kings see, "he said with overwhelming sincerity. Letizia arrived first and the King slightly behind. I remember the Queen saying "man" twice, looking at Manel and me. Carmen and Eduardo greeted as expected and then the King said that he recognized me by my glasses. "Sir, they are new", I managed to say when their majesties were already directed towards another group of writers and familiar faces.
Even if you imagine it, you never know how your meeting with a head of state is going to go. But you appreciate that real and at the same time unreal component of the date. Perhaps a function of monarchies is that ability to add anecdotes to familiar faces.
Less anecdotal is going to be the appearance of Superman's bisexual son. Many people are excited about the gay kiss of Clark Kent's son and heir to superpowers. We always want the superheroes Batman, Superman, Wonder Woman, to expand sexual boundaries. It is also anecdotal about the king emeritus with female hormones. It has just been revealed by that supervillain, former commissioner Villarejo, who has revealed that the King Emeritus was secretly administered female hormones to attenuate his fiery libido. It was a way to neutralize a superpower. There are times when the present becomes an impossible script that not even the winning screenwriters on the Planet could get published.
Sign in to continue reading
Just by having an account you can read this article, it's free
Thanks for reading EL PAÍS

elpais.com
Eddie is an Australian news reporter with over 9 years in the industry and has published on Forbes and tech crunch.