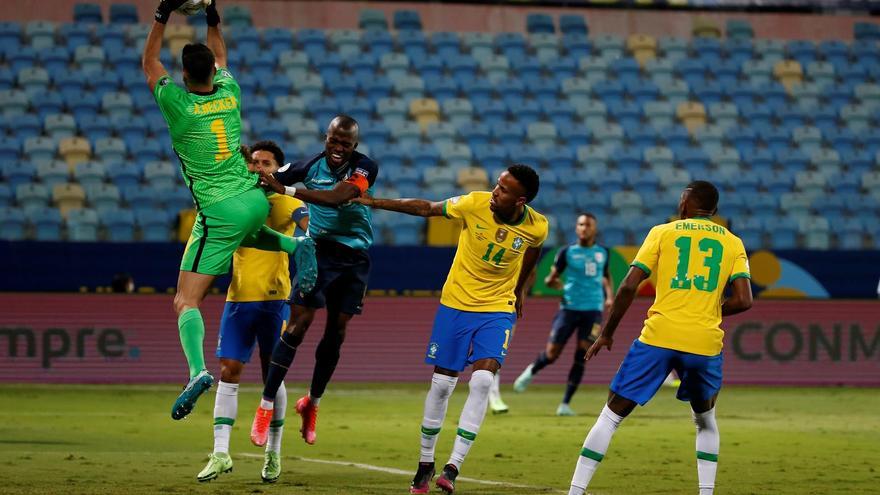 Brazil stumbles in its first exam without Neymar. With the classification and group leadership assured, The 'canarinha' gave up a 1-1 draw against Ecuador this Sunday, which will finally be in the quarterfinals of the Copa América thanks to the defeat of Venezuela against Peru.
The hosts, who will face Uruguay or Chile in the next round, dominated in the first half and took the lead with a brilliant header from Madrid's Éder Militao in the 37th minute at the Goiania Olympic Stadium.
The Copa América has already defined the eight teams that will play in the quarterfinals starting next Friday. In Group A, in the absence of the last day to be played this Monday, they have their passport stamped, Argentina, which has all the numbers to finish first, Paraguay, Chile and Uruguay. Now it remains to be known what the final placement will be. And in Group B, completed on Sunday, they have classified in this order: Brazil, which has added three victories and a draw, Peru, Colombia and Ecuador.
The quarter-final crosses will be defined this Monday, but it is already known that Brazil and Argentina have each been on each side of the table, so they will not meet until the hypothetical final on Saturday, July 10 at the Maracana.
With Neymar on the bench throughout the match, Tite's box deflated in the second half and allowed the Tricolor to add a gold point that Ángel Mena rescued from a pass from Enner Valencia with the head, in the 53rd minute.
Gustavo Alfaro's team will be in the quarterfinals without having achieved a single victory in this group B. They lost to Colombia (1-0) and drew with Venezuela (2-2), Peru (2-2) and Brazil (1-1) . Everything indicates that Argentina will be measured in the next round.
Brazil, for its part, has gone from more to less in this first phase, although it continues to be the rival to beat after defeating Venezuela (3-0), Peru (4-0) and Colombia (2-1) and drawing with Ecuador with nothing at stake (1-1).
Ecuador's slogan for this life-or-death duel was to lock itself behind and be as vertical as possible in attack. Little else can be done against a Brazil that until today had been intractable in this Copa América. For Tite, the game was one more experiment with a clear objective: to observe the offensive dynamics of the team without Neymar.
In the first minutes, the Ecuadorian team marked territory with two lukewarm shots from Valencia and Estupiñán. Valencia tried again from far away and almost did not surprise Alisson, who even stumbled as he backed away from the goal. And from there it was turned off and left to Brazil to write the rest of the script for the first half.
Paquetá tried to act as a leader and braided good plays with Gabigol, who wasted a luxury pass from the Olympique de Lyon midfielder that left him alone against Galíndez. Brazil was much superior, with a possession that touched 80%, but the truth is that, in general, they lacked some fluidity at the time of finalizing plays.
In the end it was a stopped ball from the right flank that unblocked the match in favor of the homeowners. Everton 'Cebolinha' centered a free kick into the area, where Militao rose between three Ecuadorian players to head crossed and inaugurate the scoreboard.
In the second half, Ecuador came out with another face and without scratching too much they found a life jacket in Mena's boots, who had come out in the first half to replace Caicedo. The tie originated in a strange sequence of clearances at the exit of a corner that ended up combing Valencia so that Mena shot with everything in the area.
Brazil was missing in action. He forgot to attack and lost the helm. Tite noticed it and brought Casemiro and Vinicius Júnior in, looking for a reaction. The Real Madrid winger revealed his problems with the goal also in the national team. Paquetá put him a temperate service within the area, but his former Flamengo teammate, with everything in his favor, did not hit between the three suits.
With fifteen minutes to go, Estupiñán launched a long free kick that forced Alisson to stretch. La Tri sought a historic victory, although in the end they had to settle for a point that tastes of glory and puts some doubts on the all-powerful Brazilian team.
Datasheet:
Brazil: Alisson, Emerson Royal, Marquinhos, Eder Militao, Renán Lodi (d.49 Danilo); Fabinho, Douglas Luiz (d.63 Casemiro), Lucas Paquetá (d.78 Everton Ribeiro); Everton 'Cebolinha' (m.78 Richarlison), Roberto Firmino (m.63 Vinicius Júnior) and 'Gabigol'.
Ecuador: Hernán Galíndez; Ángelo Preciado, Robert Arboleda, Piero Hincapié, Diego Palacios (d.72 Gonzalo Plata); Pervis Estupiñán; Jhegson Méndez, Moisés Caicedo (d.17 Ángel Mena), Alan Franco; Ayrton Preciado (m.84 Mario Pineida) and Enner Valencia (m.83 Leonardo Campana).
Goals: 1-0, m.37: Éder Militao; 1-1, m.53: Ángel Mena.
Referee: Chilean Roberto Tobar admonished Estupiñán.
Incidents: Match of the fifth and last day of group B of the Copa América in Brazil 2021, played at the Goiania Olympic Stadium. Without the presence of the public due to the coronavirus pandemic. There was a minute of silence for the victims of covid-19.



www.informacion.es
Eddie is an Australian news reporter with over 9 years in the industry and has published on Forbes and tech crunch.