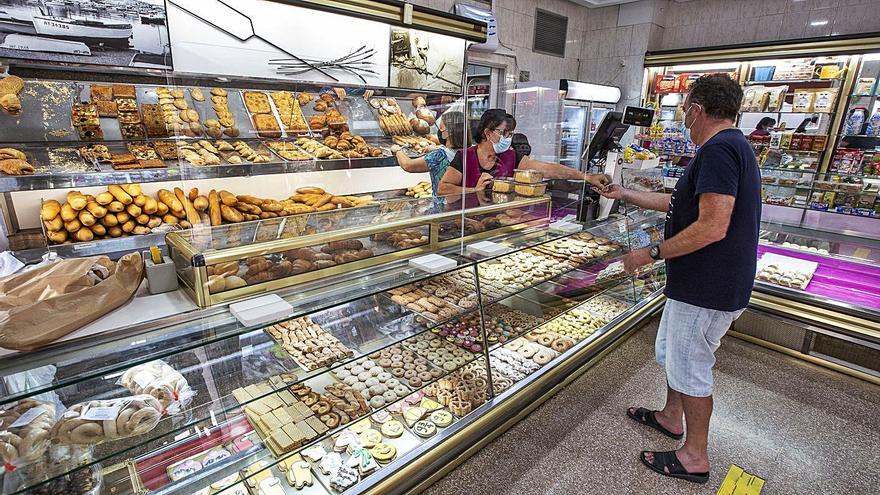 The first thing that stands out in El Campello related to bread is its consumption. There are many bakeries in the town for the population it has, although it is true that in summer the residents multiply. But also, according to the City Council, there are six ovens that make bread daily, and of them four are related by family. Curious. And at least a dozen bread dispatches survive despite competition from department stores and supermarkets.
Apparently, the origin of the baking tradition in El Campello was born in La Nucía. At the end of 1886, in the Church of the Immaculate of La Nucía, José Devesa and Josefa Ivorra, «the yayos», she was 15 years old and he was 25 and a widower of her sister, who will be known by "Pare Pep and mare Pepa", according to the book "Demography of the Devesa-Ivorra families", by Isabel Lledó Devesa. Both were born in La Nucía to modest and hard-working families.
The high birth rate of the time caused them to have eleven children, which they raised thanks to their job as bakers: Francisca, Esperanza, José, Tomás, Josefa, Dolores, Amparo, Juan, Miguel, María and Angélica. And they were all born with bread under their arms, since they took the baker's trade as a dowry to the marriage and they all set up their bakery dispersing throughout the province.
The eldest son, José Devesa Ivorra, married Vicenta Pérez Ivorra in La Nucía on Kings Day 1920. This marriage, "Uncle Pepe and Aunt Vicenta", is what is known as "the grandparents", and from here begins the saga of the bakers of El Campello.
The first oven of the saga is installed on Santa Teresa Street, where the Pérez Guash bakery is currently located. From there Miguel Pérez opens the second one on Calle San Vicente. This oven was leased for a few years by the Devesa Varó family, who were already making bread in La Vila Joiosa. When the Pérez family recovered their establishment after a business venture building fishing boats, the Varó family decided to set up their own business on Avenida de La Generalitat. The Luis Varó and Pepita Devesa marriage had five children, Juan Ramón (now deceased and who was mayor of the town), Pepe, Luis, Miguel and Vicente. After a few years, Pepe decided to become independent and opened JOYMA, an acronym for José and Mari, his wife, currently on Pal Street.
In addition, different marriages between families have caused surnames to appear in one or another family branch, giving rise to some curious coincidences and that the Pérez, the Varó and the Devesa family form a network of brothers and sisters, uncles and aunts, cousins ​​and cousins, brothers-in-law and sisters-in-law that extends throughout El Campello.
The business
Many things have in common these businesses. The first is respect for traditional elaboration. They are lifelong artisan bakers and defend the nutritional value and quality of their products, against industrial elaborations that compete with them in price.
They also share the concern for the progress of the sector: Pepe Varó Devesa, from JOYMA is categorical: «The tradition of bread is going to ruin. In a short time two bakeries have closed, one here next door with a hundred years old. Competition from supermarkets and hypermarkets is very influential, but the main problem is that people are not willing to work at night. Bakers' schedules are hard, you have to start at 2 or 3 in the morning and it doesn't end until mid-morning, so they lead a life the other way around than the rest of the mortals. "And you don't get rich with this, it's long hours and nobody wants the night," says Pepe Varó. The same vision is shared by his wife, Marita Carratalá, the only woman who has been mayor of El Campello to date.
Nieves Reyes, wife of Luis Varó, from the Varó bakery, remembers "when July 18 arrived, it was a national holiday, and you had to make double bread. They began to work on the 16th at 9 at night and ended on the 17th after 10 at night, 24 hours without stopping. There were no supermarkets or department stores and the ovens weren't enough. El Campello was full in summer with people who came on vacation. There were more than 5,000 bars a day, and now we are at about 500 ».
It is mainly tourism that opts more for the purchase of "easy" bread in hypermarkets, but the townspeople are increasingly returning to consume traditional bread. Pedro Boix, from the Miguel Pérez bakery, agrees that "production has dropped a lot and we don't work as before, the business is maintained thanks to the sale of dumplings, pastries, muffins and other products, but what it is the bread has gone down a lot ».
Inocencio López, who has been in charge of the Pérez Guash bakery for a few years after the retirement of its owners, points out that "this year things have improved a bit, but the past, with the restaurants closed, was a real disaster." We survive thanks to our loyal, lifelong customers who value well-made bread. Now we can make about 600 or 700 bars in summer and about 300 or 400 in winter. López recalls that a couple of years ago the Carrillo bakery closed due to retirement and that recently Hilario's was also permanently shuttered.
And for that reason, because in addition to surnames they share hopes, efforts, challenges, setbacks and difficulties, they continue to help each other when necessary, so that the bread comes out every day. "As God intended."

www.informacion.es
Eddie is an Australian news reporter with over 9 years in the industry and has published on Forbes and tech crunch.