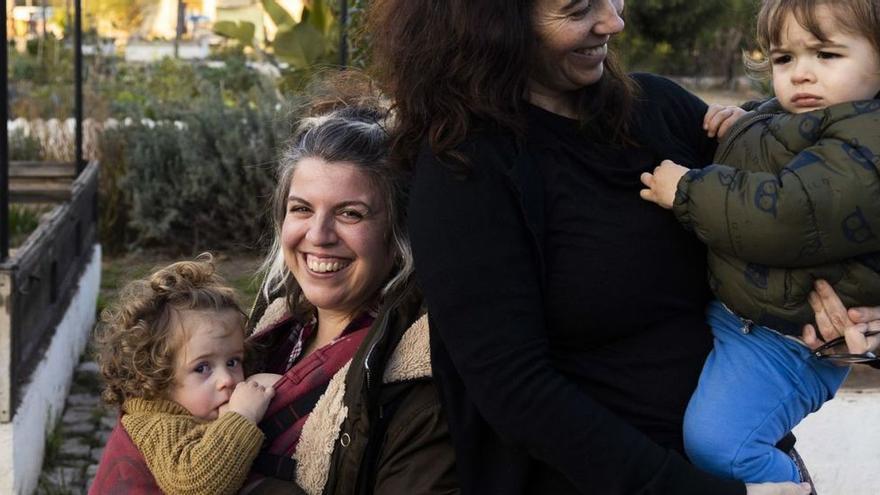 Carmen gave birth to her second son, Álex, on March 15, 2020. She did not know it then, but she had just given birth in the midst of a global pandemic. It was the second day of the state of alarm, a term with which the population would soon become familiar. Pregnancy, growing illusion, childbirth and finally, light. And now that? Once you have your child in your arms, among many other things that one has to adapt to, comes the feeding of the baby. Lactation. There is little information about her, so much so, that the last regional ones date from 2012 and the national ones from 2017.
According to INE figures, in the Valencian Community only 25.61% exclusively breastfeed their children until they are six months old; 14.53% do so in a mixed model, alternating breast and bottle, and 59.86% feed their baby at six months with artificial breast milk. Data from the 2017 National Health Survey show that, despite the fact that 73.9% of women breastfeed in the first six weeks of life, this percentage is reduced by half, 40%, when six months have passed. The World Health Organization recommends giving breast milk until six months of life and continue to breastfeed until at least two years old. However, this theory is far from the reality shown by the data. Why?
Although the experts assure that the data is currently better and much progress has been made, "There's still much to do"says Maite Hernández, coordinator of the Lactation Unit of the Hospital Doctor Peset, (a pioneer office, born in 2013, of care and research) and of the Baby-Friendly Hospital Initiative Network (the Initiative for the Humanization of Assistance to Birth and breastfeeding internationally) The why: "Women they do not have the support of society, the health system or the institutions to continue lactating. That is a clear and meridian summary", sentences the specialist.
No figures, no support
He says that the causes are many, beginning with the lack of interest. "We do not know how many women start to breastfeed. These figures are not collected. Despite the fact that many of them have difficulties in the first month, in 2017, almost 75% were exclusively breastfeeding. If they had the support they need, they would want to breastfeed", says the expert. Added to this is the return to work after four months of child-rearing, the difficulties of breastfeeding in certain spaces and the lobbies of artificial milk brands, which, "although it is now regulated, have made a dent in the collective imagination and are equated to breast milk, when it is not the same".
Mara is an example that, if there is support, breastfeeding is possible. Her daughter Antonina is now 17 months old and she has breastfed her since birth. But the beginnings were not easy. At first, due to several problems that came together, she couldn't get breastfeeding to work, which caused her a lot of psychological discomfort, because in the pandemic there were no breastfeeding groups or workshops with whom to share concerns and doubts and she felt that "it was a failure, that I was not able to feed my daughter". "for very feminist whatever you are, the patriarchy hit me like a thunderbolt, because breastfeeding wasn't working and I felt like it wasn't enough", she acknowledges. However, the health and specialist support reversed the situation. "Thanks to the breastfeeding group and the Peset unit, things started to flow when Antonina was two months old," she says.
Information, support and respect
For her, breastfeeding should have "a lot of support and a lot of respect." "If a woman does not want to breastfeed, it must be respected, but the decision must be made based on freedom and information", he adds. Above all, being informed. For Carmen, on the other hand, "the main problem lies in maternity leave, which is a laugh compared to what the WHO recommends, since it is reduced to four months", which causes, says, that "many women have to decide whether to give up breastfeeding or work".
She continues to breastfeed Álex thanks to the fact that, from the age of six months, she complements her diet with other foods. In addition, it points to the ignorance of women, but also of health professionals. "Society is not prepared for prolonged breastfeeding and this is reflected in policies, in hospitals it is known that breastfeeding is the best, but the reality is that between delivery rooms and the no lactation training; not all places have protocols and that is necessary and urgent" adds, for her part, Asunción Obiol, president of the Associació de Comares of the Valencian Community.
The experts point out that it is scientifically proven that breastfeeding is beneficial for both the baby and the mother. "It decreases the probability of illnesses for both and improves the development of the boy or girl," says Obiol. Maite Hernández points out that "Breastfeeding is the public health tool par excellence" and that protecting and promoting it "is a responsibility of society to get healthier people, with stable jobs, reduce health costs, costs to families, but we do nothing to protect it".
"It's not that mothers don't know, it's that there are many interests against", sentence. In fact, adds the expert, international voices say that for every euro that is invested in breastfeeding, there are 35 return in public health. "The health of our population is at stake, so it is important to be aware and invest in breastfeeding.

www.informacion.es
Eddie is an Australian news reporter with over 9 years in the industry and has published on Forbes and tech crunch.