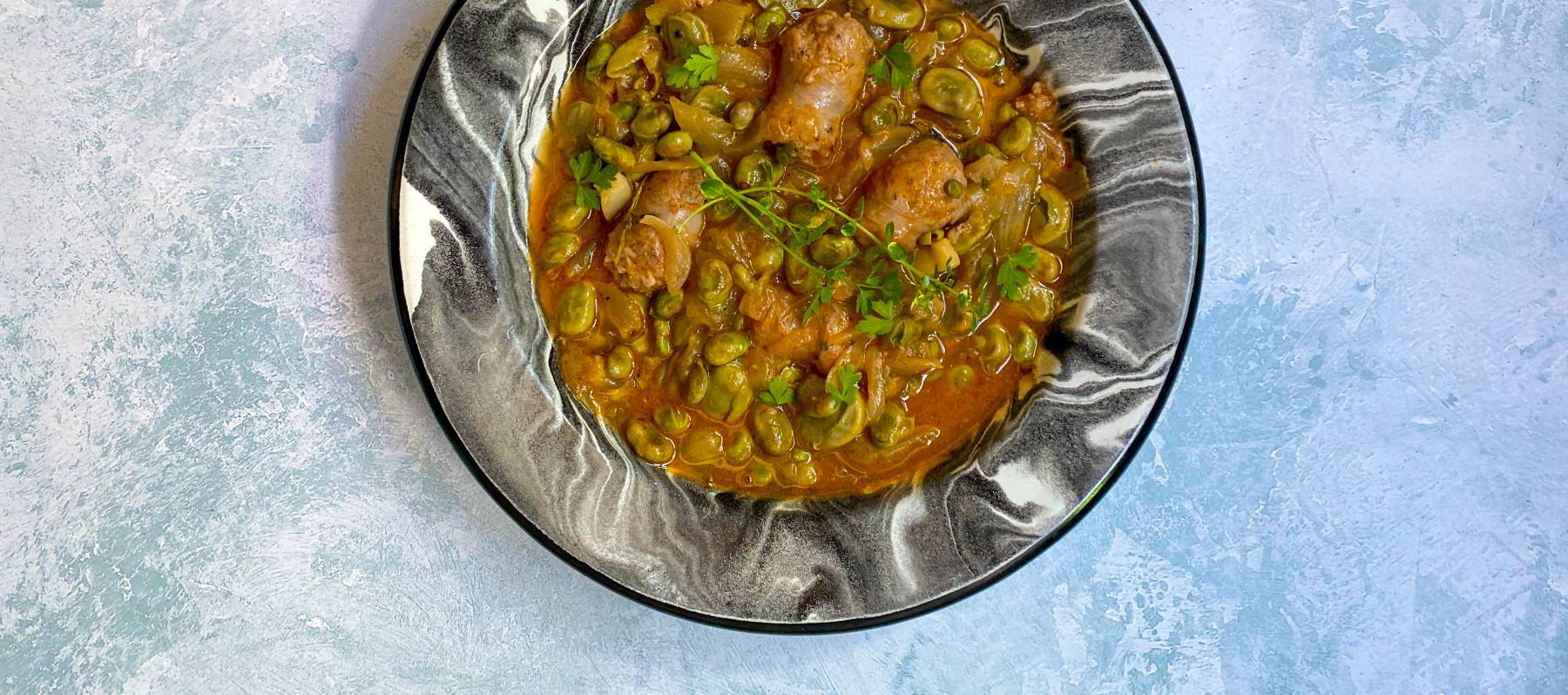 It is bean season, and those of us who enjoy peeling them more than with a session of mindfulness and ASMR together we celebrate it by exercising everything it gives. Every time someone says "oh, fresh beans, how tasty but how lazy" we become resigned and offer to peel them "if no one else wants to do it" so that later they applaud us for it and also not have to put the dishwasher (we are weird, but not stupid). We are already one step closer to eating this platazo.
The culinary expertise required by this recipe is almost nil, but you have to do another – yes, another – manual work, separating the small ones from the large ones. If all the beans we have are more or less the same size, it will not be necessary to cook them in two stages; If they are all small, we can let the liquid chosen for the stew evaporate a little, so in addition to obtaining a sauce with more body we make sure that the sausages are not raw inside.
If we do not have fresh beans on hand, we can use them frozen following the same system, or candied adding them only at the last minute. We can also adapt the recipe with some good fresh peas, or with already cooked legumes such as chickpeas or dried beans. Likewise, we can substitute the raw sausage for other cooked ones -white, black, perol or any of its relatives, such as black pudding or chorizo-, cured bacon, ham or a few prawns or prawns.
If you don't want to add any meat or sausages of animal origin to your plate, you can accompany the beans with another delicious seasonal ingredient: artichokes. As these need a little longer cooking, you can pre-braise them, or cook them a little in the microwave so that both ingredients are ready at the same time. Some fresh mint leaves, some slightly toasted pine nuts, an egg poached or cooked for five minutes – or a yolk cured in sugar and salt or soy sauce – will finish the dish with joy.
Difficulty
The one to remove the beans from the pod and separate them into two sizes.
Ingredients
For 4 people
600 g of broad beans (weight already shelled)
2 fresh sausages or sausages
1 onion
100 ml of water, white wine, broth or a mixture
Virgin olive oil
1 tomato
A teaspoon of fresh thyme leaves (¼ if dry)
Shall
Pepper
Parsley (optional)
Preparation
If there are very different sizes, separate the largest from the smallest.
Cut the sausages into bite-sized pieces. In a saucepan with a little oil, brown the onion over medium heat.
When it starts to smell good, add the grated tomato, and stir for a minute.
Add the sausages and stir the sauce for a couple or three more minutes, until the onion and sausage are golden brown.
Add the beans of the largest size and the chosen liquid, a little salt and the thyme. Cook over medium heat for about five minutes or until the beans are almost done. Add the smallest beans and cook all together for another three minutes.
Season with salt and pepper and serve, if you like with a little chopped parsley on top.
If you make this recipe, share the result on your social networks with the hashtag #RecetasComidista. And if it goes wrong, complain to the Chef's Ombudsman by sending an email to [email protected]

elcomidista.elpais.com
Eddie is an Australian news reporter with over 9 years in the industry and has published on Forbes and tech crunch.