There is a melody that inevitably transports Emilio Aragón (Havana, 62 years old) back to his childhood: And what have you done, of the Cuban Eusebio Delfin. Another leads him to a rookie seduction, Hotel Californiaof the Eagles. "It is the first song that I danced with my wife," he acknowledged on Monday by phone. A slow and difficult song to accompany with dance, which caused a laugh in the actor, presenter and producer: "At that time it was what we put to be caught." After 15 years without being in front of the cameras, the strength and emotion of memories like these have made Aragón return to that television that it helped to renew in the nineties with programs such as VIP, The great game of the goose or the series Family doctor. B.S.O. is a Movistar + program that, starting on Wednesday, June 2, will be attended by directors Javier Calvo and Javier Ambrossi, the singer Raphael, the actress Belén Rueda and the soccer player Joaquín Sánchez, who will talk with Aragón about that music together with their biographies.

The return of Emilio Aragón to television and to his origins
"I never wanted to disassociate myself from television, my intention was to develop new projects. Now I'm with an adaptation of a novel, I directed a series, Pulsations, I also got involved with writing … ", reflected the producer and businessman, who was also honorary president of La Sexta. With this new project he can exploit his facet as a musician, which he exercises under the alias Bebo San Juan. "I use that name to develop my Cuban Latin part, it is a wink to my mother," he says. Together with musicians such as Silvia Pérez Cruz, Cristian de Moret or the saxophonist Llibert Fortuny, they will perform those titles that marked the lives of the guests, who will even join in with their voice or with some choreography. And in the end, another surprise: Bebo San Juan will dedicate a composition of his own to add one more to his list of songs to remember.
I never wanted to disassociate myself from television, my intention was to develop new projects

Emilio Aragon
Aragón has been especially excited to be able to act alongside Raphael. "I admire and respect him. When I was about 13 years old and he was in Puerto Rico, my father [el payaso Miliki] He took me to his dressing room. Imagine the illusion that it has made me ", he confesses. He leaves a gap in his program for new voices, such as María José Llergo, who has left him shocked; without forgetting great icons like Kiko Veneno. "I wanted him to sing his own song, selfishly. There are others, for example, Patio de naranjos, that instead of an Andalusian interpreting it, Andrés Suárez does it, a Galician who gives it another touch. The staging of each concert is so impressive that they look like video clips ", he points out. He was drawn to the emotion and creativity of the rehearsals in situ, to change on the fly on set, away from the static of home rehearsals.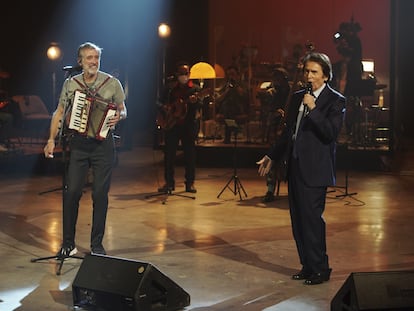 The constant pulse between the old and the modern is present not only in the interviewees, who are diverse, but also in their way of understanding the sector: "I am romantic, and I like facilities. I fondly remember vinyl, the sound of the needle is special, but we also have great opportunities with platforms like Apple and Spotify". That idea is extrapolated to his personal situation: he is a celebrity, although so many years without exposing himself to the spotlight have kept him away from the youngest. It does not worry him, he knows that characters like los Javis they can appeal to all ages.
As a professional, he takes the motto to renew or die very seriously: listen to music at all hours, in the bathroom, in the study, in the car … And he does not stay with the known, he dives and creates lists with discoveries of all the styles; jazz, hip hop, folklore, classical … He even goes one step further and wants to learn to play a new instrument: "In September I'm going to join cello with my grandson."
You can follow EL PAÍS TELEVISIÓN on Twitter or sign up here to receive our weekly newsletter.



elpais.com
Eddie is an Australian news reporter with over 9 years in the industry and has published on Forbes and tech crunch.