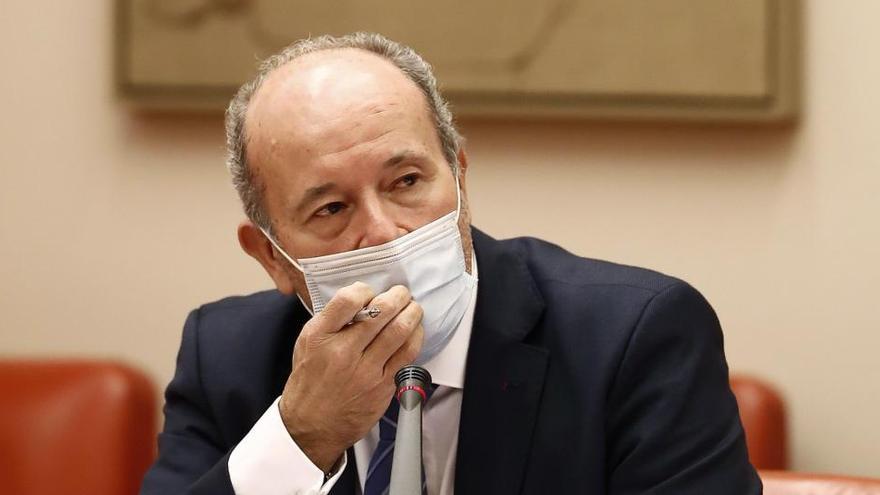 The Minister of Justice, Juan Carlos Campo, has reiterated this Monday from the Congress of Deputies its call to the PP to "pitch in" to reach an agreement for the renewal of the General Council of the Judiciary (CGPJ) –which has been pending for two years–, although at the same time Time has defended the proposal of PSOE and United We Can prevent a CGPJ from making discretionary appointments while said agreement does not reach.
"I ask you to reconsider, to return to the complete constitutional path and reconsider in the renewal of the constitutional bodies, because they know there is no alternative", has urged the PP during an appearance in the Justice Commission.
Campo has influenced the idea that the renewal of the CGPJ is a constitutional mandate that compels both the PSOE and the PP because they are the ones who can make up the majority of three-fifths that currently establishes the Magna Carta to designate the twelve members from the judicial turn . "The constituent wanted those who make up the three fifths to contribute and pitch in, and that's where you come in. Therefore, contribute ", has urged them.
The minister has trusted that the blockade imposed by the PP "will be remedied soon", but until then he has defended that "the clock of democracy cannot be stopped", claiming that the will of the constituent of 78 was also clear when establishing that the CGPJ should be renewed after five years.
Thus, it has supported the latest bill presented by PSOE and United We Can to limit the functions of an expired CGPJ and has called "no one to panic", arguing that the current Organic Law of the Judicial Power (LOPJ) already poses some restrictions. "Therefore, we are not breaking a glass ceiling, it is to delve into an idea that a situation leads to," he said.
Reproaches of Podemos
The president of the parliamentary group of United We Can in Congress, Jaume Asens, has reproached the Minister of Justice, Juan Carlos Campo, this Monday, for having breached his promise to reform the crime of sedition before the end of the year and he has urged him not to delay that commitment any longer and to do it with reality "with courage."
Asens has taken advantage of Campo's appearance before the Congressional Justice Commission to blame him that this reform has not only not been carried out but that it still has no date to become a reality because, after announcing that it would be ready for 2021, Campo "ignored".
"It is not serious," he complained, while asking the minister how long his department needs to study how this crime is classified in the European criminal codes and reminded him that those convicted by the Catalan independence process They have been in jail for three years now.
After also reproaching Campo for not having yet ruled on the proposal in this matter that United Podemos sent him a year ago, Asens has insisted that now "it is time to move from words to deeds" and "take action on the matter" because "time is short."
Stubbornness and moral duty
"Every day that passes without addressing this reform is one more day of injustice, an injustice that is not innocuous because it generates disaffection and serve the independentistas to point out that Spain is irreformable ", he asserted, stressing that this situation negatively affects coexistence in Catalonia.
"I can be stubborn for insisting on this every time I have him in front of him", Asens pointed out, referring to the "don't be stubborn" that the Minister of Finance, María Jesús Montero, blurted out last week to the vice president and leader of Podemos, Pablo Iglesias, during a conversation between the two in Congress.
Asens has made it clear to the minister that he will not cease his claim because he considers it "a political and moral duty" and because, in his opinion, this issue "cannot be prolonged any longer due to a calculation of opportunity or partisanship." It has also stressed that the Government should not "shake the pulse" to what the right can say, because it is going to criticize you whatever you do. "You have to act with courage," he concluded.
In his reply to Asens, Campo thanked him for having been "less angry than on other occasions", but has specified that, in this matter, he cannot speak of "unkept promises", stressing that these are important issues that cannot be legislated lightly.
Don't break proportionality
"They are not unfulfilled promises, they will be fulfilled, but they have their time and we have to rest them," it has been justified, noting that it is about a reform of "enormous draft". At this point he has stressed that it is necessary to study comparative law, and that every study that reaches the ministry on this issue is addressed.
"It is being done calmly, it is necessary that we address the normative factual description, the legal rights to protect and the legal consequences tied to its infringement so as not to break that proportionality that it requires the construction of a Criminal Law, which is such a powerful instrument ", he explained.
"We are working on it", he summarized, but without setting any time horizon. Tstill has only shown his wish that there is no talk of "years" and that the proposal that is approved in the Council of Ministers may have the "great support" of Congress in due course.

www.informacion.es
Digsmak is a news publisher with over 12 years of reporting experiance; and have published in many industry leading publications and news sites.