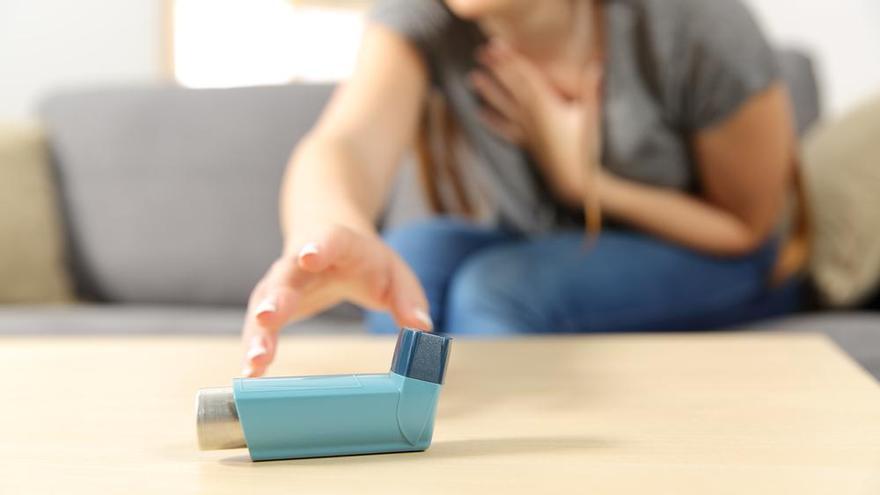 More than three million people in Spain suffer from asthma, a chronic disease that causes inflammation inside the bronchial tubes, which produces a more or less important narrowing, and prevents air from entering the lungs correctly. "Asthma cannot be cured, but it can be treated and controlled," according to the Spanish Society of Pulmonology and Thoracic Surgery (SEPAR).
As has been proven to date in multiple scientific studies, asthma itself is not a risk factor for susceptibility to Covid-19Although, being a respiratory infection, contracting it people with asthma could trigger their symptoms.
Now, the North American CDC points out that, in those cases of moderate to severe asthma, if they catch the SARS-CoV-2 coronavirus they may have a greater risk of becoming seriously ill: "Covid-19 can affect the nose, throat, lungs (airways), cause asthma attacks, and possibly lead to pneumonia and acute respiratory diseases."
Regarding its symptoms, the Spanish Society of Allergology and Clinical Immunology (SEAIC) specifies that they can vary in frequency and intensity: cough, shortness of breath, wheezing in the chest and chest tightness. Now, with the arrival of spring, as well as on other occasions, he says that asthma can occur with periods of intense worsening (asthma attack), all related to exposure to agents that cause allergies (allergic asthma).
"In other cases, seizures caused directly by physical exercise, respiratory infections, or some medications like the anti-inflammatories of the type of the 'Aspirin' ", warns.
Thus, Dr. José María Echave-Sustaeta, head of the Pneumology Service at the Quirónsalud Madrid Hospital, and one of the best pulmonologists in Spain according to the Forbes list, assures that asthma cannot be prevented, although it affirms that it can act on risk factors that can cause its appearance:
– Weight: asthma is more frequent in the presence of overweight or obesity. You should try to maintain a normal weight, which is also beneficial in many other aspects of health.
– Tobacco: Exposure to active and passive tobacco should be avoided.
– Contact with tobacco in early childhood: avoid smoking by the mother in pregnancy and exposure to environmental tobacco after birth; promote breastfeeding.
– Allergic predisposition: It is not possible to act on the hereditary component, but it is possible to act trying to create a less allergic domestic environment, using anti-mite mattresses / covers; keep the house free of dust; avoid carpets, rugs; avoid the presence of moisture stains; reduce exposure to pet epithelia; try to reduce exposure outside the home at peak pollination times; favor the use of anti-allergen filters for air conditioning, etc.
– Household cleaning products: avoid exposing children to irritating products. If they have to be used, don't do it in your presence.
– Other factors related to the appearance of asthma would be prematurity and cesarean delivery.
.-Promote aerobic exercise: Regular physical activity acts beneficially on the immune system and could reduce its development towards a form more "related to the appearance of asthma".
Can asthma be cured?
On whether asthma can be cured, Dr. Echave maintains that As it is a chronic disease, it is difficult for it to disappear or be completely cured: "In children, especially those who start asthma before 5 years of age and in whom the trigger is usually a viral infection, usually bronchiolitis due to a respiratory syncytial virus (RSV), the disease often disappears between children. 5 and 10 years ".
Moreover, the Quirónsalud pulmonologist emphasizes that, "fortunately", most asthmatics suffer from mild symptoms of the disease, while indicating that current treatments generally allow the disease to be controlled and lead a normal life without limitations.

www.informacion.es
Eddie is an Australian news reporter with over 9 years in the industry and has published on Forbes and tech crunch.