11:48
In Bafoussam, Burkina Faso beats Ethiopia 1-0 at the break and will finish second as we are.
11:48
Halftime: Cape Verde 0-1 Cameroon
A foul and yellow card for Fai brings one more Cape Verde free kick, near the left line, and another great defensive block from the hosts, then the whistle. Aboubakar's fifth goal of the tournament puts Cameroon, who have not been shooting to the max, in the box seat to top this group. Cabo Verde showed some life after falling behind, but haven't had much beyond set pieces. If they can't find a leveller, they will face a very anxious wait to see if they will play in the round of 16.
11:44
44 minutes: Cape Verde have come back quite well, and Anguissa is reckless again, conceding a free kick down the left. Almost leads to a goal! After Cameroon fails to clear, the ball goes back in from the right and Onana misses, only Moukoudi to rescue him as a Cape Verde attack prepares to take him down! Onana does quite a bit better at grabbing the resulting corner.
11:42
42 minutes: And now a wild back pass from Anguissa concedes a cheap corner. Can Cape Verde strike back thanks to this gift? No, it's cut.
11:41
41 minutes: Cape Verde need to go for a goal now, and they get closer when Lisandro Semedo shoots a free kick wide.
11:40
Goal! Cameroon 1-0 Cape Verde (Aboubakar, 39)
Clinical! Ngamaleu takes a free kick deep from the right, Moukoudi challenges him with a defender and the ball falls to Aboubakar, 15 meters away, to drive a superb low shot past Vozinha!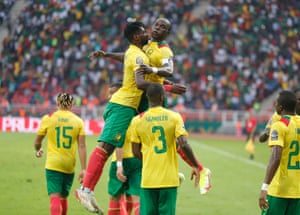 Updated

11:38
38 minutes: Aboubakar chases a long pass from Onana but Pico, hitherto a rock, intervenes. Meanwhile, Ethiopia are pushing for a draw in Bafoussam and have just refused, not for the first time, with a great save.
11:35
36 minutes: Fai concedes a foul on the far touchline and Cape Verde can take their time with a free kick, which they certainly do. Bring a corner, so the wait may have been worth it.
11:33
34 minutes: Aboubakar shows great strength to get around Pico and whips it into a low shot that Vozinha deflects. It's a good job from all sides. Cape Verde takes care of the corner.
Updated

11:32
32 minutes: Kunde goes to goal, 20 meters and a little to the left, but goes against the wall. Then a trace is also blocked.
11:30
30 minutes: As it is, this group would end up in exactly the expected order: Cameroon, Burkina Faso, Cape Verde, Ethiopia. Now Cameroon speed up with some nice passes from behind and the dyed red Patrick concedes a very dangerous looking foul with a foul on Ngamaleu…
11:26
25 minutes: Burkina Faso has scored against Ethiopia! They win 1-0 with a balloon from Cyrille Bayala. They can't get past Cameroon, but they would definitely get past Cape Verde with three points, so a win takes them home.
Updated

11:24
24 minutes: Pico clears as Cameroon looks into the workspace to the right.
11:22
22 minutes: The game pauses briefly for Santos to fix his laces. Cape Verde is quite happy that things are not moving too fast.
11:20
20 minutes: Cameroon try to build again, but now it's a really solid and compact defensive block from Cape Verde. This is working as expected: it's not a particularly open watch, but it's tactically interesting.
11:17
17 minutes: Aboubakar shoots a snap not far from the angle, with Vozinha desperately diving.
11:14
15 minutes: A defensive error by Ngadjui almost let Cape Verde in, but Tolo rescues him. Cape Verde has calmed things down a bit. It will be interesting to see how this game pans out if it's level after, say, an hour because one point would suit everyone pretty well.
11:12
12 minutes: I just saw Ethiopia, who play some really impressive technical football but are often outclassed physically, come very close to scoring against Burkina Faso…before nearly giving them an opening goal at the other end. Goalless there too, but it looks like an entertaining start.
11:10
10 minutes: Cameroon is one of the few teams in this tournament actively playing a pressure game and it is working so far, they are smothering their visitors.
11:09
Yes, and none of these countries have been shamed. Gambia should go through to the round of 16 and Sierra Leone and Equatorial Guinea could be among those who would join them!
11:08
7 minutes: Good opportunity for Cameroon, as Ngamaleu cuts off a sloppy pass from Stopira, who has Aboubakar free to his left, but Pico, as Lopes is known, and will be known from now on in this MBM, defends superbly. The corner arrives shortly.
Updated

11:06
6 minutes: Anguissa nearly pressed down the right line, but was knocked out. Cape Verde's defense has been messy but effective so far.
11:05
5 minutes: Cameroon is controlling these initial moments. They have played at a good pace, befitting a host nation, in their games so far. I think that Cape Verde, which is not far behind, will seek to dig in and counter when they can.
11:02
2 minutes: Formation News: Despite all the fancy ways I laid out at the top of the show, it looks like both sides have gone 4-4-2 to begin with. Ekambi is up front alongside Aboubakar for Cameroon in a potent duo that have six goals between them so far. Cameroon win an early corner, but Moukoudi heads well.
11:00
Piiiiii! Let's go!
Cameroon wears a yellow shirt and green pants, Cape Verde all in white. The hosts kick us and go from right to left!
10:58
However, it's still nice and noisy there. I have put Burkina Faso v Ethiopia, the other decisive game of the group, on my phone, so if my eyes last, I'll keep you posted.
10:55
The teams are on the field and shouting the hymns! As in their first two group stage matches, Cameroon will play in the capital, Yaoundé. And like the second one, it's far from crowded there: fans must be vaccinated and have a negative Covid-19 test to enter, and, in what is a damning indictment of the way the world works, only the 2.5% of Cameroonians have had two punctures
10:44
Are you watching AFCON and how do you enjoy it? Send me an email and tell me more.
10:38
Premier League stars on display today: none. The best I can give you is a former Fulham midfielder André-Frank Zambo Anguissa, now in Napoli, and -probably more interesting- Shamrock Rovers centre-back Roberto Lopes. In a breakout story, the Dublin-born Lopes was originally called up via LinkedIn but let it slide for nine months. Finally, he was informed that it was not a joke, and here we are today!
10:33
starting lineups
Cape Verde (3-4-2-1): small voice; Diny, Lopes, Stopira; Fortes, Andrade, Santos, Tavares; L Semedo, Monteiro; W. Semedo.
Cameroon (4-1-4-1): Onana; Fai, Moukoudi, Ngadeu-Ngadjui, Tolo; gout; Ngamaleu, Kunde, Anguissa, Ekambi; Abubakar.
10:21
Hello
This AFCON has lit up, hasn't it? Granted, it got off to a pretty slow start, especially for rookies who might have found the lack of goals slow, but now we have a tournament on our hands! Once the danger kicked in, things started to open up, and yesterday was a wild, dramatic and amazing night on the group stage like you'll see anywhere. I'm heading there on Thursday and can't wait, so hands up to a vested interest in things continuing similarly.
The danger is diluted in this, host nation Cameroon's third game, to a small extent: they are already done, with two wins out of two and spirited attacking football in the bargain. The remaining question for them is whether they will finish first or second: a point would secure first. As a side note: if they finish second, their tie in the last 16 would be, how are things, it will be played in Limbe, an area where there have been some problems due to the Anglophone crisis in Cameroon, and I daresay the authorities would like to avoid that.
For Cape Verde, which tends to be competent and organized but not flashy, the equation is more complicated. They would finish in the top two with a win and a point, which would leave them with four, which should mean they pass the top third-place finishers. Loss would mean they remain third, but only one or two, at most, are likely to get through the teams that finish with three points; they may have to wait until Thursday to find out.
We will know much more very soon: send your tweets and emails, and voila!
Updated




www.theguardian.com
George is Digismak's reported cum editor with 13 years of experience in Journalism