Twenty-somethings of the 2008 economic recession are the thirty-somethings who have faced the current pandemic without being able to recover from the previous blow. The disenchanted generation begins to emerge on television as well. Cardo (Atresplayer Premium) and Everything else (HBO Max) are two series about to be released that, each in its own way, show the lack of opportunities for young Spaniards.
Since the crisis of the past decade, young people have become a group in danger. In 2019, 32% of the population between 20 and 29 was at risk of poverty or social exclusion. The European Union average is only slightly better: 26% are in that situation, The Reina Sofía Center on adolescence and youth of the FAD points out in a study. When you turn 30, the situation is not resolved overnight and the pandemic has complicated things even more.
Cardo, created by Claudia Costafreda (29 years old) and Ana Rujas (32 years old), arrives in the Atresplayer Premium catalog on November 7. "Without wanting to be theoretical about any issue or focus on a specific audience or genre, we do seek for the series to be in part the voice of a generation, because what is reflected in it are specific circumstances experienced by a certain group of people at this time ", Costafreda points out in a telematic conversation from Barcelona.
The series focuses on María, a girl from Madrid on the verge of 30 who feels that she does not have much to offer the world. Hooked on drugs and getting on through toxic and sexual relationships, she hates her body while using it to achieve short-lived challenges. Faced with such a sense of emptiness, an accident will change her life and force her to face some uncomfortable truths. "She is at a point in life where you are supposed to be clear about things already, but it hasn't been heard enough. Until suddenly life gives him a shock that makes him see that he can no longer look the other way, "says Rujas, who also plays the character, from Madrid.
"Social inequality is something that people our age live with. The series comes to reflect on the idea that you come from where you come from and you are who you are "

Ana Rujas, co-creator of 'Cardo'
Javier Calvo and Javier Ambrossi, Los JavisThey are producers of the series and those who united both creators, convinced that they could make a good tandem. Costafreda joined the script team for his series Poison (Atresplayer Premium, 2020). To Rujas, who had prioritized the theater over the screens after appearing in the youth series HKM (Four, 2008) and in 90-60-90, secret diary of a teenage girl (Antena 3, 2009), they followed him on stage. Until he wrote and premiered in 2019 with Bárbara Mestanza The ugliest woman in the world, where he defended alone a text on depression, drugs, sex, his trade and his generation. But in reality, they had already connected before, when Rujas was a jury at a film festival in which a Costafreda short film competed and fought, unsuccessfully, to be awarded. "The Javis have helped us to be the door for what is coming: that many other young people will create their own stories," says Rujas.
The two creators also delve throughout the six episodes into the social differences in Spain, which are increasingly broadened for the new generations. Its protagonist is involved with two characters with high purchasing power, played by Alberto San Juan and Diego Ibáñez, vocalist of the band Carolina Durante. The decision was completely deliberate, says Costafreda: "Ana comes from a working-class neighborhood. Not me, but in my family we did suffer atrociously from the crisis of 2008. In some way, we have both experienced what has been the difference in opportunities ". Rujas comments that it was very important for the story to point to this inequality and the privileges of a minority. "It's something people our age live with. The series comes to reflect on the idea that you come from where you come from and you are who you are ".
Rejection of the aspirational
Meanwhile in Cardo posters appear in the middle of the screen that reveal the inner thought of its protagonist, in Everything else, is the voice of Alberto Casado (Pantomime Full) who describes in a rather cruel way what happens to Dafne, the protagonist of the series.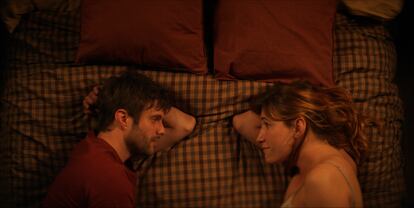 This Mandarina production for WarnerMedia is written, directed and starring Abril Zamora (39 years old) and opens this October 26, coinciding with the launch of its platform, HBO Max Spain. "I do not seek to create a generational portrait or reflect the crisis of the 30s, because I have been in crisis since I was 15", points out its creator, although it does frame in a current context what happens to "a very specific group of thirty-somethings", trapped in lives that weren't the ones they dreamed of "because people our age have been forced to compare ourselves to our parents." To gain authenticity with the rest of the cast, the creator has surrounded herself with actors she knows and has tried to fictionalize the way she relates to them in real life.
This story with a universal vocation also rejects the aspirational and the idea of ​​romantic love. There are no clerical jobs or artistic professions in it, and sometimes the clothes that its characters wear just don't match. Because Zamora herself, also co-creator of comedy Ladies of the (h) ampa, she is aware of being as lost as her character. "I am no longer as ambitious at work as I used to be. Now I am much more relaxed. Maybe next year I'll have drinks. Like so many other people, I am prepared for it to have to be like this ", he assures.
You can follow EL PAÍS TELEVISIÓN on Twitter or sign up here to receive our weekly newsletter.
Sign in to continue reading
Just by having an account you can read this article, it's free
Thanks for reading EL PAÍS



elpais.com
Eddie is an Australian news reporter with over 9 years in the industry and has published on Forbes and tech crunch.