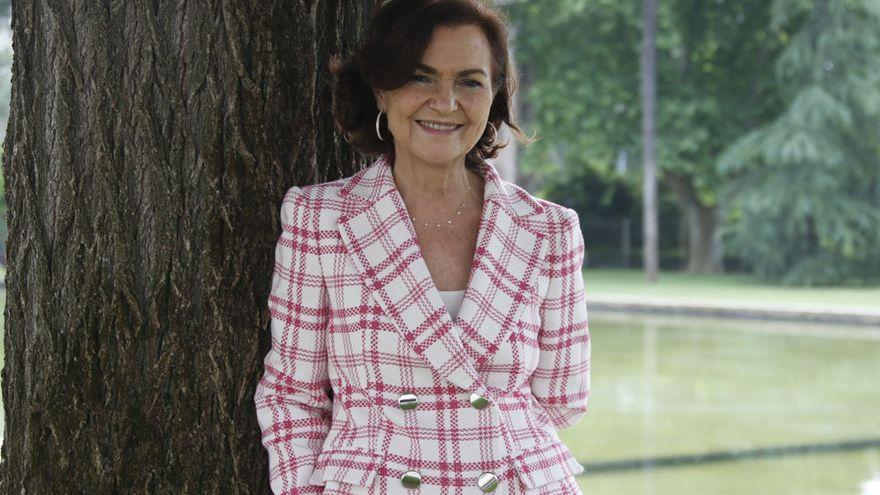 It takes exactly 13 minutes and 48 seconds to request a pair of cushions to support your back. "Now, yes, I am a little better that way," he says to Belén, his communication director. She brings to Córdoba, her home, just over 70 kilometers from where she was born in Cabra, an agenda for the first vice president of the Government of Spain. Several times in the interview he bends over from the pain that he drags for a Herpes zoster for days. Keep going to the last question.
-Vice President, do you see it necessary to advance the primaries to elect your party's candidate for the presidency of the Junta de Andalucía?
-Let's see, we do not know when the president of the Board can call an election, that is his competence and that is how democracies work, and therefore that is not in our hands. Right now, that has a huge responsibility on our shoulders for a territory like Andalusia and that means that we must be prepared. First, because of the problems that Andalusia has, including the mistakes that we have made ourselves, and to now know how to align Andalusia with what is going to arrive from Europe after the final approval of the recovery plans, align ourselves with the Government of Spain and with Europe to take other paths: of climate sustainability, of closing digital gaps … All those policies that are not letting yourself fall down the slope of a lifetime, but of being able to undertake things, will require in Andalusia to chart some changes of course for the future. What does a party like mine have to do? Ideas, program, objectives, ability to address the most progressive Andalusia, and the right person. Due to responsibility we have to be prepared as soon as possible the better. Here they are making policies of inertia, that of lesse let pass, and here you have to start making decisions. Behind these storms come very constructive calms. You have to have courageous but prudent leaderships, risky but sure of where you are going to lead society. That has been done by my party many times. We did it in the time of Felipe González and with Zapatero, And it is being done by President Sánchez who is going to deal with the entire structural transformation of Spain. Because the pandemic, which is a horror, has brought us 140,000 million. Think that in the last crisis the funds that were distributed were 8,000 and we thought it was incredible, you have to hold on to those wings to fly anyway, and Andalusia is very important. How can we not be prepared for that? What are we going to be waiting for? Let someone else do it? Brave people are needed, capable of looking over their personal selfishness and looking ahead.
-Is Juan Espadas the candidate with the most support in Ferraz?
– The Federal executive of my party has to be very respectful with the federations. In whatever way we can use the term respect, also in which there are militants like Juan Espadas who want to move. We comply with our rules, we are not governing here, therefore there may be primaries. Juan Espadas is the mayor of the Andalusian capital, Seville. Juan Espadas is a proven man in management. Mayor who has taken over a capital in a city as important as Seville, in difficult times. A politician who does not have to prove. We have to be, of course, compliant with the rules, respectful with the movements that the bases, the militants, the groups want to make. What are we seeing? Well, here there have to be primaries. And that there is a partner and a partner who want to compete. In this party there is something that other parties do not do and that we also brought it to innovate politics, with great pain by the way, but we truly innovate, because in the Popular Party primaries the one who had not won them ended up being the leader, How curious. In my game, lunging, it was the leader who won them. We are serious people, perfect no, but serious yes. What is going to happen? Well, my party complying with the rules, and we respectful, is going to hold primaries here and it is going to try to see that the organization gets the best of itself, which are ideas and objectives for Andalusia, and secondly, that the person who leads All this has the most important Federation of the Spanish PSOE behind to have when its time comes the possibility of governing Andalusia.
"We must protect coexistence without radicalism, which is putting it in crisis"
-What political future do you predict for Susana Díaz and how do you see the situation generated in Córdoba?
-Susana Díaz is, first, a general secretary of an important federation for the party, always, which is that of my federation, and that won the elections. It is true that we have not been able to govern and that Spanish politics, as you well know, due to the diversity of situations through which it has evolved whoever wins the elections does not always govern, but in the end, the ultimate goal of a party is to govern. At least in mine. My party does not contemplate moving through politics. In the Spanish panorama there are parties that do not want to govern. Some are dedicated to destabilizing the system without taking responsibility, which is very irresponsible and dangerous. For others, the results neither go nor come to much because they will never govern. Susana won the elections although we lost the government of the Junta. Susana will always be a colleague who has been president of the Board, who is the secretary of this federation and we are known for being a party that always supports its colleagues and especially its most important colleagues. We are now in another moment that is to see those primaries, who is going to present themselves and, above all, how we offer Andalusians the idea of ​​what a future that for Andalusia has to be of change will be like. I would say there are three: the problems of imbalance that we have with depopulated areas and with urban centers, and therefore the quality of life, rights and services of the Andalusians who stay in those territories. A turn against the digital divide to join this world that is already here and the pandemic has accelerated everything, and to continue working on the constitutional values ​​that are to protect coexistence without radicalism, which are putting it in crisis. Look, the death threat of three people says a lot about what some are doing and playing. Speeches against unaccompanied minors (during the 4M campaign in Madrid, by Vox) are unacceptable, we must continue working on the values ​​of coexistence and in that my party is deeply progressive, democratic and interested in working on values ​​that do not require money in investment but behavior and there we are also concerned.
-A month has passed since the publication of the definitive list of unregistered assets by the Catholic Church, do you have evidence that the claims have started?
-I mean three things by this. One, we are the Government that has complied with the transparency obligations that Mariano Rajoy did not comply with to tell all Spaniards the list of assets that the Catholic Church has unregistered in line with the privilege granted by the government of José María Aznar with the modification that was made of the mortgage law. The Catholic Church has registered 399 goods in our province, all in this way except seven. It is true that the Catholic Church has done this under the protection of a law, therefore it has done it legally; You can dispute that legality, including the constitutionality of that legality, but it has done so under the protection of legality. I reached an agreement with the president of the Episcopal Conference, with Monsignor Omella, so that they would know that we wanted to fulfill that transparency of the complete list. Second, we are talking with the Episcopal Conference so that, in some way, all these assets, which many are going to be sued and many reviewed on their own initiative by the Catholic Church itself, should not be unregistered to their ownership. They are aware, Monsignor Omella tells me this, and they are aware that everything that is not related to worship or educational purposes will surely have to be reviewed. Second, there are going to be institutions and individuals who are going to go to court, I do not enter there because it is justice in our country that has to start working. But I do wish that all these assets, many of them have been accumulated over the years with the efforts of citizens, with donations over the centuries (…), had a regime legal those that finally remain as the property of the Catholic Church that would protect them as inalienable assets. Therefore, those who finally remain for the Catholic Church, we may also have the rest, the citizenship of this country, which will be for public purposes as well, or worship or education or historical or cultural heritage. There is a good disposition both from the Episcopal Conference and from us. And later I have clearly spoken with Monsignor Omella, who is a person I respect a lot in what I have been getting to know him, and I have told him that there is a singular asset, the Mosque-Cathedral. There is nothing that resembles it in the Spanish and European historical heritage, nobody can deny this, and that I would like it to be good, regardless of the legal claim that it may have, it has to have some kind of participation from everyone, of the City Council, of the Board that has the powers in protecting the historical heritage, of the Ministry of Culture, that I have invested there as Minister of Culture and as counselor public money, some formula for everyone's participation so that, of course, there is always guaranteed its protection, its future, its use, and that in that sense it could also have a unique regime and we are also working on that. There is a team that is working with specialists from the vice-presidency and from the Episcopal Conference and I think we are going to find ways.
-As a Cordovan, if the PSOE were in the opposition, would it accept a distribution of the PAC like the one that is being proposed?
-Let's see, the CAP will not arrive until the year 23. The first thing that the Government and Minister Planas have done has been very important: to save the year 21 and year 22. At the end of May they will have the sector, to the one that they are preparing bilateral meetings with all the autonomous governments, with all the agricultural and livestock sectors, to find a common agreement, a formula that allows them to balance interests and positions. What is the Government looking for in this CAP? Trying that two farms, two farmers who have to do the same things, who are seeking the same objectives in their agricultural businesses, have the same type of help. That we address all those family farms and all that middle class that has much smaller farms and that they also receive fair aid. That the redistribution of the new CAP is much more balanced.

www.informacion.es
Eddie is an Australian news reporter with over 9 years in the industry and has published on Forbes and tech crunch.