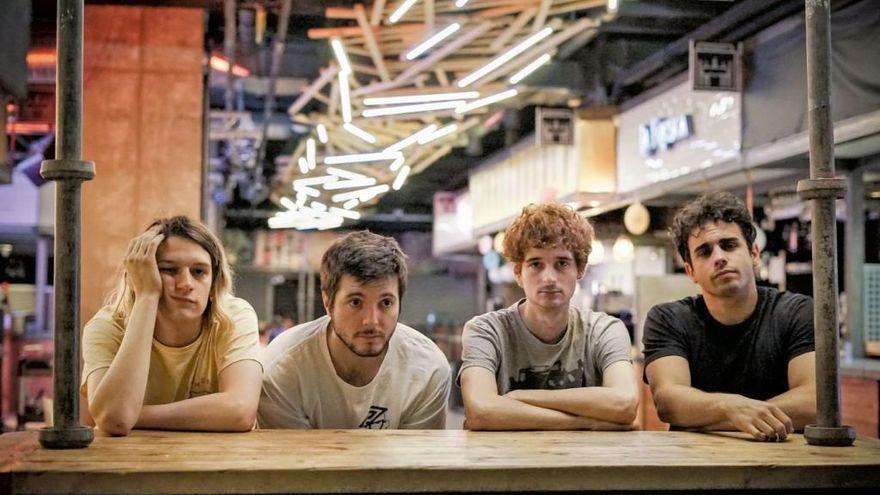 The band from Madrid Carolina Durante is back to present their new CD 'four boys', an album with which they try to show that they are four kids who make music because they like it. "We do not make generational hymns as the press sells, we simply make songs," they detail to EFE.
The reason for having this image about them comes when in March 2018 they published the song 'Cayetano' that caused a real furor and stir between the public and the media, hence, now they expect from them that each song they make is an "anthem".
"We wanted to laugh at the things the press said about us, but also about how our own record company (Sonido Muchacho) sold us, with that 'pomposity' that is sometimes left over in the world of music", says vocalist Diego Ibáñez.
"We have not set ourselves the goal of making another anthem or maintaining the hype. We make songs because we like it, and we make them about things that make us laugh or that are natural in our day to day", continues bassist Martín Vallhonrat, to which Diego Ibañez, the vocalist, adds that if one day they make another song that "takes it so hard" like 'Cayetano', it wouldn't be on an album.
Therefore, it is not surprising that in this new album abounds in self-parody and satire about everything that is said about them in titles like 'Famous in three streets' or 'Your new favorite group', among other. Of the latter, its chorus says: "It's your new favorite group, it only has two songs, but they're not just songs, they're generational anthems", as well as the verses "they're the new Movida" or "It's not just four kids, they say that They have superpowers."
The reason is the publication this Friday of 'Cuatro chavales' (Universal Music), with twelve songs that are a declaration of intent against expectations. "It's a very balanced album, which has songs that can and do work as singles, as we've seen. We want to make the songs that we like and not be guided by what is expected of us", Vallhonrat highlights.
All the members (vocalist Ibañez, bassist Vallhonrat, guitarist Mario Del Valle and drummer Juan Pedrayes) agree with an album that, in their opinion, "has met expectations" from the first cut. "This time we are super happy with the sound"confesses Ibanez.
Tribute to Messi
"There is more maturity, musically speaking, compared to the first album ('Carolina During by Carolina During', 2019). It is an album that we have made more thoughtful, calmer and with a better production, not like the first one that the songs were coming out while we were on tour, and it was all faster, "explains the vocalist.
To which he adds that this time It's also the first time they all sit together for the song creation process.: "Many have come out in the rehearsal room, or we did it through messages, each one passed a chord and I adapted it to the lyrics I had. It's going to be very cool, it's very funny, light and very strong, it's going to be liked", he affirms.
Published together with their label Sonido Muchacho and supported by Universal Music, they assure that they have been lucky enough to continue enjoying "total creative freedom", to talk about such universal topics as heartbreak, people with various addictions, violence more or less contained and feelings associated with the times we are living.
One of the songs that amuses them the most is that of '10' in which they pay an emotional tribute to Messi and everything he symbolizes in the world of football. "I started to compose it when the first burofax came out that said that Messi was leaving Barcelona, ​​and that later it was not like that (…). I also wink at Cristiano Ronaldo and his departure to Juventus (from Turin)", says the vocalist laughing.
This Thursday, the band will give a small concert to present the album at the Nails Chung Lee nightclub with VibraMahou, but the pandemic has obviously also influenced the preparation of their tour, which was initially scheduled for March, but has had to be delayed to autumn.
"At the moment we are now going to give concerts in Latin America, which was left pending with the confinement, and then we will get into preparing the summer festivals. For the tour we will have to wait a little longer", concludes Ibañez.

www.informacion.es
Eddie is an Australian news reporter with over 9 years in the industry and has published on Forbes and tech crunch.