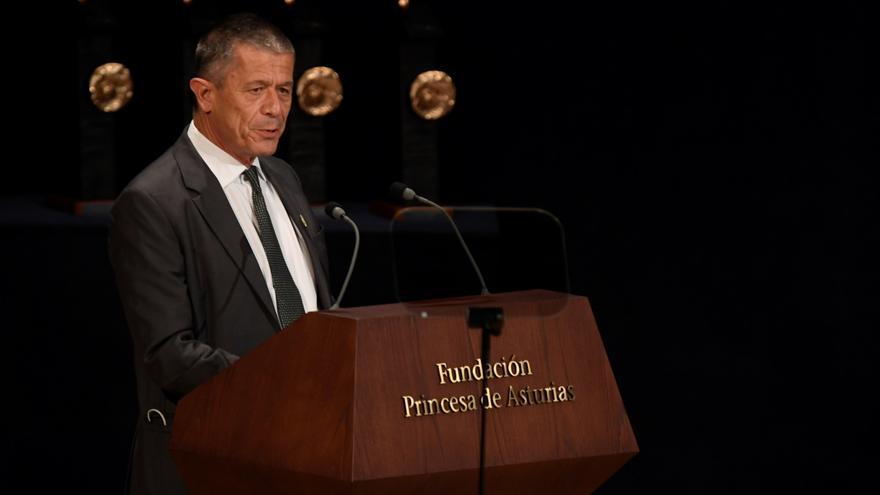 The french writer Emanuel carrere has turned his speech of thanks for the Princess of Asturias Award de las Letras in a tribute to the victims of the attacks that in 2015 They left 131 victims on the terraces and in the concert hall of the Bataclan theater in Paris, 61 less than on March 11 in Madrid, he recalled, "if this atrocious accounting makes any sense."
In his speech during the awards ceremony, Carrère, who follows the proceedings against the perpetrators of the massacre on a daily basis, has admitted that he changed the intervention he was going to offer when the Foundation that grants the awards suggested that, to your "wonderful" opening speech of thanks, add some content "a little more inspiring, a little more inspired, a little both."
What was inferred from that "immensely delicate" message, he pointed out, is that, believing he was doing the appropriate thing, he had made an agreed and even conventional speech – "a reproach that, honestly, they have not made me often" -, that he chose to complete with the activity that occupies him, the coverage of the trial for the attacks in Paris, "something extreme and even tragically inspiring."
Thus, he has thanked an award from a culture that includes Cervantes, "a grandfather younger than all young people"; to Borges and Bioy Casares, "two ironic and enigmatic uncles"; to Cortázar, in whose building in Paris he lived for ten years; to Roberto Bolaño, "the older brother everyone dreams of" or to contemporary authors such as Enrique Vila-Matas, Javier Cercas, Juan Gabriel Vásquez or Rosa Montero, "my dear cousin".
Its editors in France and Spain have also been mentioned in the part of his speech that was to make up his opening speech, which he completed with his most recent experiences in the trial against "the fourteen scoundrels" who are tried in Paris after that the rest of the terrorists perpetrators of the attacks died after committing their crimes.
The fact that only "comparsas" or "secondary protagonists" of the most lethal attacks committed in France are tried invalidates the comparison with the Nuremberg trials, where high Nazi dignitaries were tried, but both processes share, he has pointed out, "his historical ambition".
"No matter how great the honor of being here tonight, a part of me remains in some way in that court," he pointed out before warning of the inordinate ambition of a trial that aspires "to display everything from all angles." that happened during those terrible hours.
For the author of "The adversary", the work that led him to success with the black chronicle about Jean-Claude Roman, the man who murdered his wife, his children and his parents, the trial that takes place in Paris constitutes "a bath of horror" that serves to collectively explore those rooms of the heart in which "pain penetrates so that they exist".
The testimony of the view, has warned, they deny the "for himself who can" of the stories of shipwrecks or catastrophes that reveal the worst of the human being – "cowardice, each to his own, cannibalism" – and, on the contrary, describe examples of mutual help, solidarity and gestures often heroic, in such a way that many of the witnesses and victims "reproach themselves for having trampled on others while trying to flee; but none of the trampled reproached others".
"All tried to protect the man or woman they loved, but some did something else: risking their lives to protect strangers. It is a mystery that at times turns what is abominable into an infinite exaltation "Carrère concluded.

www.informacion.es
Eddie is an Australian news reporter with over 9 years in the industry and has published on Forbes and tech crunch.