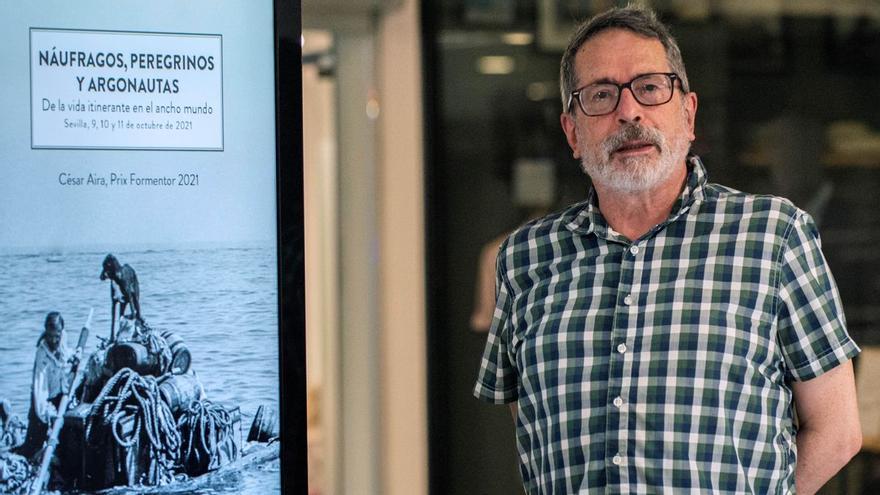 Throughout some 106 books, which is said soon, the Argentine César Aira has cultivated one of the most extravagant and risky trajectories of the literature actual. If Marcel Duchamp was able to place a urinal in a museum room to blow up the concept of art, this writer invents fantastic adventures, with neat and clear prose to lead the reader by the hand and make his short novels explode from within, disconcerting the most orthodox and causing the happiness of those who already know his eccentric radicalism. This Duchamp of writing has collected this Saturday in Sevilla the 2021 Formentor Prize -after the closure of the hotel that traditionally gave its name and history to the award in Mallorca- which since this year has been traveling.
César Aira (Coronel Pringles, 1949) is a slow and reflective man with expressive silences but there is in him a subtle sense of humor in the Salvador Dalí style, with whom he identifies, not because of his madness, because he defines himself as a "bourgeois paterfamilias of conventional life", but for delving into mysterious images from a prose (in the case of Empordà it would be the line) of the clearest and most classic. Aira is happy with the award, of which he assures with no small joke – how to believe him? – that he will be the last one he receives and as if to shore up his conventionality, he goes out where you would never imagine, talking about his grandson, delighted that he is He started in the stories with the adventures of Tintin, which, perhaps not so surprisingly, marked his love of storytelling. "I have promised him that every time he comes to see me we will read a Tintin album together. I continue to keep them all ".
Como Stephen King
The writer takes iron away from his legendary graphomania – "perhaps because the most authentic thing about a writer is to write" – making a comparison that will displace more than one: "My books are many but very brief, I would say that with two or three books by Stephen King would be all my work complete, in number of pages "and tHe also reveals an episode that he has hardly spoken about in public, a brief period he spent in prison when, as a young man, he allowed himself to be carried away by the revolutionary fervor of the 1960s. and that it served him, he says, to get vaccinated against politics, which makes him add a sentence that will cause a rash for more than one: "Good feelings kill literature. Human rights interest me as a citizen but not as a writer ".
During the pandemic, Aira was forced to change his routine of writing by hand in small notebooks, always on the old tables of the cafes of Flores, his neighborhood in Buenos Aires. Now he 'works' – although he does not accept the term – or, better still, plays with writing in huge notebooks. "Every day I write a little and so I stay calm". From that period came what will be his next book, 'The gardener, the sculptor and the fugitive', three independent novels but united by the same plot, the cure for the depression of one of the characters. Do you speak from your own experience? "No, once I had a physical problem and the doctor sent me to a neurologist with psychoanalytic training. He told me that I was never going to get depressed because I am a melancholic and melancholic people do not get depressed. Melancholy is a voluptuous feeling while depression is tragic and incapacitating ". Yes, it is impossible to imagine him inactive.
Naturally, being the Argentine writer who has the most numbers to win the Nobel one of these years, it is inevitable to be interested in the matter: "They will not give it to me, because a Nobel is always justified from a non-literary point of view, for the defense of that or the other. It is never said that a Nobel has been awarded simply because of how good the author's books are ".
So far, his latest book published in Spain -a recent selection of columns on peripheral literature that he likes to read- does not feel it as too much of his own because the selection has not run from his account: 'The wave that reads' (Penguin Random House) however is deeply personal and he gives an account, among many other things, of his old biting towards Latin American literature, throwing the occasional taunt at García Márquez or Carlos Fuentes. Has its sharpness tempered over the years? "Well -he laughs playfully- actually I still think the same thing, what happens is that I no longer write it."

www.informacion.es
Eddie is an Australian news reporter with over 9 years in the industry and has published on Forbes and tech crunch.