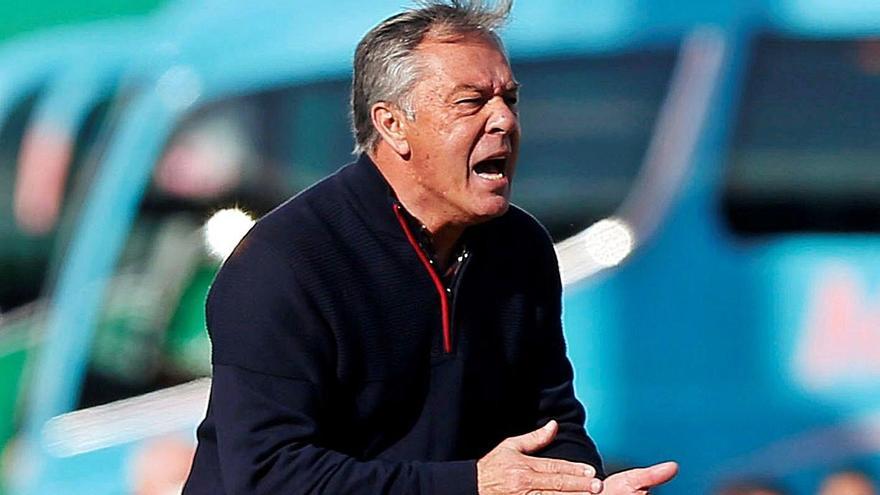 César Ferrando (Tavernes de la Valldigna, 07/25/1959) is the coach with the most pedigree of Second B. Torrential and with character, He keeps his devotion to football intact after 40 years as a professional player and coach. He assures that he always goes out to win and this noon (12.00) he will try in Alicante against a Hercules "solid, rocky, who knows what he wants and plays as a team, the most important thing."
With the same passion as always, at the age of 61 Ferrando now wants to consolidate La Nucía in the bronze category and today (12.00) he is looking for his second victory of the course at Rico Pérez, where he says that he Hercules plays better without an audience.
After the aperitif of the Cup against Elche, this Sunday Hercules in the League, which is what he feeds them …
True. We had Elche's great aperitif in the Cup, which was a game to enjoy, but it's true: what we eat is the League. And also, against a very important provincial rival, who is a very good team and in their field. A nice game to play.
Round 1 ends and both teams need to win. Maximum requirement …
With this short competition system it is important to win a lot of games and we have not started well. We don't lose, but we can't win. And Hercules need to win at home. It is an important game for both of us, but it is only three points and there are still games ahead. When you are a player and a coach, you face every game to win. As a coach, I don't make lineups to draw or lose. And at any other point in the campaign we would win this game.
It is difficult for them to win and score a goal. They have a victory in eight games, four consecutive draws and only four goals in favor. What do you attribute it to?
Those are the numbers. If you score only four goals, it is difficult to win. We have had four clean sheets, which is a good number, but it is difficult for us to score a goal and it is a handicap. We have to keep growing and working and in the end we will break this streak.
In La Nucía's second season in Segunda B, how do you want your team to play?
We had a good season last year and this team is working well. We need to have more success in the face of the door. Almost all the matches are dog-faced. When the league is 38 games, you fail in one and you have many ahead to recover, but now they play half and it costs you more. I am happy with the work of my team and when we win a game we will make a leap in quality.
The objective is to enter the new Pro League …
[Se ríe]. That is the goal with which all teams go, but you have to keep your feet on the ground and, as we are now, the goal is game by game. And the immediate one is this Sunday at 12 o'clock against Hercules, a great rival. We cannot look ahead, as we are, because we would be wrong to put pressure that is unnecessary. Now, short and achievable goals.
How do you see this Hercules by David Cubillo?
Very powerful and very good team. It is very rocky and knows what it wants. I see it as a team, which is the most important thing. Very worked, he concedes very little and they have scored few goals. And it has an advantage over last year, which also had a good team, and that is that the League has started well. That is a big point in your favor.
By history and entity, Hercules is always obliged to fight for promotion …
Yes, but it is important to start well, as I said. And he also has in his favor that there is no public in his stadium. Hercules, a hobby that has seen a lot of football, and of many carats, and requires his team to always play well. This Hercules is very rocky and with an audience at the Rico Pérez, people would demand more of him. They have that tranquility to be able to play their game and on top of that they have started well. They are doing things well. With people in the field, the public forces you to do other things.
In other words, in his opinion, parties without an audience in Rico Pérez benefit this Hercules …
Yes; in the sense that they can play the game that they believe in. A hobby as demanding as Hercules forces you to attack and do some things that this team is not obliged to do now. The same thing happens with Valencia at the Mestalla. Last year, I was at Rico Pérez, and it was very difficult to play from the beginning of the matches. On the other hand, this year the team plays, there is nobody and it is calm.
Last season they destroyed Hercules with that 3-0 …
Well … They were soon with one less and that penalized them. And I insist: Hercules did not start well last year, they were uneasy, they had an obligation to win and they were fearful. And this year it is a confident, powerful team that knows that it works well. It is another sensation.
He rose to Second with Gandía and First with Albacete. What do you have to do to get out of Second B?
The Hercules must work as he is doing and that they are calm. Last year they had a lot of nerves and this one I see them serene. With a magnificent coach and very good players. They are doing great and this may be their year.
Are you afraid that the League could be stopped by the coronavirus?
The one that should not have been interrupted is last season. Last year the League should have ended because you cannot benefit those who are not doing well. You save teams that have to go down and the rest of us who were about to get promoted, you let us … If you have to save someone, let it be the one who does it well. From there, this League is nonsense: you play four weeks, you stop one; then some with covid stop and others do not …
Has football changed a lot since you coached Fernando Torres, Simeone with Atlético 16 years ago?
It has changed a lot because much more money moves, but the essence of the emotions and feelings remains the same. And hopefully it doesn't change.

www.informacion.es
Eddie is an Australian news reporter with over 9 years in the industry and has published on Forbes and tech crunch.