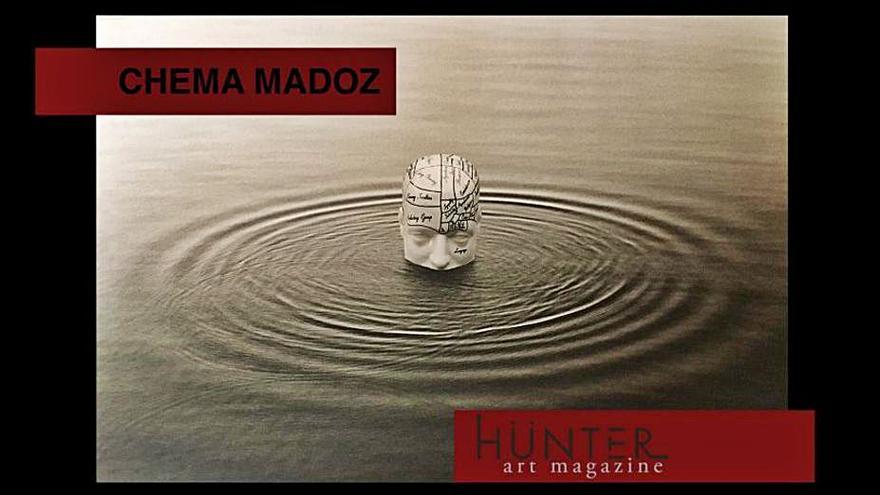 The universe of Chema Madoz erases from the face of his images the presence of the human figure, so necessary in the works of his first stage, breathing a particular experiential philosophy through the meaning of new elements that are shown wrapped in a plot, with an unmistakable style, so familiar as unknown, in which we recognize the objects that surround us in our daily lives, such as wall or wrist clocks, stairs, books, shelves, forks, plates …, close and at the same time strange, as they show us with their new behavior that they have always hidden something from us that we do not know and that the artist will discover it from us as if there were a parallel world and we could get closer to them to understand them.
The object found
The messages that his works contain depend on the gaze of each of the spectators, their culture, their imagination and their desires. L´objet trouvé becomes perverse through the camera of Chema Madoz, which becomes a sweet perversion, suggestive and full of compositional elegance, interesting and full of surprises that discover the miracle of which objects can be made before his new purposes. He writes poems with light as Man Ray also did, only kept away by the technique of the famous raygrams. of the American artist. His images can also be seen in the key of sculptural work, and it is then when he legitimately confronts the world of Joan Brossa, making real images, built without the Photoshop strategy, although in recent years he confesses to having used it on occasion , only when the idea requires it. The author explains in an interview with Jot Down magazine, specifying this aspect, above all, in the photographs where clouds appear that could not have been made without digital tools.
I have never tried to take photos that elicit a humorous reaction. I'd rather think that they are images that make the viewer stop and think. Although I am fully aware that one of the first reactions is the smile, which on the other hand is also gratifying, since I realize that a bond is being established. I don't dislike it, but I don't pursue it.
Meret Oppenheim
"It is the artists who dream for society." Meret Oppenheim
The Berlin artist of Jewish origin Meret Oppenheim (1913 – 1985) is one of his influences, although not recognized by Madoz himself. An outstanding figure of the Vanguards, he still exercises great authority in the visual arts today. (The PhotoSoul of this Art and Letters booklet dedicated to him, months ago, an article written by the person who signs this text). Creator of a powerful work where objects are of paramount importance, I will highlight two of her most emblematic pieces, My nurse, in which, on a tray, she has placed a pair of women's shoes, in erotic fetish forms, which become a bird, joined by a rope whose fine heels are covered by the chef's hat that is used in haute cuisine to decorate the legs of the baked chicken at the time of serving. Another of her most outstanding works, Breakfast covered in leather, owned by MOMA, perhaps the most famous Dadaist work of all time, which she created at the age of 23: imagined in Paris, in a coffee chat with Picasso, in front of two cups of the steaming drink, while the Malaga artist praised the leather-lined bracelets Oppenheim wore on his forearm. It owes its title to André Bretón, alluding to La Venus de las skins, by Sacher Masoch. Thus was born this amazing work that ended up covered in Chinese gazelle skin.
The thread gives
I have never been interested in still life, regardless of whether there are works that I find interesting, my head does not go in those directions. It shocks me when I meet that definition.
Chema Madoz, born in Madrid in 1958, studies Art History at the Complutense University. His first photography exhibitions were made in the early eighties, using figures that blend in with the landscape; a scene in which a hand and its shadow become the leaves of a plant; cigarette smoke crosses a landscape to be confused with a winding road. A woman with long hair, lying on her back in a garden, well integrated among the cypress trees that surround her; From here, Madoz begins to pull a dadaist thread, a long thread that has no end and becomes happy ramifications throughout decades of intense work, in which he continues to use a metaphorical language, through contradictory motivations. offering various readings, which fascinates viewers and each one of its interprets in his own way, what is attractive to the author because it is actually what he is looking for. The existing poetics in his work bring to light the hidden face of everyday objects, which at all times maintain their usual face, although the author adds new properties to them.
In 2000 he was awarded the National Photography Prize; a year earlier, the Reina Sofía Museum enshrined him with a major exhibition, curated by Catherine Coleman, director of the museum's photography collection. Since then, he has become one of the greatest contemporary Spanish photographers, a great reference in European photography, he has not stopped holding exhibitions. I will name here some of the most important ones, such as the one he made at the Earta Contemporary Museum in Saint Petersburg, the Esteban Vicente de Segovia Museum, the Joan Miró Foundation in Mallorca, the Hermitage Museum, Kazan in Russia, the Thessalonika Museum in Gecia, the Cervantes Institute in Tokyo, Museum of Fine Arts in Caracas, Chateau d'Eau museum in Toulouse, Musèe de la Photographie à Charleroi in Belgium, Caixa Forum in Girona, Museum of Modern Art in Frankfurt and a long etcetera, as well as galleries in New York, Boston, Los Angeles, Paris, Madrid, Barcelona, ​​Malaga … Since 1999 there has been a large bibliography of his work published by different Spanish and foreign publishers such as Editions Assouline, La Fábrica, etc., which contain interesting interpretive texts on the author's work. Fernando Castro Flórez, Fernando Aramburu, Alejandro Castellote, Marina Valcárcel… as well as Juan Barja and Patxi Lanceros, curators of his current exhibition at the Madrid Fine Arts Circle, which With the title Crueldad, it offers us the most disturbing side of Chema Madoz's work.
The technique is what allows you to take the image where you want, but it does not have to be in the middle of the viewer and the photo, it has simply allowed you to get to that place; exercise is another and lies more in communication. Give your opinion.
He has carried out advertising campaigns, especially for the fashion firm Purificación García, although he confesses not being too interested in the world of advertising, since it is about interests other than his own and he works at a speed that is not his precise to create; When he accepts a job of these characteristics, it is because he has total freedom of action, without any interference that allows him to work with absolute authority.
Secrets
He is passionate about the idea of ​​turning everything that has to do with domesticity into a show.
In Alicante we had the opportunity to see his images at the Las Cigarreras Cultural Center in 2013 directed at the time by Gertrud Gómez, a retrospective of more than seventy pieces, whose curator was Borja Casani, director of the now defunct Moriarty Gallery, in Madrid and founder of the magazines La luna de Madrid and Sur express that were linked to the Madrid scene; On the occasion of this exhibition, promoted by the students and directors of the Mistos Photography School, Chema Madoz gave a master class where he unraveled the secrets and lies of his objects that breathe unusual peculiarities translated into codes that manifest the subtlety of an airy sense of humour.
Throughout the conversation he had with the writer Fernando Aramburu, author of the famous novels Patria and Los vencejos, in a 2019 interview with El Cultural, the novelist commented: I have found that you are often related to René Magritte. I didn't know you had a Belgian grandfather.
To which Chema Madoz replied: Well, that is a thorny issue that we always avoid in family gatherings. My grandmother always got confused explanations that did not convince anyone.
See more photos by Chema Madoz at www.hunterartmagazine.com

www.informacion.es
Eddie is an Australian news reporter with over 9 years in the industry and has published on Forbes and tech crunch.