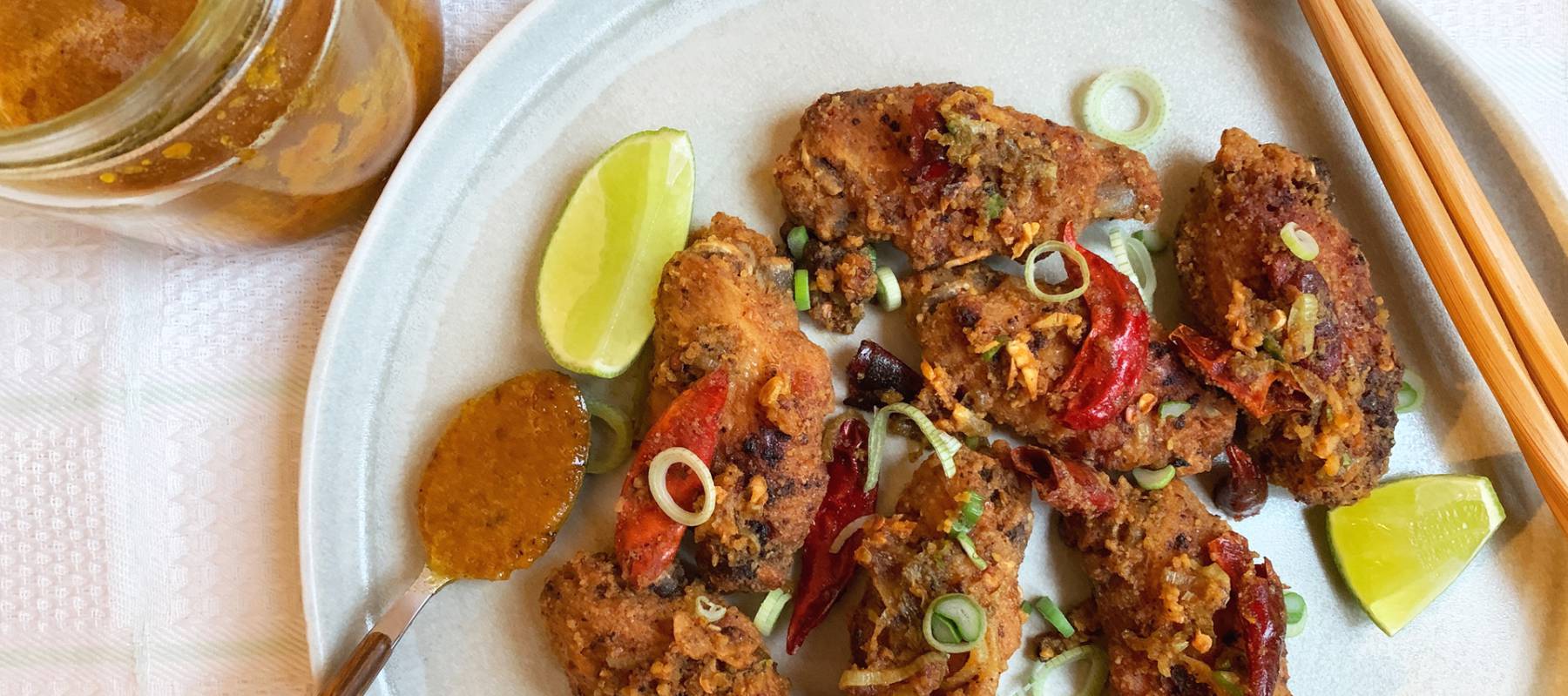 Cured egg yolks are a basic and traditional ingredient in Asian cuisine. Duck eggs are typically used that are completely immersed in brines or buried in salt and sugar combinations for an average of 60 days. After this time, the action of the salt has extracted the moisture from the interior of the egg, leaving a yolk with a texture similar to that of a caramel. It may seem strange, but there they are used in such popular dishes as congee -rice porridge- or moon cakes. Obviously, we are not going to wait 60 days to make this recipe: if we separate the yolk from the white we can achieve a similar result in 24 hours, and with chicken eggs.
Using the freshest chicken eggs you can find, this process is only going to take a little of your time. We will bury the yolks in a mixture of salt and white sugar in equal parts: be careful with this, the total amount will depend on the container you use to cure the yolks, as they will need a little space between them and be completely covered by the mixture of salt and sugar. After this, we will refrigerate them for 24 hours and the next day they will be ready to cook. The final sauce perfectly holds a couple of weeks refrigerated, so it can be made in advance.
To accompany this sauce, practically any product can be used: it is very common to find this sauce accompanying shellfish and crustaceans, but it is beginning to have notoriety in fried foods. You can start the excess with some cooked prawns or prawns, a sautéed rice or some noodles with vegetables. To release it, we will make some chicken wings that are very crisp in the oven and, once cooked, we will go through the pan with our brand new orange sauce.
Difficulty
The process of curing the yolks has some work, but once it is done it is done with the eyes closed.
Ingredients
To cure the yolks
12 chicken yolks
Fine salt and white sugar in a 50/50 ratio (what is necessary to cover them, since it depends on the container; in my case I used 550 g of each)
Ingredients for the sauce (about 350 ml)
12 yolks cured and cooked
1 tablespoon low salt soy sauce
5 tablespoons mild olive or vegetable oil
3 tablespoons of rice or white wine
1 teaspoon and a half white sugar
¼ teaspoon ground white pepper
What's more
500 g chicken wings
1 teaspoon salt
Half a teaspoon of ground white pepper
1 tablespoon of cornstarch (cornstarch)
1 teaspoon baking powder
1 tablespoon mild olive or vegetable oil
Half a spring onion (and part of the stem)
2 cloves of garlic
Dried chilies to taste
3 tablespoons of yolk sauce
Lime wedges to accompany
Preparation
On a scale, cover a container large enough to place the yolks without touching and add a base of salt and sugar in equal amounts.

Separate the 12 yolks from the white and place each yolk on the salt and sugar base.

Weigh the same amount of salt and sugar and add the mixture over each yolk to cover them completely. Cover and refrigerate for 24 hours.

The next day, dig up the yolks and wash them with cold water at low pressure to remove excess salt and sugar. Let them dry and, in the meantime, preheat the fan oven to 160ºC.

Place the yolks on a plate with non-stick greaseproof paper and cook for 15 minutes. Remove and let cool.

Blend the cooked yolks, either with a chopper or a fork, until a fine, grainy texture is obtained.

Prepare the sauce by adding five tablespoons of oil to a frying pan, the crushed egg yolks, the wine, the soy sauce, the sugar and the white pepper. Cook over medium heat, stirring constantly until it is integrated and bubbly. Store in the refrigerator for up to two weeks.

Preheat the oven to 200ºC and season the chicken wings with pepper, salt, cornstarch, baking powder and oil.

Place the wings on a plate lined with non-stick paper and cook for 20 minutes. Raise to 240ºC for 3 more minutes and remove.

Chop the garlic cloves, onion and dried chilies and add them to a frying pan along with a pinch of oil. Sauté for 20 seconds and add the sauce with the cured yolks. Stir for ten seconds and add the chicken wings. Stir until well combined and serve with lime wedges and part of the chopped onion stalk on top.
If you make this recipe, share the result on your social networks with the hashtag #ComidistaRecipes. And if it goes wrong, complain to the Chef's Ombudsman by sending an email to [email protected]

elcomidista.elpais.com
Eddie is an Australian news reporter with over 9 years in the industry and has published on Forbes and tech crunch.