"Flying, to the oak room," says the teacher, while 12 children between the ages of three and six follow her excitedly with their arms as wings. It's just after 9 in the morning and, after leaving their backpacks in the cabin where they meet their friends and say goodbye to their parents, the little ones gather under the shade of a beautiful oak in the Dehesa de Boyal, in Cerceda (Madrid). "Who wants to count how many we are?" "Yooo. One, two, three … ", answered one of the students. "Now, we are going to look for sticks that we find on the ground," he says. The little ones follow the directions and make a big circle. "Now, we will create your blackboard," continues the teacher. At the feet of each one, they form a rectangle with four sticks. The teacher fills the gap between the sticks with salt and the blackboard remains white. Then start teaching cards with pictures: "Does anyone know what shape this is?" With their fingers, the children draw a circle in the salt.
What could be a summer camp activity, one of those that begins now, is actually the daily routine throughout the school year of the students of Bosquescuela, Cerceda, the only open-air child education center that is approved by the Madrid's community. It is not surprising that the children did not want the course to end a few days ago. Bosquescuela is an educational model in which you learn in an experiential way in contact with nature. "An environment so that children can express all their interests and develop their cognitive, emotional and social part," he says. Philip Bruchner, founder and managing director of Bosquescuela. "To learn, children need stimuli to develop language, mathematics, spatial perception … They will find everything in wild nature, where there is a variety of species, rivers, forests, mountains, rocks, trees … This environment we have not done it; it's there, "explains Bruchner. We cannot deny that the pandemic has made us rethink our way of living, of raising and, after months of confinement, of relating to the environment. Are there other ways to educate? Yes, there are: "Many families in the cities have been interested in the School Forest, because they have realized the importance of children being in contact with nature."
The National Association for Education in Nature (EDNA), in its manifest, claims the benefits of learning in contact with the natural environment for the development, well-being and health of childhood, especially in the earliest stages. In his argument he highlights that it allows direct, empirical and autonomous learning, since "it invites inquiry, exploration and experimentation, encourages critical gaze and strengthens the resilience of children." In addition, moving outdoors reduces infections and contact with the air and the sun strengthens the defenses. Parents might ask themselves: 'and when is the weather bad?' As the Norwegians say, 'there is no bad weather, just inappropriate clothing'. "With appropriate clothing, children can be out in the open, even in the rain and snow. To do this, it is recommended to apply the principle of 'onion layers' and it is convenient to have a change on your coat rack ", says Bruchner.
The benefits of learning outdoors
Class. We return to the oak class. The children, with all the educational resources available to them, sitting or standing, follow the class attentively. Only in that time have they addressed everything from mathematics and literacy to collaborative work, sensory integration and communication through the senses. As the center is bilingual, they have also interacted in English. On Guide to an outdoor education (Editorial Rodeno), Bruchner explains that while children run, jump, climb, balance on unstable ground or talk to each other, the brain processes millions of impulses, which will allow them to calculate, concentrate and attend. If a child expresses not wanting to do the activity, the trainer's reaction is natural: "so no problem". Bruchner, who is also a child educator and pedagogical advisor, argues that "An emotional and safe environment is prepared, and the child, according to his criteria linked to the developmental phase in which he is, can choose what he needs". Also, explain that "It is intended that in each class there is a balance between the activities of cognition, senses and singing, to achieve the maximum involvement of children, attending to their interests and preferences."
Walk to the place of the day. After class, the children run to the hut, grab their backpacks, and take a light walk to a chosen spot within the pasture. Although each day has a plan, the surprise factor is a constant. When choosing the place of the day, slopes, trees, roses, hills, shrubs and bushes, meadows, the weather, the season of the year …, details the Guide. This walk is not trivial for learning purposes. They are singing, looking, observing, asking questions, touching and entering into what nature offers them.
Picnic … now play! After walking for about 20 minutes, they reach an esplanade, on the banks of a stream. They put their mats on and each one, including the youngest, three years old, takes their picnic, with amazing autonomy. Another peculiarity of the Forest School stands out here: the children are not separated by age because "The little ones learn from the older ones and the older ones from the little ones"says its founder. The day invites to a bath, climbing trees, running, climbing … Two hours of free play, in which they decide what they want to do. But first, the passage through the photoprotector applied by the teacher is non-negotiable. Each child approaches her voluntarily. Nobody complains, nobody gets upset. During this phase, the teachers are attentive to everything, but hardly intervene in the game. Unless there is a discovery. For example, "A crayfish," shouts a trainer. The students crowd around him curiously, but with a certain familiarity.
The magic of the story. "While the children have worked and developed their ideas with complete freedom during playtime, it is time to receive and listen", Bruchner comments. Sitting on their mats, they pay attention to the narration. Sometimes the children themselves bring characters and plots from their imaginations.
The ride back. A group of children brings some flowers that they have found in the surroundings and they approach Jara Loira, head of the Forest School Training Program, who investigates in his plant manual: "It is called trembling grass, because, when there is wind, the spikelets tremble". "Aaaah." Some stay in the cabin to eat and others say goodbye. The first ones still have one more class and another hour of free play. "Mom, do we have to go now?" Asks Guille, one of the students, when they come to look for him. It seems that the day has been short.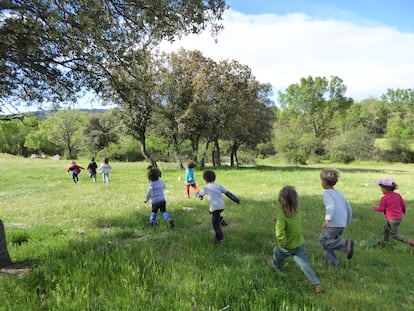 And after six years?
Next September, some children from Bosquescuela will join the traditional system. They will come to their first grade in Primary with a different experience. "It is going to be a big change. Perhaps other children will know how to read better than my son, but he will have acquired a series of tools on an emotional level that I think will help him ", he tells us Rosa Martínez, Guille's mother, who recognizes that in this transition she has some restlessness, but at the same time she is very calm. "We have been telling him about it, little by little. What does not mean that he will go from an outdoor classroom to one in which he will have to sit for 8 hours ", he adds. Rosa has to drive 45 minutes to go from home to the Forest School and another 45, back. "But it absolutely compensates, because he is happy," this woman stresses. Guille is one of those who would be delighted to go back to school on weekends and who, when he grows up, wants to be a teacher there. Of course, he's already targeted the camps: "What he has is passion. And it is understandable: the environment is pleasant, the teachers bring out the best in it, they understand what it is like, they guide you, they accompany you, they do not make you feel bad when you make a mistake. It is a very respectful way of educating. We wanted him to be able to interact with nature, because it fit with our philosophy of life. Thus, it is a gift that we have given him for his life ".
Why aren't there more approved centers?
Educating outdoors is not something new. As an educational method it was born in the 1950s, in Denmark. "In Germany it has existed since the 60s, but only from the 90s, it has spread so much that more than 3,000 schools, private, concerted and public, have already been created," says Bruchner. In Scandinavian countries, traditionally known for their exemplary educational systems, this methodology is highly developed. In Spain, although there are currently 40 outdoor early childhood education projects, only two have achieved homologation. "In 2015 we were able to homologate the Cerceda center for the second cycle of early childhood education (3 to 6 years) and it was adapted to the curriculum established by the Spanish educational system," says Bruchner.
But given the benefits of educating outdoors, why aren't more schools following this model? "I know many teachers who want to make big changes. This model makes everyone fall in love. But the legislation requires large facilities and buildings, a minimum of three classrooms of 25 children each, a playground … The Forest School model does not fit. A clause for forest schools should be included, because the requirements are simple: a hut-shelter, the teachers' qualifications and their special training in outdoor education, and a safety plan. Furthermore, it is a sustainable model with a zero carbon footprint ".

elpais.com
Eddie is an Australian news reporter with over 9 years in the industry and has published on Forbes and tech crunch.