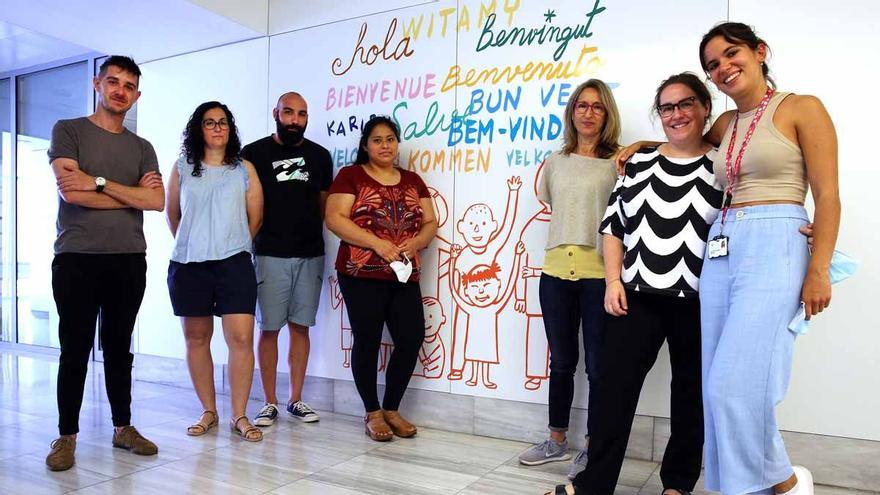 Officially children do not die, at least in rich countries. Aware of the negative connotations of the expression "palliative care", the professionals of these specialized units for minors even choose other names such as "hospitalization or home care". However, in Spain 15,000 children and adolescents live with a life-threatening disease and about 2,000 die each year. The testimonies of the newly created Peer Support Group for Families in Palliative Care they break taboos about this ignored reality.
"The moment my son Daibel died I promised him that everything I had learned from him I would use to help other families ", Ana Isabel Íñigo, one of the promoters of the group and author of the blog crianzamagica.com, comments excitedly. But Daibel's legacy, who lived for 6 years and 4 months, goes further: "I want to do my bit to achieve humanized healthcare in all areas," says his mother.
Emerged from Family Working Group of the Spanish Society of Pediatric Palliative Care, This new community meets once a month in a virtual format and, in addition to families, has pediatricians, nurses, psychologists, social workers and volunteers. Their goal is not just to share experiences and learn from each other, but to provide resources, offer training, contribute to collaborative research, and participate in ethical debate.
To Matilde Pérez, co-founder of the group with Ana Isabel, everything her daughter Valentina taught her was "too valuable to put away in a drawer". Valentina was born in 2016 and lived for almost a year. She was the first patient in a team formed, among other professionals, by the pediatrician José Vicente Serna and the nurse María Pérez.
"At the beginning we were Vicente, me, his motorcycle and a backpack with which we went to see the patients," recalls Maria, who works at the Sant Pau hospital. For people, pediatrics is giving bottles or curing bronchitis. There is a social stigma towards these children with neurological problems. They have zero visibility and their families don't get the help they need. "
Infant death
Associate children with serious illness and death is counterintuitive. Childhood cancer has some visibility, but only 20% of pediatric palliative patients are oncological. The vast majority suffer from cerebral palsy, rare genetic diseases, minority syndromes and other neurodegenerative pathologies.
"The palliative and pediatric chronicity is a discipline that has just been born and has a thousand deficits at the social, psychological and health care level ", says pediatrician José Vicente Serna, from the Parc Taulí de Sabadell. Although it is designed to take care of the lives of patients and their families, these deficiencies would have a lot to do with the fact that "in this country the right of children to a dignified death is not yet recognized."
It is estimated that in Catalonia there are at least 1,535 people from 0 to 19 years of age with complex and incurable diseases. During the last five years, the Enriqueta Villavecchia Foundation has contributed to improving care for these minors through specialized units, which in 2020 entered the public services portfolio. The same year the Department of Health began the deployment of the Xarxa d'Atenció Pal.liativa Pediàtrica Integral.
The families celebrate this step but warn that public administrations must be watched "with a magnifying glass" so that they provide these services with the necessary resources: "The families of the most vulnerable creatures cannot be left to have to look for life", warns Matilde Pérez.
Manel was born prematurely and initially they gave him a week to live. But despite terrible diagnoses, painful deformities, permanent irritability and epileptic status for up to 24 hours in a row, he has managed to turn 28 years old. He and his family have lived through years of hospital ordeal, exacerbated when he was referred to adult medicine at the age of 18. Doctors did not know how to treat him.
Take care of yourself to take care
Finally, two years ago, his fortune changed. "As he weighs 20 kilos, which is a pediatric weight, he was able to enter palliative care," explains his mother, Susana Navarro. "When they offered it to me, I thought it was because he had no life left, but the reality is that he is better than ever. and I have rejuvenated. They advised us in a different way about how their life had to be and, above all, they asked us what we needed. "
Ana Isabel expresses herself in the same vein: "After years in and out of hospitals, In a frenzied and unapproachable rhythm that consumed us and had us crushed, entering palliative gave order to our family, it allowed us to take care of ourselves and not just take care of ourselves ".
These minors have complex needs, but there are few grants and those that exist require a master's degree in grants. There are families who lose their jobs or are forced to ask for credits to cover your needs. Nor does the lack of knowledge about your situation help.
During the 23 months that Jennifer pizarro he could enjoy Emily, every time he took the bus he had to argue. Many drivers did not understand that their daughter's stroller was special and needed the ramp. "Don't we have the right to lead a normal life?" He laments. Little Emily received help from the dependency after she passed away, last March. As a migrant family from Peru, the difficulties are also greater.
Extreme loneliness
The particular characteristics of these diseases and the geographical dispersion of the families -David and Mireia, Einar's parents explain it in the documentary '118 km'– make it difficult for these people to meet others in similar situations. Hence the success of the Grupo de Apoyo Entre Iguales, in which 200 people are registered.
"These families, and therefore also the children, live in extreme loneliness even though they are surrounded by people," he points out. Vicente Serna. In many cases, extended family and friends do not understand what these people are going through, the rhythms are different and they end up distancing themselves. Sometimes such a painful experience pulverizes the couple.
When dealing with minors, their environment also has to face continuous ethical dilemmas. "Even if you think you're ready, when the end comes you don't dare, you don't want to," he acknowledges. Mireia Sans, mother of Einar, who was treated at the Vall d'Hebron hospital-. When we found ourselves in the situation that our son was not going to be resuscitated, we threw ourselves back a bit. The doctor told us that she understood but that we had seriously thought about things in her day and that made us reason again ".
"In the cold you can make the decision not to revive your son, but then in the middle of a crisis you change everything," adds David Torre, Einar's father. Palliatives helps you to make these decisions based on what is happening ". Einar passed away in 2018 at the age of 19 months. Mireia and David have created an association named after him and organize a race to raise funds for the Support Group.
"We are not superheroes"
All these mothers and fathers have to act as nurses, psychologists, social workers and activists, but one of the things that angers them the most is that they are seen as "superheroes": "They tell us that we are very strong and no, this is what that has touched us – Matilde Pérez affirms forcefully-. If it were your turn, wouldn't you give everything for your son? Let the discourse of heroism disappear in the media, please. We are not superheroes, we are normal people, with our limitations, who love our children above all else ".
These families understand that people outside their situation are afraid or reluctant to interact with them, but they ask that they come closer, that they know them, that people do not avoid them or disappear. They demand a social change and that these children can be integrated into society from minute zero.
"Me I thought that I would never be happy With a daughter with serious special needs, it did not fit with what I had in mind -admits Matilde Pérez, who has a doctorate in Political Science and has two other children-. Without knowing her and when she was barely a month old, she was already putting a label on her. But I have come to realize that you can be happy with a child in hospice care. It is another vision of disability and human dignity. "

www.informacion.es
Eddie is an Australian news reporter with over 9 years in the industry and has published on Forbes and tech crunch.