Updated:
Keep

China It passed a law against foreign sanctions on Thursday, in an attempt by Beijing to protect itself against mounting pressure from the United States and the European Union over its trade and human rights policy.
Beijing accuses the US of "crushing" Chinese companies and made veiled threats in response to the enlargement by the president Joe Biden, last week, from a blacklist of companies in which Americans are prohibited from investing.
The law includes countermeasures such as "refuse visas, deny entry, deportation […] and seal, seize and freeze property of individuals or companies that adhere to foreign sanctions against Chinese companies or officials, "according to the text published by the Standing Committee of the National People's Congress, China's highest legislative body. The restrictions may apply to relatives of disgraced individuals in China.
The new text also allows the country's courts to sanction companies that comply with foreign laws that violate national interests, which endangers multinationals that adapt to US sanctions. Furthermore, the law stipulates that companies or individuals in China do not need to submit to foreign restrictions.
"The law seeks to firmly safeguard the sovereign dignity and fundamental interests of the country and opposes the hegemony of the West and the policy of force," declared the spokesman for the Ministry of Foreign Affairs, Wang Wenbing.
The Chinese government has long complained that US law is applied extraterritorially through sanctions and trade restrictions.
In recent months, Biden has intensified criticism of China, both for cases of theft of intellectual property as for alleged human rights violations in Hong Kong and against the Muslim minority uigur en Xinjiang.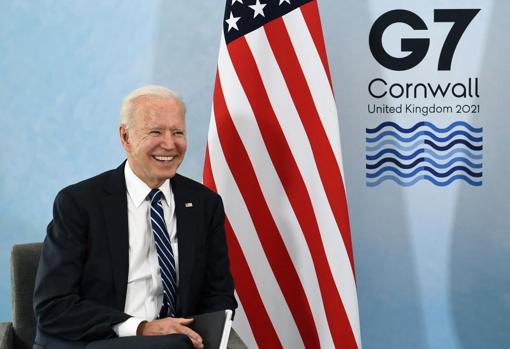 They are blacklisted by the White House 59 Chinese companies, accused of supporting Beijing's military activities. Among these, is the large telecommunications company China Mobile, the video surveillance company Hikvision and the Chinese oil group CNOOC.
The new law passed in China comes as Biden works to achieve a common approach against China with allies of the G-7, which meets this weekend in the United Kingdom.
Biden, against the "economic abuses" of Beijing
Biden's project against "economic abuses and coercion by the Chinese government" has been welcomed by Japan, South Korea and Australia, and now the US president hopes to convince European leaders.
The new countermeasures are a "precise response" to US attempts to forge a common front against Beijing, the Chinese state daily Global Times said in an editorial. "It will act as a powerful brake against countries that impose sanctions," said the newspaper. "We will not hesitate to fight the forces that arrogantly challenge us and we will continue to enrich our legal resources," noted the 'Global Times'.
See them
comments

www.abc.es
George is Digismak's reported cum editor with 13 years of experience in Journalism