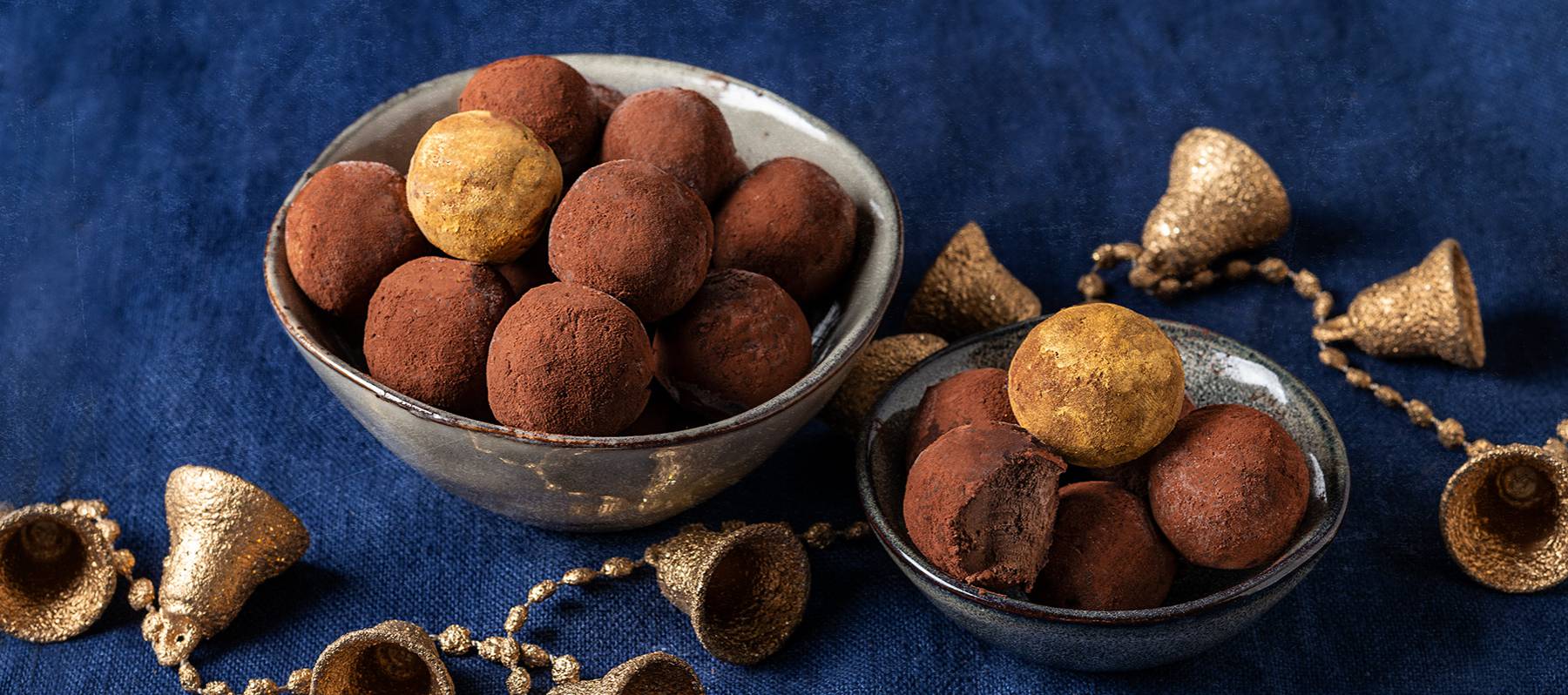 We get elegant and refined at El Comidista -within our possibilities-, with these chocolate truffles and spiced wine. They have two advantages: they are very easy and will make your brothers-in-law drop their jaws at Christmas in admiration for your good work (yes, you can). They can also be done in advance to show off with good and stress-free at your Christmas feasts.
Making homemade truffles is a reasonably easy process – here are three other examples – and they have the advantage that you can flavor them to your liking and almost with whatever you want. In this case we have done it with a classic of Anglo-Saxon, Central European and Nordic Christmas: spiced wine, which receives names as varied as mulled wine, mulled wine -yes, the one you buy at IKEA-, mulled wine and some other. If you want to warm up with the classic mulled wine In the homemade version, the recipe was already provided by our colleague Mireia Font around here.
So these truffles combine the taste of chocolate – it is advisable to use an acceptable dessert chocolate – with the aromas of spiced wine (I have always thought that red wine and chocolate marry wonderfully). If you want to curl the curl, beyond the classic truffle finish of coating them in cocoa powder, we propose a bath in chocolate that also protects them from drying out.
Difficulty
Little if you follow our instructions.
Ingredients
For 4 servings
200 ml of red wine
2 orange peels
1 tsp. ground cinnamon
4 cloves
1 pinch of freshly ground nutmeg
2 tbsp. brown sugar
150 g of quality dark chocolate
125 g of liquid cream to assemble (minimum 35% mg)
Cocoa powder
150 g of chocolate more for the bath (optional)
Preparation
Put the wine in a saucepan and add the orange peel, cinnamon, cloves, nutmeg and brown sugar. Heat until gently boiling and reduce to half the volume; measure into a measuring cup to make sure we get 100 ml.

Put the chocolate in a bowl and melt it, either in a saucepan with a finger of boiling water, which does not touch the bowl, or in 15-second intervals in the microwave with great caution and stirring from time to time.

Heat the cream in a saucepan or in the microwave without boiling and add the still hot wine reduction. Mix.

Pour the liquids over the melted chocolate and stir with a few rods until emulsified; the mixture is seen to thicken slightly and become shiny and silky. Let cool to room temperature.

Put the ganache in the fridge and let it set for at least a couple of hours.

Prepare a dish with cocoa powder. With a teaspoon, take homogeneous portions of the mounted ganache, roll them between your hands to shape them into a ball and pass them through the cocoa powder. Put them on a tray and refrigerate them again in the fridge. When they are cold they can be passed through more cocoa powder.

If you want to coat the truffles, melt two-thirds of the chocolate in a bowl. Chop the remaining third part and add it. Mix until all the chocolate is melted.

Dip the truffles in the melted chocolate by dipping them with a fork, transfer them to a greaseproof paper and allow the chocolate to solidify.
If you make this recipe, share the result on your social networks with the hashtag #ComidistaRecipes. And if it goes wrong, complain to the Chef's Ombudsman by sending an email to [email protected]

elcomidista.elpais.com
Eddie is an Australian news reporter with over 9 years in the industry and has published on Forbes and tech crunch.