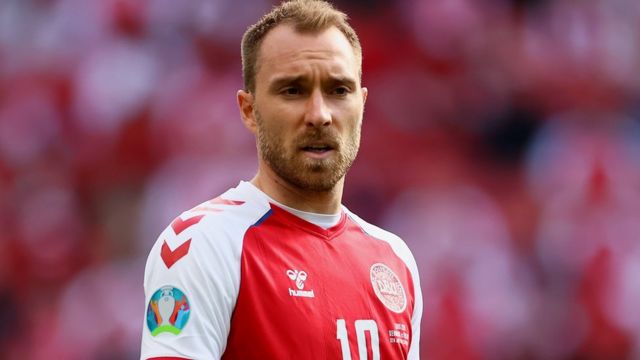 Danish soccer player Christian Eriksen's heart suddenly stopped beating during a Eurocup match last Saturday.
Eriksen was urgently admitted to a hospital from where he confirmed that he was "well under the circumstances."
Doctors confirmed that 29-year-old Eriksen suffered cardiac arrest and decided that he will have her implanted. an automated defibrillator.
This is "necessary due to rhythm disturbances," explained Danish team doctor Morten Boesen.
How does the implantable cardioverter-defibrillator work?
The implantable cardioverter-defibrillator, also called implantable cardioverter defibrillator (ICD) It is a small battery-operated device that is worn on the chest to monitor the heart rhythm and detect irregular heartbeats.
This type of defibrillator emits electrical impulses through one or more wires connected to the heart to correct the abnormal heart rhythm, the Mayo Clinic in the United States describes on its website.
Patients who need this device is because their heartbeat is dangerously fast (ventricular tachycardia) or because the heartbeat is so erratic that it prevents the heart from pumping enough blood to the rest of the body (ventricular fibrillation).
Defibrillators detect and stop abnormal heartbeats (arrhythmias). The device continuously monitors your heartbeat and emits electrical pulses to restore a normal heart rhythm when needed.
It should be noted that this defibrillator is not the same as a pacemaker, another implantable device that is used to help control abnormal heart rhythms.
"Christian accepted the solution and also the plan was confirmed by specialists nationally and internationally who recommend the same treatment," added Dr. Boesen.
Eriksen, a former Tottenham Hotspurs player who is now at Inter Milan, collapsed shortly before halftime in the Denmark-Finland game, and had to be resuscitated with a defibrillator.
German doctor Jens Kleinfeld, who treated him on the playing field, told the Funke media group: "About 30 seconds later, he opened his eyes and I was able to talk to him."
"It was a very moving moment, because in such medical emergencies in everyday life, the chances of success are slim," he added.
Kleinefeld said that at that point he asked Eriksen, "Well, have you come back to us?"
"Yes, I'm back with you," Eriksen replied. "Damn, I'm only 29 years old."
"It was then that I knew that the brain was not damaged," said Dr. Kleinefeld.
Similar cases
The Dutch defender of Ajax Daley Blind was diagnosed with a heart condition in December 2019.
But this did not force him to abandon his professional career and he returned to the field in February 2020 after an implantable cardioverter defibrillator was placed.
The 31-year-old is part of his country's team at Euro 2020 and played in his first match, which ended with a 3-2 win against Ukraine.
However, the former cricketer from England James Taylor, The 31-year-old ended his career with heart problems in 2016.
Subsequently, a defibrillator was placed on him and he told the podcast BBC Sport Desk, what Eriksen can expect.
"It's a defibrillator that's inside me," Taylor explained. "The way I can describe it is that it is half the size of a cell phone and a little bit thicker. It has two wires that are connected at the bottom of the heart."
"At first I was reluctant to have it, but once I better understood my condition and how it is going to help me, He's my best friend", he claimed.
"I opted to place it under my pectoral muscle, so I can't see it, but you can see the cables in my chest, if you want," he said.
"One of the important things, I would say (to Eriksen), is to talk to people you trust and also to open up to people who have had a similar experience to learn and understand the situation, because nobody really knows," he said.
Remember that you can receive notifications from BBC News Mundo. Download the new version of our app and activate them so you don't miss out on our best content.

www.bbc.com
Eddie is an Australian news reporter with over 9 years in the industry and has published on Forbes and tech crunch.