Christian Walker, the son of Republican Georgia Senate candidate Herschel Walker, criticized his father on social media again on Wednesday following the latest controversy surrounding the former NFL star.
The 23-year-old, who has more than 287,000 followers on Twitter, posted "wear a condom, damn," in an apparent reference to his father having three children he did not previously acknowledge and reports that he paid for his then-girlfriend's abortion in 2009, despite now supporting a national ban on the procedure with no exceptions for rape, incest, or if the mother's life is in danger.
Herschel Walker, who is running for the Georgia Senate seat held by Democratic incumbent Raphael Warnock, has denied the abortion claims first reported by The Daily Beast, calling the allegations a "flat-out lie" and a "repugnant hatchet job."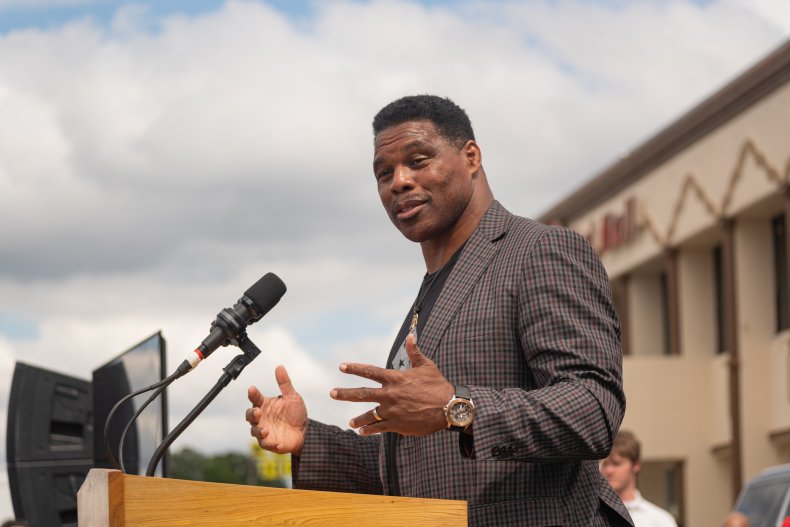 This is not the first time that Christian Walker has publicly criticized his father, who has been endorsed by Donald Trump, amid the string of scandals which have dogged the football star's political campaign.
Following the reports Herschel Walker paid for his girlfriend's abortion, Christian Walker accused the 60-year-old of "lying" and being violent towards him and his mother.
"You're not a 'family man' when you left us to bang a bunch of women, threatened to kill us, and had us move over six times in six months running from your violence," Christian Walker tweeted on October 3.
"I don't care about someone who has a bad past and takes accountability. But how DARE YOU LIE and act as though you're some 'moral, Christian, upright man.' You've lived a life of DESTROYING other peoples lives. How dare you."
Christian Walker also claimed that the Walker family had tried asking his father not to run for office because they were aware of his past.
"He decided to give us the middle finger and air out all of his dirty laundry in public, while simultaneously lying about it," he tweeted.
In a video posted on Twitter the following day, Christian Walker said he is now speaking up against his father, having "stayed silent while the atrocities against my mom were downplayed."
"I stayed silent when it came out that my father, Herschel Walker, had all these random kids all across the country—none of whom he raised," he said. "Family values, people? He has four different kids, four different women, he wasn't in the house raising one of them."
In a statement addressing the abortion claims, Herschel Walker said he is planning on suing The Daily Beast over the "defamatory lie."
The Georgia Senate candidate also hit out at the claims his three previously unknown children were a "secret," adding he did not publicly admit having them as he "didn't want to use them as campaign props in a political campaign.
In an October 3 tweet following Christian Walker's posts attacking him, Herschel Walker said: "I LOVE my son no matter what."
Newsweek has contacted Herschel Walker's team for comment.
George is Digismak's reported cum editor with 13 years of experience in Journalism