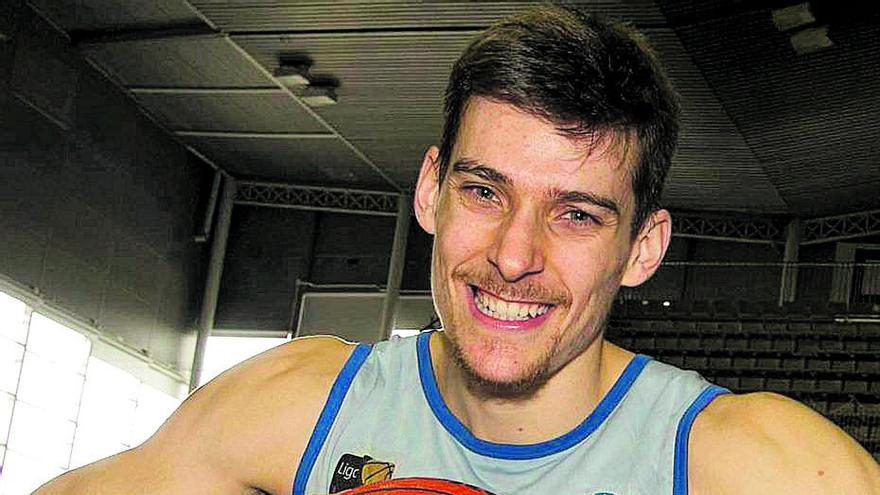 The Yeclano Chumi Ortega is being one of the key players in the good trajectory of HLA Alicante in the LEB Oro, a team that will visit Real Murcia Baloncesto tomorrow at the Príncipe de Asturias pavilion. He left the UCAM quarry in search of the maturity he has found.
José Francisco Ortega Soriano 'Chumi' (Yecla, 1997) is one of the talents that the quarry has drawn from UCAM Murcia in recent years. Based on work and good performances at the EBA, he earned a place in the first team and made his debut in the league and in the Eurocup with the Murcian club. He decided to pack his bags to mature sportively as a player and went through the ranks of Albacete Basket, in LEB Plata and currently, in HLA Alicante, with which he achieved promotion to LEB Oro a couple of seasons ago. In his second season in the silver category, he seems to have reached the level of maturity he was looking for and has become a key piece in the schemes of Pedro Rivero. His team leads the classification of their group and this Saturday they visit the Real Murcia to try to recover from his first loss of the year.
How are you in Alicante? Have you already adapted to the city?
This is my third year in Alicante and I'm doing very well. I have adapted to the league quite well thanks in part to the team. I am very happy here and very adapted. I really like the city.
Without basketball for a long time this year, what have you wasted your time on?
Well, with the issue of the pandemic and that we couldn't leave home much, I have taken the opportunity to play NBA 2K with friends. Now that we are a little better I like to visit restaurants, cafes and others. But hey, I like to be at home reading, watching series or playing the console.
It is his third season in Alicante and each game that passes has more stripes.
Yes it's correct. This year the team is helping me a lot to make me feel good and is giving me confidence so that I can give a little more, especially at the offensive level.
Lucentum's fans are very fond of him. What do you think is due?
I am a player who leaves everything he has on the court in each game and I think that is why the fans identify with my style of play.
A few weeks ago, Pedro Rivero said that he was already prepared to face more prominence.
I think it is because I have matured a little more in other aspects of the game apart from the defensive side and I have a lot of confidence in myself. The team and the coaching staff have made me see it that way. For everything the coach asks me, I'll be there.
How is your relationship with the coach?
It is very good, I feel very comfortable with it since the first year I came. He is a coach who shows that he has been a player and we notice that. Teaches to do the basketball easy and the player appreciates that they keep things simple. It gives me a lot of confidence.
Talk about giving him a lot of confidence. How important is this aspect in the day-to-day life of a player?
A confident player can give you much more than one without confidence. When a player does not have it, it shows in his game. When it comes to making decisions, you don't have the same certainty, in free throws you are not as confident … You lose the mentality and the confidence you have in yourself and you don't know if things are going to turn out for you. However, when you have it, a player is able to bring out his best version.
In what moment of confidence is Chumi right now?
Well, my morale is very high. I feel pretty good both training and playing. That's what I was telling you, the team has given me that confidence and on the track I take it out and try to make me see the best version of myself.
He is not a very numbers player. He has a defensive specialist role similar to that of Sadiel Rojas at UCAM Murcia.
My role in Alicante is that. My confidence comes through good defensive actions and then I take advantage of it to try to turn into attack.
He had a great teacher in Sadiel.
I can say that in my years in Murcia, training with him I learned a lot. It helped me a lot personally and to grow as a player. I learned with sticks (laughs) with him. He is a guy who trains very hard and if you are by his side he makes you go to the limit too, which I am grateful for today.
Still, he is averaging more than ten valuation credits and looks much looser when it comes to daring offensive action.
I don't pay much attention to numbers. This is what I was telling you, my confidence comes through defense and if I am fulfilling my role, in attack I feel much more comfortable when shooting and penetrating. This year I am showing it and they are giving me more prominence.
HLA Alicante is a team that since its return to LEB Oro has been seriously fighting to enter the ACB.
It can be said that yes, we are competing very well. Looking at the results, people think that we are a team that aspires to the ACB but really, we try to think the least about whether we are going to go up or not. Although it sounds cliché, we have our feet on the ground and we know where we come from. We focus on getting each game forward and what comes in the future will be the result of the work we have done during the season.
Humility is very good, but the truth is that this season they are co-leaders of the group and are the most valued team, with the most points in favor, the one that assists the most and the one with the best percentage of field goals. They are team numbers that are seriously going for promotion.
The numbers are true that they are there. We are co-leaders with 6-1 and we want to continue to be up. But we are not distracted by how well we are doing. We are an ambitious team that we do not settle for anything and we want to take the name of Alicante as high as we can this year. If it ends with promotion it would be a dream.
Could it be the year of promotion? They have a high quality squad.
We have a great team. Training with them every day you realize how talented they are. It will be complicated because this year only one is promoted and there are templates with a high level. It will be difficult but I trust our team a lot.
They had not lost since December 6, 2019 and curiously, the defeat returned on the exact same day in 2020.
I read it the other day and it is quite curious. It's something that sooner or later had to happen and it happened last week but that doesn't mean anything. We do not have to lower our heads and we must continue at the level we were at and we are going to try to get the victory against Real Murcia. We have been a year without losing, we have to be very proud.
I suppose that with the Ferrándiz public pressing things would have been different.
The truth is that if. Last year, in the tightest games, the heat of the public helped us get those kinds of games out. There was an amazing atmosphere and we miss it. The one in Alicante is a type of hobby that in bad moments they never tire of encouraging and we get results thanks to them.
They are now visiting Real Murcia, a newly promoted team that is doing well in its first season at LEB Oro.
Real Murcia is a very complete team. In addition, they have just signed Diego Kapelan, who is a very scorer and versatile guard. They are fifth with three wins and fighting for the top spots. They are not going to make it easy for us but we are coming off a defeat and we want to win Murcia.
What is it like to play with a player of the stature of Pedro Llompart? Now they are in Alicante but they already met in their last season at UCAM Murcia in the ACB.
Pedro, both as a player and as a teammate, is incredible. It is fortunate that we met in Murcia and also in Alicante. It is amazing to have him on a daily basis and he is a player that young people have to absorb everything that each training session teaches us. All the years that I have been with him he has helped me a lot. But not just me, but the whole team. Gives lots of tips to improve generally.
Are you very involved with young people?
Yes. He is the captain and acts as a leader. It is the helm of the ship and it is always there. He is very involved with the team because he wants us all to go together and for no one to take off.
I suppose that being a Murcian and a basketball lover, he will continue to update UCAM Murcia. How do you see it?
I see them well. They are in a mid-table position and I think that this year they can fight for higher things than in recent seasons. I think they have to find that consistency because they can win against anyone and they can lose against anyone. That point of consistency would do you good to get on a good streak. I think they will be fighting for the playoff until the end.
What about Conner Frankamp?
He is a piece of gamer. He's a great replacement for Askia Booker, they've completely got him right. In addition to being a 'metepuntos', he has that vision that allows him to find his companions with ease.
In Murcia he did a great job at the EBA that led him to make the leap with the first team, but he didn't have much regularity.
I had good years in my seasons at the EBA and they rewarded me doing dynamics with the first team and playing the odd game. It was a very beautiful stage in my life. And well, I did not find consistency because I was a young player and maybe I was not 100% prepared to find that consistency that you are telling me. I needed to mature and I decided to leave Murcia to do it.
In recent years the club has drawn talented players from the quarry such as Mendiola, Emilio Martínez, you … But none of them have settled down. What do you think happens?
The work that is done in the quarry is very good. There are very talented players in all categories. The problem comes in making the leap from EBA to ACB, it is a very big difference. I believe that to achieve that maturity it is necessary to go through LEB Gold and LEB Silver before taking the leap. It is also true that I believe that young people and Spaniards should be given more opportunities. Instead of looking so much abroad, we should look a little more at the national product because I really think there is talent. Xabi (Xabier López-Arostegui) is now showing it with more prominence at Joventut and there are more young people who deserve that opportunity but have not yet been given it.
Are you also concerned about the fact that there are fewer and fewer nationals in the ACB? In Murcia, for example, before the arrival of Bellas, there were no players born in Spain.
Yes, it worries me. You have to give it a spin because that's what I told you. There are Spanish players who could play in the ACB but do not have that opportunity. In LEB Oro there is a high level of players and I think there could be many national players who are capable of showing that they can play in the highest category. The LEB is undervalued. Now that they televise all the games, let's see if the league gains a bit of visibility and people realize the talent in Spain.
Thinking in the future. It is his last year of contract in Alicante and suitors will not miss …
It is too early to talk about the team that I will be in next year. I am very comfortable in Alicante, they have a great project and the coaching staff and fans appreciate me. But you never know what will happen, the future is uncertain. The only thing I can say is that I feel very good in Alicante.
Does Chumi think of the ACB? Before he told me that in his time in Murcia he lacked some aspects that he had to improve but that he has already achieved.
Yes. In the end what a player wants is to continue advancing in his career and I think I am increasingly able to play in the ACB. I would like to be in a short period of time playing in the highest national category.

www.informacion.es
Digsmak is a news publisher with over 12 years of reporting experiance; and have published in many industry leading publications and news sites.