David Shukman
Science editor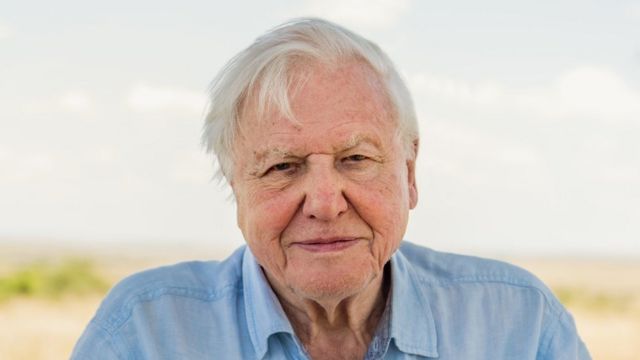 "If we don't act now, it will be too late."
That is the warning of the British naturalist Sir David Attenborough in the run-up to the COP26 climate summit that will begin in Glasgow, Scotland, on October 31.
Attenborough argues that rich nations have "a moral responsibility" to help the world's poorest.
So what it would be "really catastrophic" if we ignore their problems, he tells me in this interview on BBC.
"Every day that passes and we don't do something is a wasted day," he adds.
Sir David and I were talking in London's Kew Gardens while filming a new series, The Green Planet, due out next year.
We talked about climate change, the importance of COP26 and the pace it takes in your working life.
Attenborough, de 95 years, has dedicated a large part of his career to scientific popularization. He has voiced dozens of series about life on Earth and is considered a pioneer in making documentaries about nature.
No time to waste
The United Nations Intergovernmental Panel on Climate Change recently concluded that it is "unequivocal" that human activity is increasing global temperatures.
And Attenborough told me that this was proof that he and others have not been "making a fuss over nothing" and that the risks of a calmer worldient they were real.
"What scientists have been saying for 20 years, and what you and I have been reporting, have not been false alarms. Every day that passes and we don't do something is a wasted day. And things are getting worse," Attenborough says.
The naturalist regrets that the weather reports have not convinced everyone and that this is holding back efforts to fight climate change.
"There are still people in North America or Australia who, although they regret that a forest fire has completely demolished or incinerated a village, they believe that it is something that happens only once. It happens especially if it will cost money in the short term. The temptation is to deny the problem and pretend it's not happening, "he says.
"But with each passing month, it becomes more and more incontrovertible, the changes on the planet for which we are responsible are having these devastating effects."
The emissions debate
His call for an urgent response reflects the latest scientific assessment indicating that to avoid the worst impacts of rising temperatures, global carbon emissions they need to be halved before 2030.
This is why the next few years have been described as "the decisive decade" and why the talks at COP26 are so crucial in putting the world on a safer path now.
As things stand, emissions are projected to continue to rise rather than begin to fall.
Sir David sounds more exasperated than ever.
"If we don't act now, it will be too late. We have to do it now".
Liability for emissions is highly contentious and will be discussed at the conference.
For years, emerging countries have accused the richest nations, the first to start polluting the atmosphere, of not bearing their share of the burden.
The argument is that those nations should make the deepest cuts in carbon emissions and provide aid for those who need it most.
The long promise of investing US$100.000 millones per year for low-carbon development and building stronger defenses against a violent climate is yet to be met.
Reaching that total will be a key test in determining the success or failure of COP26.
For Sir David, this would be one of the most troubling challenges and says it would be "really castrophic" if threats to poorer nations are ignored.
"Whole parts of Africa are likely to be unlivable. People will have to move because of the advancing desert and increasing heat. And where will they go? Well, many of them will try to enter Europe. "
"So we say that it has nothing to do with us and we cross our arms?"
"We cause it. Our type of industrialization is one of the biggest factors in causing this change in climate. So we have a moral responsibility. "
"Even if we hadn't caused it, we would have a moral responsibility to do something for the thousands of men, women and children who lost everything. Can we say goodbye and that this is none of our business?"
Tireless work
I finally asked him about his hectic 95-year-old workload.
At that age he continues to film documentaries, speaking at the G7 summit, at the UN Security Council and at the Duke of Cambridge's Earthshot Prize.
"I don't plan much in the long term. As you say, I am 95 years old. How far can I go? It is not in our power to say or know those things. "
"All I know is that if I wake up tomorrow and feel capable of completing a decent day of work, then I should do it with joy and be grateful."
"The day will come when I will get out of bed and think I can't. When will it happen? I don't know that."
Watching him record for five hours straight and stay not only focused but also in a good moodI thought that he still loves what he does.
"At the moment, I feel like it would be a waste of opportunity to just go back and not do the things that I think are very important and that I am in a good position to do."
What's next on Attenborough's agenda?
Nothing less than to speak, virtually or in person, on what will be the largest gathering of world leaders on British soil: COP26, starting on October 31st.
Now you can receive notifications from BBC Mundo. Download the new version of our app and activate them so you don't miss out on our best content.

www.bbc.com
Eddie is an Australian news reporter with over 9 years in the industry and has published on Forbes and tech crunch.