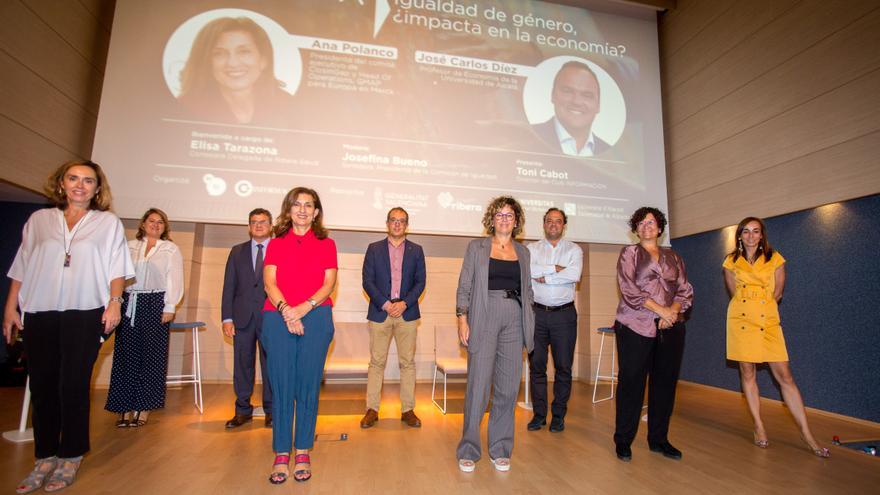 Equality and gender balance at all business levels it is key to the economy as a whole. However, much remains to be done. Last Thursday at the first TALENT-A forum, driven by the 20 Torrejuana and the Club INFORMATION, the question was answered "Gender Equality: Does it impact the economy?" and for this they had the participation of two top-level speakers: Ana Polanco, President of the Executive Committee of ClosinGap and Head of Operations GMAP for Europe at Merck and Jose Carlos Diez, professor of economics at the University of Alcalá.
This permanent, open and transversal forum was created with the objective of influencing that scientific, business, economic and cultural progress must take into account participation and women's talent.
"The Generalitat Valenciana has an important commitment to talent and women represent 50% of that talent, we cannot afford not to have all this potential, it would be extremely inefficient. For this reason, the Department of Innovation, University, Science and Digital Society supports this space for dialogue ", Carmen Beviá, Regional Secretary for Innovation.
To welcome the forum Carmen Beviá, Regional Secretary for Innovation, highlighted that «these initiatives can help us in the elaboration of the Equality Law, which is currently being carried out by the Generalitat Valenciana, it can help us to identify gaps and activate the necessary measures to reduce and eliminate them ". Then Elisa tarazona, CEO of Ribera Salud highlighted that «I don't know if we can break the glass ceiling that is so widespread, especially in some areas of society, but I am sure that together and together we will be able to open windows in this roof to clear the way for all professional women we don't want to put any limits on ourselves ».
How does the gender gap affect the economy?
"We are 36 points away from closing the gender gap," stressed Ana Polanco. These data were released through the index of ClosinGap, a business initiative promoted by Merck that today is made up of 11 large companies. «Thanks to this index it is known that in Spain in gender parity we are at 64% and therefore, we have a 36% to close the gender gap»Polanco explained.
"In the Ribera healthcare group, 70% of the professionals are women, but in this case also, most of the managerial positions and positions of responsibility are held by women. Female leadership is a reality in many areas, both private and public because we provide plurality, diversity, creativity and empathy. Different studies show that results and productivity improve in those work environments that are diverse and inclusive ", Elisa Tarazona, CEO of Ribera Salud.
In this way, the ClosinGap index, published at the beginning of this year, yielded unpublished figures so far and has allowed us to know how Spain is doing in terms of gender and how much impact it has on our economy, in terms of GDP, in addition to knowing how many years we need to reach parity.
«We launched the initiative in 2018 precisely addressing this question: how much is our country losing in terms of GDP by not taking advantage of female talent? At the time we knew from the reports that there was indeed a correlation between not taking advantage of all female talent and economic growth. We were aware that there were still gaps to be closed and we wanted to explore the most unknown ones.
The index was formed based on five large dimensions that impact the economy through employment, these dimensions were: education, employment, conciliation, digitization and health and well-being. In addition, a retrospective study was carried out to later see what dynamics it had and thanks to this it is known that in Spain we need 35 years to reach parity if we follow the current rhythm. Therefore, closing gender gaps is essential for the prosperity of our country and for reach parity.
«In the field of conciliation is the one where work has to be done the most, it is the only gap that is below 50%, the index figure gave a 44%. The good news is that it is closing faster than others and we would need 20 years at the current rate ", stressed the president of the ClosinGap Executive Committee.
Regarding how the gender gap affects the economy, Ana Polanco also gave some figures: the women generate 41.5% of the national GDP despite representing 51.4% of the working-age population. On the one hand, women are less represented in the workplace and if this gender gap were closed, GDP would increase by 10 points.
But in turn, when they work they have higher partiality rate, that is, they work fewer hours than men, if the hours of work were equalized, GDP would increase by 7.5 additional points. Finally, women are present in less productive sectors than men, if that productivity GDP would increase by 1 point.
With which, if If these gaps were closed, GDP would increase by 18.5 points. «18.5 points of GDP, would generate 3.2 million jobs. It is a great opportunity for our country to grow and to boost our economy if we are able to take advantage of all the female talent we have, "concluded Polanco.
For his part, José Carlos Díez emphasized that "we are in a country that years ago had one of the lowest participation rates for women in the labor market in Europe. Now, the participation rate of women in the labor market has skyrocketed and is practically equal, therefore the hours worked and the GDP have increased a lot. The level of non-agricultural employment in Spain since 1975 has doubled and without the incorporation of women it could not be explained. But what is missing now? The female unemployment rate is higher and especially women suffer job insecurity in terms of an excessive weight in temporary hiring. This means that the woman having a temporary contract has less connection with the company ".
What can we do to take advantage of female talent?
The forum emphasized above all the importance of the commitment that must be had both at the business level and at the personal level to promote gender equality. In this way, to get achieve that equal opportunity It is essential to implement actions that really contribute to this.
However, one of the disruptive points in the professional career of women occurs with motherhood, «there is a wage gap When women have children and their careers break, one of the solutions is digitization. I think that digitization It has to help us to reach full equality, although it is also a way of streamline processes and make work more flexible. But this must be accompanied by a change in the organizational culture to achieve equality and to also increase the productivity. Culturally and corporately we are behind other countries, but the main problem is in small companies. The greatest precariousness is concentrated in small businesses, "Díez explained.
Ana Polanco stressed that the sensitization It is one of the most important points and that the commitment to equality has to be of men and women and has to permeate from top to bottom. «Commitment has to come from the top and bottom at all levels of the organization and it is not worth just having an equality plan, we have to do much more so that women also occupy leadership positions».
Ultimately, it is not enough just to talk about equality you have to act and position yourself.
20 women references
«Las 20 de Torre Juana» is an organization that aims to bring together women referents of diverse professional sectors of the province of Alicante in order to create a network of collaboration and empowerment and to create synergies to work for the equal opportunities.
For this reason, they have promoted this TALENT-A forum together with the sponsorship of the Ribera Salud group, the Ministry of Innovation, the University of Alicante and the Miguel Hernández University. The meeting was moderated by Josefina Bueno, president of the Senate Equality Commission and as presenter with Toni Cabot, director of the INFORMATION Club.

www.informacion.es
Eddie is an Australian news reporter with over 9 years in the industry and has published on Forbes and tech crunch.