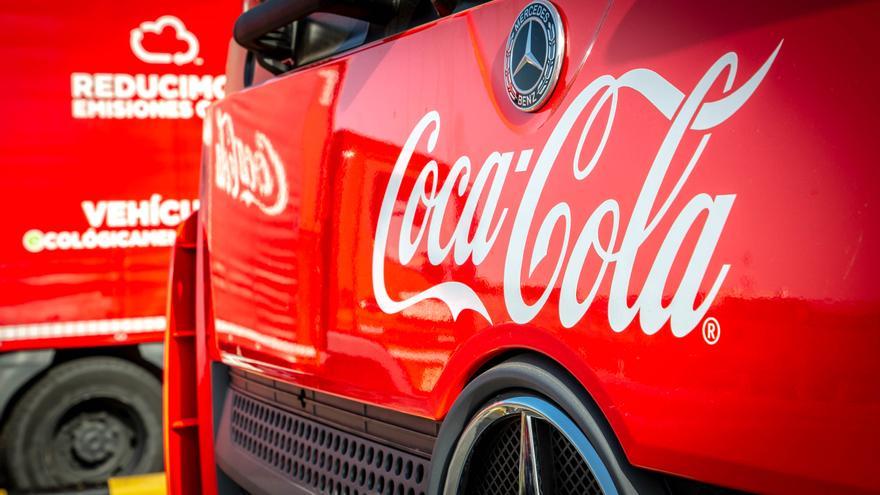 Coca-Cola European Partners (CCEP) will accelerate the decarbonisation of its business by reducing greenhouse gas (GHG) emissions from its entire value chain -including scope 1, 2 and 3- emissions by 30% by 2030 (compared to 2019) (This includes the commitment to reduce scope 1 and 2 GHG emissions by 47% and scope 3 emissions by 29% in 2030 compared to 2019) and sets the path to become a Zero company Emissions in 2040, in line with the Paris agreement to limit global warming to 1.5˚C.
Coca-Cola European Partners will reduce GHG emissions in the five areas of its value chain: packaging, ingredients, operations, transportation and cold equipment. Special focus will be placed on the reduction of scope 3 emissions, which are recognized as those that generate the greatest challenge, committing to support its suppliers to establish their own carbon emission reduction targets based on scientific criteria and use 100% electricity from renewable sources.
According to Damian Gammell, CEO of Coca-Cola European Partners, in presenting these objectives on an international scale, "our vision has always been to offer products made in a sustainable way, but today we recognize a greater urgency to address climate change, one of the most serious and complex challenges facing our society and our planet. For this reason we have developed an ambitious plan to reduce our greenhouse gas emissions that, with scientifically endorsed carbon emission reduction targets, supports our ambition and chart the progress of our actions ".
"We have a responsibility to the communities in which we are present to adopt actions that minimize the effects on the climate. We realize that it will be a long and complicated process – there are no easy or magic bullets – but we are determined to make these changes as quickly as we can and to play our part to help and influence others. We have made significant progress so far, and we intend to continue leading the transition to a low-carbon future by transforming the way we do business and placing impact on the environment at the center of our decision-making. " Gammell concludes.
For the implementation of this action plan, Coca-Cola European Partners will invest 250 million euros in Western Europe over the next three years that will provide financial support for decarbonisation in the different areas of action. This includes actions such as further reducing the carbon footprint of your cold equipment or continuing to work on sustainable packaging. Coca-Cola European Partners will continue to make progress on its roadmap to make its PET containers contain 100% recycled plastic, rPET, which also includes investment in depolymerization technologies. All this with the aim of accelerating the development of its long-term objectives to become a zero emissions company.
The commitment acquired is of such magnitude that Coca-Cola European Partners has included the GHG reduction objective in the incentive plan of its management team. 15% of this plan will be obtained to the extent that emission reductions are achieved during the next three years.
This incentive plan is based on the work carried out over the last decade to reduce GHG emissions throughout the Coca-Cola European Partners value chain, which, since 2010, have been reduced by 30.5% as part of its sustainability strategy for Western Europe 'We move forward'. The commitment to reduce GHG emissions by 2030 has been approved by the Science Based Target Initiative (SBTi) and aims to become a zero emissions company by 2040, in line with the commitment to limit global warming to 1.5˚ C recommended by the Intergovernmental Panel on Climate Change (IPCC).
Coca-Cola European Partners will invest in projects that remove carbon from the atmosphere or in verified carbon offset projects. However, it will focus on reducing emissions as much as possible and only compensate when it is essential or no longer possible to reduce further.
The new commitments in Spain
The new zero emissions objective in 2040 was presented today in Spain during a virtual round table in which Cristina Sánchez, Executive Director of the Spanish Global Compact Network; Ana Callol, Vice President of Public Affairs, Communication and Sustainability of Coca-Cola European Partners Iberia; Michaela Reischi, Head of CSR at Lidl; and Juan José Freijo, Brambles Global Director of Sustainability. And it has been closed by Ismael Aznar, Director of Quality and Environmental Assessment of the Ministry for the Ecological Transition and the Demographic Challenge.
Ana Callol, Vice President of Public Affairs, Communication and Sustainability at Coca-Cola European Partners Iberia, pointed out: "The planet is at a critical moment and we must all assume our responsibility in reducing greenhouse gases to limit the increase of global temperature beyond 1.5 ° C and protect the future of our planet. For this reason, we are working towards a future with zero emissions. We have decided to act now to reduce greenhouse gas emissions throughout our entire value chain, from the ingredients we source and the packaging we use, to the beverages we sell. As we move forward with our first three-year plan, we will continue to adapt it and solve key challenges to help set new longer-term reduction milestones. "
In the words of Ismael Aznar, Director of Quality and Environmental Assessment of the Ministry for the Ecological Transition and the Demographic Challenge, "from the Administration we are defining the strategic and normative framework to achieve climate neutrality in 2050, with instruments such as the Climate Change Law , the National Integrated Energy and Climate Plan or the Long-Term Decarbonization Strategy. We are also laying the foundations to achieve the transition from a linear economy model to a circular one, based on the Spanish Circular Economy Strategy and a new Waste Law. But we are facing a collective challenge and we also need large companies, such as Coca Cola, to lead this process of change with ambitious strategies ".
For Cristina Sánchez, executive director of the Spanish Global Compact Network, "we are in a historic moment that will depend on future generations enjoying the planet we have known so far. A time when the pace of the fight against climate change will be especially marked by the ambition of the business sector. In this sense, the undertaking of urgent actions related to the decarbonization of the planet by companies is not only necessary, it is essential. For this reason, from the Spanish Global Compact Network we recognize the value of those companies that, such as Coca-Cola, are leading climate action in Spain. This is, without a doubt, a major challenge for them, but one that will have benefits for all, as it will lead us to achieve the world we want, the one written in the 2030 Agenda ".
During the round table, the actions that will be implemented to achieve the zero emissions objective, which revolves around continuing to work on packaging, ingredients, distribution, operations and cold equipment, among others, were announced. In packaging, it is expected that, by the end of 2021, still beverage containers will have 100% recycled plastic (rPET) and the rest of the portfolio, 50%, anticipating the goal set for 2022. Brands such as Smartwater already They use 100% recycled plastic. Likewise, the process of lightening tin, PET and glass containers will continue, which is leading to a reduction in the use of virgin material of about 22,000 tons. The investment made for the development of this project has amounted to more than 12 million euros. It will continue to innovate in new models of refillable containers and dispensers. In Spain, 27% of the containers that Coca-Cola European Partners puts on the market are already refillable. Likewise, Spain has been chosen as a pilot country in which the dispensing system for HORECA developed by ITS (Innovative Tap Solution) will be tested, which will be launched in the coming weeks. With regard to transportation, work will be done on optimizing routes and using alternative fuels. In relation to trucks, Coca-Cola European Partners already uses Euro VI models in Spain, much more ecological; and in the case of the commercial vehicle fleet, a part of it will go hybrid next year. In addition, whenever possible, the train will be used to transport the products.
On the other hand, work is being done to make manufacturing plants free of fossil fuels. In fact, all the electricity contracted is already renewable origin and work is being done so that the rest of the energy used is also renewable. Other actions that will be launched will have to do with cold equipment. If, in previous years, all the equipment that was acquired was HFC-free and more sustainable, this line will continue to be committed to more efficient units.
For Ana Callol, "beyond the commitments, we want to establish a roadmap with concrete actions that allow us to ensure that we comply with the ambitious objectives that we have set. We are convinced that with the collaboration of our suppliers and customers and the commitment of the entire team, we will be able to achieve our objectives ".
Proof of this collaboration has been the participation in the event of Michaela Reischl, Head of CSR of Lidl, and Juan José Freijo, VP of Sustainability of Grupo Brambles.
Michaela Reischl, Head of CSR at Lidl, pointed out that "large companies have a responsibility to lead projects that allow us to fight against climate change. At Lidl, we set ambitious and measurable goals throughout the entire value chain, which we develop jointly with our suppliers, in areas such as sustainable construction, efficient transportation or the use of 100% renewable energy. Thanks to this close collaboration, for example, in the last four years we have managed to reduce our carbon footprint in logistics by 30%, a milestone that has made us the only company in the country with 2 Lean & Green stars, an international initiative that has as The objective is to reduce the emissions associated with the supply chain and which AECOC promotes in Spain ".
For his part, Juan José Freijo, VP of Sustainability at Grupo Brambles, highlighted that "we are pleased to see business and climate leaders join forces for the first time in the race towards zero emissions. As pioneers of the circular economy, we know that climate change can only be fought by working together. Our unique position and visibility in the global supply chain have always allowed us to help our clients create more sustainable supply chains, but now we want to go further and drive more collaboration initiatives with clients such as Coca-Cola European Partners. In line with the Paris agreement, both companies have recently signed our commitment to reduce the increase in land temperatures to 1.5ºC. This will involve transformative actions throughout the supply chain to reduce emissions with the aim of creating carbon neutral chains ".

www.informacion.es
Digsmak is a news publisher with over 12 years of reporting experiance; and have published in many industry leading publications and news sites.