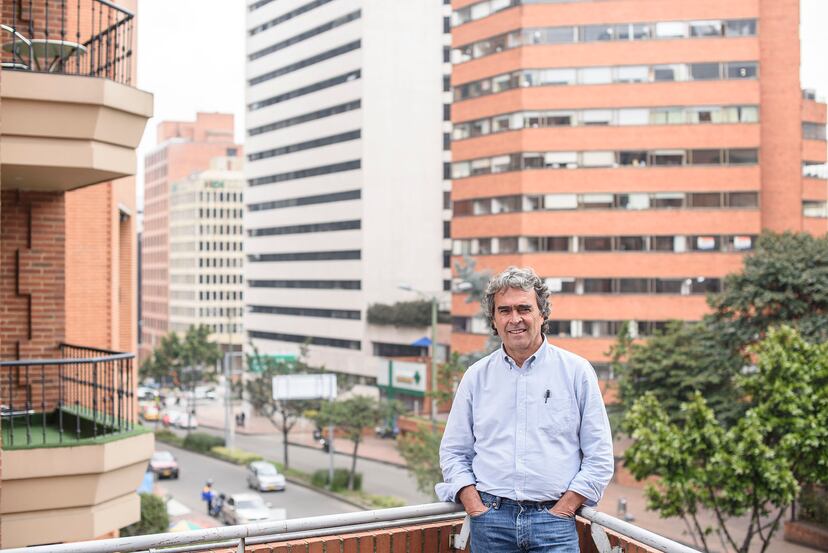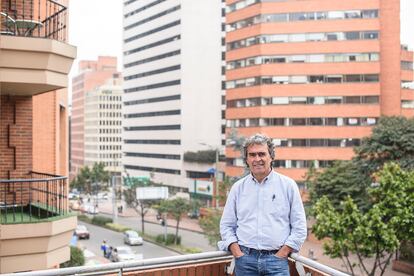 Sergio Fajardo (Medellín, 65 years old) arrives somewhat late. He apologizes and explains that he came from meeting with the team with which he is preparing his anti-corruption proposal. In recent weeks he has had to divide his time into what he qualifies as "two campaigns," one presidential and one other to defend himself in two processes against him for his actions when he was governor of the department of Antioquia, between 2012 and 2015. One for not having anticipated the volatility of the dollar when acquiring a loan and another for the Hidroituango energy megaproject, which has suffered collapses, million dollar delays and losses. Fajardo feels himself the victim of persecution and is sure that he will be able to prove his innocence.
As part of the Coalition of Hope, he hopes to reach the second round in the elections next May that eluded him four years ago, when he came third behind Iván Duque and Gustavo Petro. Now he aspires for the center to converge around his political project and reaffirms that "under no circumstances" he intends to join Petro, the left-wing candidate who heads the polls, in which Fajardo is second. A mathematician by profession, the also former mayor of Medellín, an independent figure of the political parties, attends EL PAÍS on the terrace of his campaign office in the north of Bogotá, with his characteristic shirt and dress outfit. jeans, without belt. "All my life I have dressed the same," he says, since his days as a university professor.
Question. You are a well-valued politician in the polls, but you have already been a candidate without reaching the presidency when your image was even better, what has changed this time to maintain your aspiration?
Answer. In 2000 I made the personal decision to get out of the academic world and get directly involved in politics. I started at 43 years old. We managed to reach the mayor's office of Medellín, the first time that an alternative civic movement had arrived, faced with the traditional political machines, and we defeated them. We show how you can govern differently and turn the tide of the city. We reached 2010, when I participated with Antanas Mockus as vice presidential candidate in the so-called "green wave." From that moment on, the country began to live more intensely alternative forms of politics, and a rupture was unleashed that we have been building, step by step. In 2018, I was a presidential candidate. Now is the time where all the path we have traveled can be consolidated around a presidential proposal that is going to be a winner.
There is a figure that I like to use: the glass was filled. When the glass is full, societies change. Colombia has a deep, very deep crisis, which is expressed in the social outbreak that we have experienced since 2019, and this year in the framework of the national strike. Here a chapter closes, the 20 years in which politics has revolved around the figure of former president Álvaro Uribe. Colombia is going to change. The challenge we have is what change for Colombia? One to destroy or one to transform, which is the one we want to represent.
P. Who is your rival to beat?
Join EL PAÍS now to follow all the news and read without limits
Subscribe here
R. Petro. In the coming confrontation we will have three alternatives. One, those who in one way or another want to continue, associated with the right-wing movement. And two to change, one associated with the figure of Petro and another with what we represent.
P. You then see yourself as the candidate of the center.
R. All work is for that. I am part of the Coalition of Hope, we are a group of people with different trajectories, contradictions at times, and we have made it a point to work together, to complement each other, to demonstrate how it can be built despite differences. I want to be the person who represents the Coalition of Hope, to reach the second round with Petro, where I think we are going to win.
P. How does the candidacy of Alejandro Gaviria affect you?
R. We are in a political confrontation, the path that he follows is very different from mine. I have been in politics for 22 years, Alejandro enters to participate because a group of people suggested to him that he was the right person to lead our country. There is still a long way to go, time for formal campaigns. Here we go.
P. Alejandro Gaviria maintains that he is more progressive than Petro, but he seeks to conquer the center space for which he competes with you. How to get out of the caricature of 'lukewarm' with which you have been attacked?
R. Let's review the origin of the word 'lukewarm'. It appears in the 2018 elections when after the first round I decide to vote blank, perfectly conscious. I explained the reasons why I was not voting for one or the other. From the perspective of Petro's world, they begin to attack me in a systematic way, I have already been three and a half years of aggressions of all kinds. The word 'lukewarm' suggests that I did not take a position, and precisely what I did was take a position. Voting blank is a political position, firm and determined, but they use that qualifier. It does not mortify me, nor does it bother me, nor does it make me up late, nor does it deconcentrate me.
P. Would you not support Petro on this occasion either, even if it is the alternative to a right-wing government in the second round?
R. It is that in the second round I will be against Petro. The day I go to bed thinking for whom I am going to vote in the second round that is different from me, that day I am lost. We are different political projects, we are not going to unite now under any circumstances.
P. He has been very critical of César Gaviria's support for Alejandro Gaviria. How do you propose to have the support of the rank and file of the Liberal Party without counting on the former president?
R. It's me, but also the coalition. If we are going to make a transformation in this country and Colombia is going to change, it has to change the form of politics associated with clientelism, which is the gateway to the vote of corruption. There will be no change if there is no change in policy, and if we do not face the patronage that is associated with the figure of former President César Gaviria. It is not a whim or a personal malaise, it is a political expression of what has to be transformed in our country. It is nothing against liberal-minded people.
P. What do you think about there being no women in the Coalition of Hope?
R. We are working on this issue, there is still a long way to go. We are building a single list for the Senate of the Republic and the houses of representatives, as far as possible. There is still time for more people to bond, and for women to be part of that proposal.
P. How do you assess the return of Ingrid Betancourt to Colombian politics?
R. I have had many conversations with Ingrid. She has publicly stated that she finds in the Coalition of Hope the possibility of change in our country. He is a person who is capable of advancing on what has been the destruction of war, showing the ability to repair, to do justice, to understand each other. I am glad that he is participating in politics again. She agrees on something that is essential in this coalition, which is the fight against patronage.
P. Is Ingrid going to be a letter from the Coalition of Hope?
R. She will have to decide. For the first time after all that time, she returns to Colombia with enthusiasm, in the words that she has said to me. And the illusion is associated with what we are building and want to represent. It is a personal issue, you have to respect his path and his times. I have no doubt that she is going to be a very important protagonist.
P. What would your first step be if you become president?
R. Where I am in life: fight against corruption. Of course, also education, not only in terms of colleges and universities, but a citizen education project to transform Colombia. We are always going to worry about the issue of employment, rural development, the green economy, the wealth that our country has associated with biodiversity, climate change. Also the uncertainties faced by youth, the issue of women.
P. You have distanced yourself from Claudia López in your statements about Venezuelan migrants. What is your position regarding the reception policy that Colombia has maintained?
R. It is an important, necessary aspect and I think it is the correct policy. We have to understand the dimension of what the arrival of Venezuelan migrants in Colombia means, to be able to welcome them, that is a great effort for a country that never had systematic migration. It is the first time that we have faced a circumstance of this nature, in fact, Colombia has been a country that expels.
P. Would you reestablish bilateral relations with Venezuela?
R. We have to go step by step. I disagree with the policy that the national government has had with respect to Venezuela. In fact, I think that the foreign relations policy of the current government is a calamity, it has been one mistake after another. We have to build channels of conversation, even if we have profound differences with the Maduro regime, which we do. We neither support it nor want to be like them.
P. Is Petro really like them?
R. I do not enter to qualify if Petro is or is not, what I do know is that we are not. I think that the Maduro government is a dictatorship of the 21st century. A rich country expelling people because they are hungry. That is unpresentable, unacceptable and a demonstration of a way of governing that we do not want and has our condemnation.
P. You have said that you are facing two campaigns: one for the presidential elections and the other to defend yourself against the accusations against you. How could this affect your candidacy?
R. I think it will end up affecting it positively. I have two accusations, from the Prosecutor's Office and the Comptroller's Office. The decision we made was to make these accusations a way of educating the public. What I have been doing is showing the incongruities, the errors that are behind these accusations. I am sure they are acting in the wrong way. Demonstrating it, seriously and rigorously, is an unprecedented chapter in Colombian politics.
P. Do you feel persecuted by the control bodies?
R. Actually, yes. In these inconsistencies, in what we are demonstrating, there is an explanation about some accusations that do not correspond to the performance that I have had.
P. Do you regret any of your decisions in the Hidroituango project?
R. No. We received a project in progress and what we did was work so that it could be developed, we made responsible decisions with the information we had at the time. Of course I didn't want the contingency that occurred to have happened, but our performance was correct.
P. In terms of fiscal responsibility, it is a huge sum, difficult for anyone to bear. How do you finance yourself?
R. Since 2016, I have been a professor at Tec de Monterrey and I have a retirement, that is the income I have in life. And we got the resources to have a very small, very basic team to do the political work that we do. They are minimal resources. Contributions, foundations, a group of people throughout the country who participate out of conviction, out of ideals. Our characteristic is austerity.
P. How do you rate the Government of Iván Duque?
R. Bad. It is a bad government in every way.
P. What is the main problem in Colombia?
R. There are three central problems in our country. With the deep social inequalities that this society has, poverty comes first. Two, corruption, I think it is a cancer that Colombia has. The third is associated with violence. Citizen security is a great challenge, not only in the urban context but also in the territorial one, which is expressed through the murder of social leaders. The State has not been present in territories that have very high levels of poverty.
Subscribe here to the newsletter from EL PAÍS América and receive all the informative keys of the current situation of the region



elpais.com
Eddie is an Australian news reporter with over 9 years in the industry and has published on Forbes and tech crunch.