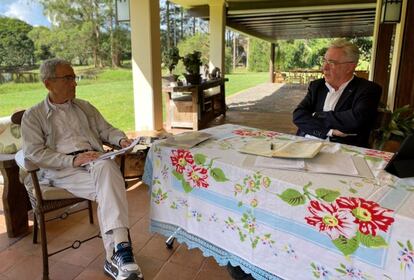 A couple of weeks have passed since the events, but we Colombians continue trying to agree on what really happened that day. The Truth Commission is, as readers will know, the institution that was born out of the Peace Accords to establish as far as possible a story of the war: an ethical and political story that helps us in the most difficult task of reconciliation, or at least in the understanding. Well, the Commission has been inviting the living presidents of this country to give their version for several months, but it had come face to face with the neglect of Álvaro Uribe, whose mandate was a turning point in the half century that we are dealing with. to interpret.
When he finally agreed, Uribe did so by imposing his terms: not by visiting the commissioners in any of the twenty-eight Houses of Truth that have been opened throughout the country, as the others have done, but by forcing them to appear before him at one of the their estates. And there, on a Napoleonically designed stage — Uribe sitting in a chair higher than the others, behind a very wide table that only he could use — a four-hour conversation took place that left many unsatisfied.
Francisco de Roux, the Jesuit priest who heads the Commission, was criticized. Not only the usual ones: those that come from the most traitorous right, which uses the networks to insult and threaten and even manipulated a video to accuse it of guerrilla sympathies; but also those of a part of the left, who saw in the conversation an unnecessary concession to the man who has done everything to sabotage the peace accords, but also to confront the Colombians and poison their coexistence. They believe that the act was an invaluable megaphone for a politician who has distinguished himself by his facility for slander and deception, and the commissioners did not know how to contradict his most questionable statements or respond to his most rude provocations. In other words, they say, the Commission suffered a humiliation that could have been avoided. I have for me that what happened was very different.
The possible value of institutions such as the Truth Commission, in Colombia and in South Africa and in Central America, is not only in the willingness to talk to everyone, but in the stubbornness to get everyone to speak. In other words, important testimonies must be found wherever they are, even if it is in thoughtfully hostile territories such as this meeting. What the three commissioners did was put their mission above other considerations; In short, they refused to politicize with something as important as the vision of the conflict that the main opponent of the Accords has.
And what is that mission? Among other things, ask certain essential and urgent questions, but that would not fit in other spaces. During the interview there are two phrases that Father De Roux repeats frequently. "You have a lot of questions," he says several times, putting his hands to his head. And also: "These things must be explained to the country."
I am trying. After acknowledging that it was Uribe's policies that forced the FARC to negotiate, Father De Roux asks the former president a question so elementary that many Colombians have already relegated it to oblivion: why, instead of advancing on what achieved, things got tangled up? Why was it decided to turn the Peace Accords into a reason for conflict?
De Roux commends the seriousness and rigor with which the Accords were negotiated; recalls that even the United Nations Security Council, which does not agree on anything, has agreed to praise them; and then he asks Uribe: "Why, in the face of such a profound thing, not take a step of generosity that would have united Colombians?"
So it is true: you have to explain many things to the country. And it is also true that one has many questions. What citizens do not usually have – much less most of the victims of this long war – is who does them on their behalf. The authority of the Truth Commission comes from the Peace Accords, which Uribe does not recognize; but it comes, above all, from a more imprecise and abstract place, a consequence of having unequivocally sided with the victims: with all of them, not just with some politically chosen ones. It is an authority that I can only call moral. It is the one that Father De Roux and the commissioners who visited Uribe have, and it is the same one that Uribe lost during the interview. If it hadn't been lost before.
Juan Gabriel Vasquez is a writer. His latest novel is Look back (Alfaguara)

elpais.com
Eddie is an Australian news reporter with over 9 years in the industry and has published on Forbes and tech crunch.