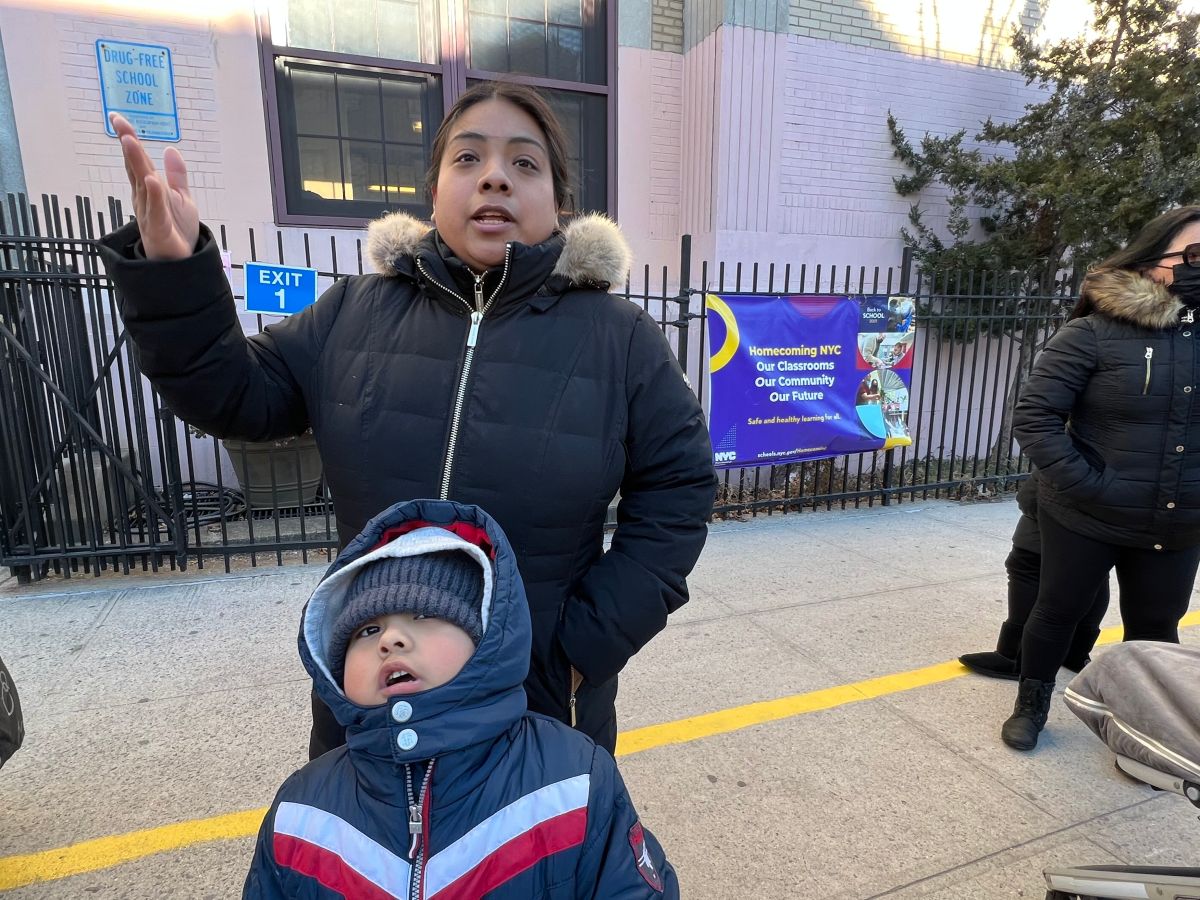 Confused, worried and even surprised, some parents of the families declared public schools of New York City consulted by The newspaper, after learning this Wednesday that the Department of Education (DOE) will shorten required isolation and quarantine periods for students, teachers, and school staff who contract COVID-19, at a time when cases are down more than 50% compared to December.
Starting next Monday, January 31, those who test positive in a COVID test, or who are not vaccinated and have been exposed to the virus, should not stay 10 days out of the educational establishments, but only 5 days; On day 6 after testing positive, as long as they are symptom-free and fever-free for 24 hours without medication, students and staff will be able to return to class as normal. It is also not necessary to present a negative COVID test.
The change in COVID case management protocols, which at the beginning of the pandemic determined that the isolation period should be 14 days, then 10 and now less than a week, left parents like Dahlia Ruiz, who expressed his total opposition to the new measure.
"I find it very worrying. that the Department of Education now come out with this, I think that five days are not enough for the children or teachers who are infected to recover and what is going to happen with that is that they are going to be the focus of contagion in schools, "he assured. the mother of two boys, ages 7 and 3, who study in Long Island City.
"I think this change should be reconsidered because it leaves us very worried and afraid. The Covid has not yet gone away and we already saw a month ago that the cases increased, so I do not understand the reason for doing such a thing, "added the mother.
Magaly Lojan, mother of a family from Queens, declared distressed, and said the e-mail she received Tuesday night about the changes left her confused and unsettled.
"We still don't know what is going to happen with this virus, for which there is still no cure, and when they tell us that we must not neglect ourselves, that we must take care of ourselves and not let our guard down, the schools come and send us these mail with changes that are very worrying and with which I do not agree"said the mother of a child at PS166 in Astoria.
"Five days is a very short time for someone to heal. I would like them to leave the same time as before, 10 days, because this is going to happen but then, "added the Ecuadorian, who assures that her family has already been infected with COVID, but not yet with the omicron variant. "They confuse us all the time Every day things change and the worst thing is that they do not ask for a negative test to return more when we know that there are still parents and children who have not been vaccinated; that worries me even more. I think they should listen to the parents".
A measure recommended by the CDC
With its new protocol, the DOE is on the same page as the Centers for Disease Control and Prevention (CDC), which at the end of last year issued the same recommendation, reducing the time of isolation from 10 to 5 days at the national level.
For children in the LYFE, 3K, and Pre-K programs, who have tested positive for COVID or have been exposed, the isolation period will continue for 10 days. On day 11 they can return if they have no fever for 24 hours and are better.
Regarding the concerns expressed by parents, Nathaniel Styier, A spokesman for the Department of Education warned that the City's schools adopted the new measures, following not only the guidance of the CDC, but also the guidelines of the New York State Department of Health.
"The Department of Education updated its health policies related to COVID-19," the official said. "These changes continue to help us maintain our 'Stay Safe, Stay Open' policy, which has been in place since the holidays, while adding more recent policy changes from the CDC and the New State Department of Health. York".
Regarding the elements that teachers and school directors will take into account for the return to work of those who have tested positive, the Department of Education explained that anyone who returns from a five-day isolation period must be fever-free for 24 hours without the use of fever-reducing medications and your general symptoms should be improving. They will also need to be able to wear a well-fitting mask, such as a KN95 or KF94 or a surgical mask worn under a cloth mask, while at school from day 6 through day 10.
A negative test will not be required
And in the face of parental complaints that a negative test is not required as a requirement to return to classes, the Department of Education explained that neither students nor staff who have completed their period of isolation are required to show a negative result, based on scientific data.
"A person can continue to receive a positive COVID-19 test result for up to 90 days, even though they are no longer infectious," the DOE said.
Leonie Haimson, president of the Class Size Matters organization, which watches over the rights of students, also criticized the changes in the management of COVID quarantines in schools, and was especially concerned about the non-requirement of negative tests to return.
"It is not wise to allow students or staff to return to school after five days without a negative Covid test. As the American Medical Association points out, this risks further spread of the virus, as research shows that nearly a third of people infected with Covid are still contagious after five days," the activist said.
Which are the new rules?
Students in Kindergarten through 12th grade, including those who are not fully vaccinated and who are exposed to COVID-19, outside of the school setting, will be required to quarantine for five days, instead of 10.
To return to schools, students are not required to submit a negative test result.
Students with symptoms, such as a fever, will continue to be required to stay home.
Teachers, students and school staff who return to school after testing positive will be required to wear a fixed mask while at school from day 6 to 10.
Staff and students in kindergarten and above grades, when exposed to COVID-19 at school, do not need to self-quarantine, but should continue to use the home test kits provided by their school.
Students in the LYFE, 3-K, and Pre-K programs who share classroom space with a person who tests positive for COVID-19 must continue to self-quarantine.
Children at least 2 years old who have been exposed to COVID-19 may return to school on day 6, after completing a five-day quarantine, but must be symptom-free and have a negative laboratory test performed by a healthcare provider on day 5 or have a negative result on two rapid home tests taken on day 4 and day 5.
Children under the age of two in LYFE classrooms can return to school on day 8, after completing the seven-day quarantine, symptom-free and have a negative lab test by a health care provider on day 5 or after.
Exposed young children who are not tested may return to school on the 11th day after completing the ten-day quarantine.

recent infections

There are 900,000 students and more in NYC schools.
1,445 NYC school students tested positive on the last day.
307 staff members and teachers have tested positive.

eldiariony.com
Eddie is an Australian news reporter with over 9 years in the industry and has published on Forbes and tech crunch.