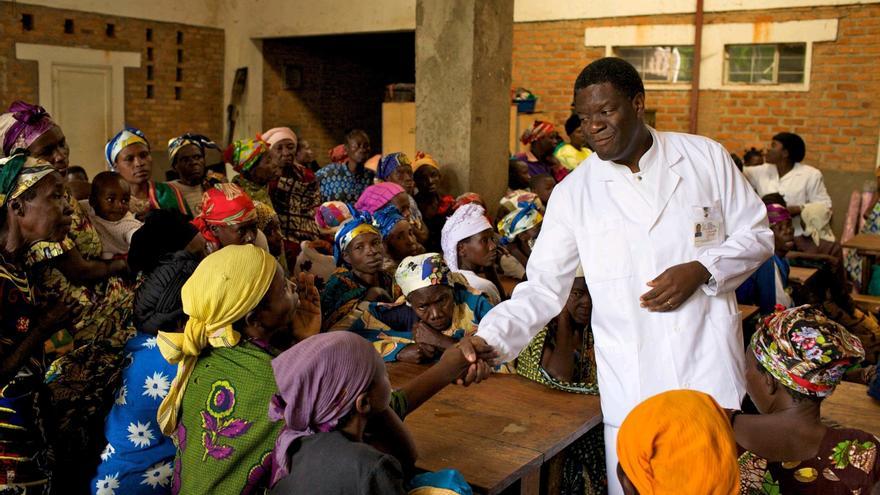 The African gynecologist, awarded for his defense of human rights, especially of women victims of sexual violence in war situations, had planned to attend the event that was intended to take place in April 2020 in Alicante and which had to be canceled due to the Covid-19 pandemic. Right now, the health situation in the Republic of the Congo prevents international travel and no more time has been allowed to pass, so, in collaboration with the Rotary Club Buvaku Mwangaza, an event has been organized in virtual format from Alicante, Evanston (USA), Strasbourg (France) and Bukavu (DR Congo).
The presidents of RC Alicante will also intervene from Alicante Luis Ramos (2020/2021) and Philipp von Kapff (2019/2020), who will act as hosts in Spain, the governor of Rotary district 2203, Ricardo Molina and the Professor of Immunology at the University of Alicante, Jose Miguel Sempere, who will be one of those responsible for the laudation of the winner. In this gloss will also intervene Love Pagazaurtundua, Member of the European Parliament and Sakharov Prize 2000, from Strasbourg, and Holger Knaak, President of Rotary International 2020-2021, from Evanston.
The event will end with the intervention of representatives of the Rotary Club Buvaku Mwangaza of DR Congo, who will deliver the bust of balmis, and the winner himself, Denis Mukwege, "an international symbol in the defense of human and women's rights", they emphasize from the entity.
The 66-year-old African doctor has been instrumental in helping thousands of patients thanks to the work of his hospital in Bukavu, in the eastern part of the Democratic Republic of the Congo. The center's staff helps to alleviate the physical and psychological consequences of sexual violence in a context of war where women are used as weapons. As chief surgeon at Panzi Hospital in Bukavu, he and his colleagues have treated about 40,000 women victims of rape, developing extensive experience in the treatment of severe gynecological injuries. Despite the attacks on her life, Dr. Mukwege speaks tirelessly to raise awareness of the realities of the Congolese war and its serious and long-lasting consequences for girls and women.
The Doctor Balmis Rotary Club of Alicante Foundation was born in 2002 under the auspices of the Rotary Club of Alicante with the aim of spreading and recognizing the figure of the doctor Francisco Javier Balmis, one of the Spaniards who has made the most contributions to humanity with his philanthropic expedition of the smallpox vaccine in the 18th century, considered one of the deadliest diseases. Mukwege accepted the award "because we have managed to identify him with Balmis, he has been valued as a doctor," said Philipp von Kapff at the time, when the award was announced to the winner.

www.informacion.es
Eddie is an Australian news reporter with over 9 years in the industry and has published on Forbes and tech crunch.