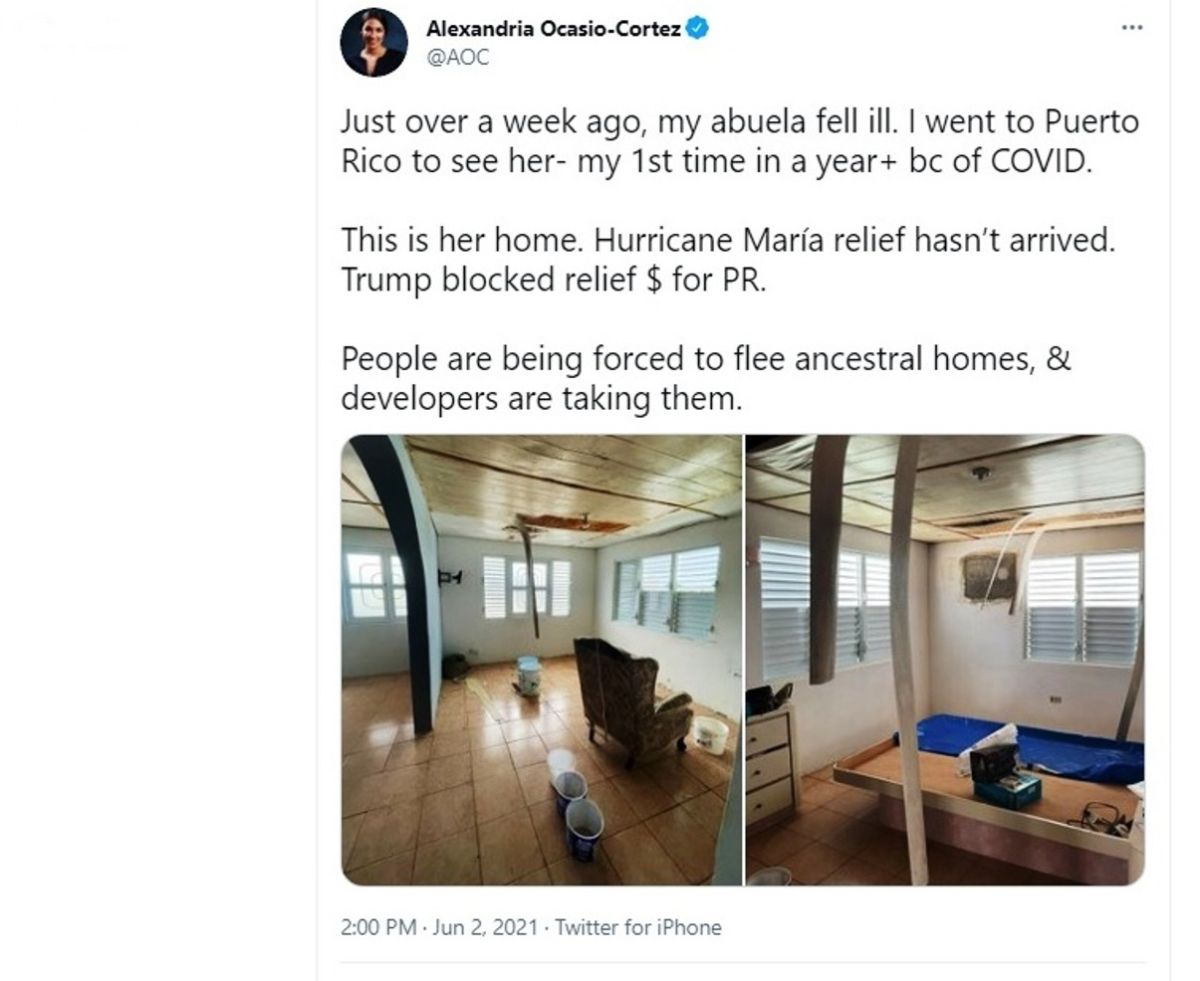 Alexandria Ocasio Cortez (AOC), New York's representative on the National Capitol, posted yesterday on Twitter photos of the deteriorated home of his "sick" grandmother whom he visited in Puerto Rico, criticizing the management of former President Donald Trump after Hurricane María of 2017.
"A little over a week ago, my grandmother got sick. I went to Puerto Rico to see her, my first time in a year due to COVID. This is your home, "wrote the Democratic congresswoman, posting two photos of a house with little furniture and a damaged roof.
"Relief from Hurricane Maria has not arrived. Trump blocked the $ PR relief. People are being forced to flee their ancestral homes and developers are taking them over, "he added.
In subsequent messages, the self-described socialist pointed to the former Republican president and the island's politicians for aid distribution after the devastating impact of the hurricane in 2017.
"And for the record, my grandmother is fine. It is not about us, but about what is happening to Puerto Ricans throughout the island ", he concluded. "She had a place to go and be cared for, what about the thousands of people who don't?"
But some users of social networks, far from supporting her, criticized her for not helping her elderly relative. "It is shameful that you live in luxury while allowing your own grandmother to suffer in these miserable conditions", tweeted the presenter of Daily Wire Matt Walsh.
"Dear, you drive a Tesla and you have two apartments ", Lavern Spicer, an African-American Republican candidate for Congress from Florida, chimed in sarcastically. "If your grandmother lives poor it is because you don't help her. It amazes me that a socialist does not redistribute that wealth to his grandmother. Sad!"
"Sell your Tesla!" added Twitter user @beyondreasdoubt. "You should be ashamed to let her live like this. We have a responsibility to take care of our elders! "
The Washington Free Beacon reported last month that Ocasio Cortez owns a Tesla Model 3 Long Range, which sells for between $ 46,000 and $ 59,000. Various media reported in 2019 that the New York congresswoman lived in a building in Washington DC where rents range from $ 2,000 for a studio apartment to more than $ 5,000 for a three-bedroom apartment.
Also in 2019 his mother, Blanca Ocasio Cortez said she was forced to move to Florida because taxes to property are very high in New York, the city that his daughter represents in the National Congress.
Puerto Rico's recovery from Hurricane Maria, which killed approximately 2,975 people, was hampered by a series of earthquakes in 2019, followed by the coronavirus pandemic, he said. New York Post.
Last April, a government watchdog found that the Trump administration was responsible for stalling about $ 20 billion in federal funds to help Puerto Rico to recover from Hurricane Maria and also obstructed an investigation into that delay.
During his tenure, Trump argued with Puerto Rican officials, calling them corrupt and inept, and he opposed spending federal dollars to rebuild infrastructure that was washed away by the storm.
In September 2020, however, Trump approved $ 13 billion to rebuild a power grid that was washed away by the storm. And in his final weeks in office, he announced a $ 3.7 billion grant to help rebuild damaged water treatment plants, pump stations and reservoirs.



eldiariony.com
Eddie is an Australian news reporter with over 9 years in the industry and has published on Forbes and tech crunch.