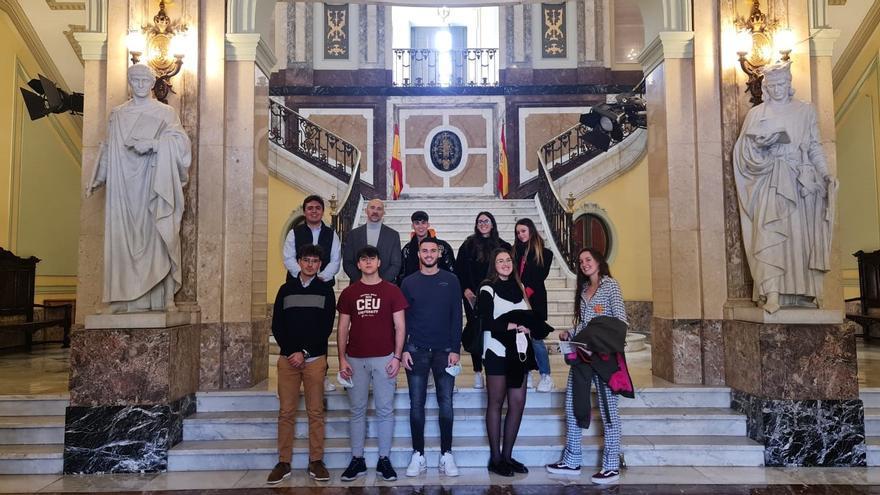 From the CEU Cardenal Herrera University in Elche, it is considered essential, beyond academic training, to offer its graduates the opportunity to incorporate into their curriculum the acquisition of those transversal competences that will turn them into most competitive professionals. It is an extensive program of activities to prepare for entry into the professional world. This initiative also allows the student to acquire, upon completion, a certificate of competencies that accredits employers that the student has acquired the necessary competencies – not just technical – to enter the world of work.
«We work on employability cultivating the value of their difference so that in addition to knowledge, they develop skills that allow them to find a job and grow to become recognized and reputable professionals in their reference sector. Professionals endowed with resources to revalue their professional career, reinvent themselves in their job, or even generate it ", they say from the institution.
The differentiation strategy of the students graduating from CEU goes through two initiatives: creating opportunities by offering voluntary training practices, promoting their first work experiences, fostering contact with companies in real contexts of training and selection and developing transversal skills, so that both students who are studying the career and graduates as Alumni become more competitive and have greater chances of employment.
Lawyers of the 21st century
Within the inherent training of future legal professionals, teaching combines different techniques and areas to ensure that university students acquire the most complete knowledge from the moment they enter the classroom for the first time. In that sense, from the vice dean of Law, Business Management and Marketing It is committed that students acquire both a solid base of traditional legal science, as well as that they are knowledgeable about digital law.
To this end, for a few years now, 1st year law students from the center of Elche of the CEU Cardenal Herrera University have carried out specific training in these fields, promoted by professors Sara González and Antonio López. On the one hand, they pay a visit to one of the most important legal institutions, the Supreme Court. There they have been able to begin to familiarize themselves with this court, in charge of interpret jurisprudence in Spain and that it also plays an important role in cassation, review, prosecution of high-ranking State officials and declarations of outlawing political parties.
Prior to that meeting, and during several online sessions with Microsoft's legal services, the students have also learned about the challenges that new technologies pose to the Law, due to the disruptive situations that require a normative response, e.g. virtual money, cybercrime, artificial intelligence, big data, etc. Asier Crespo Lawyer and Legal Director of Microsoft Ibérica has shown them what the legal response can be to novel situations created by technological development.
Nurses who train in health prevention
Nursing students in the last years of the UCH-CEU have been carrying out intense social work to promote health in different areas for more than ten years. The challenge: empower the population in health matters to deal with risky situations. In the last two months, the student body, through the CEU School of Health, has carried out various training workshops on first aid and cardiopulmonary resuscitation (CPR) techniques, as well as free workshops on health promotion, to improve the quality of people's lives from the perspectives of prevention.
During this time they have carried out these initiatives in various towns in the province of Alicante, and in various groups: teachers from schools and institutes, students from more than a dozen schools, football coaches and monitors, members of Civil Protection, etc.
How it ensures Ruben Galiano, coordinator of the CEU School of Health in Elche, "health professionals should not limit themselves to caring, but to educate and participate in the process of the individual's health, but allowing the citizen himself to make his decisions, once he has been informed and the appropriate elements of understanding and action are provided to him ». The CEU School of Health, a pioneer in Nursing studies in the Valencian Community, has been recognized as one of the best Teaching Innovation initiatives.
Funny spelling
Probably, for many, learning to spell has been one of those routine processes in their school training. Boring, mechanical, although with the conviction that it was necessary to know how to write correctly. However, the times, like the song, have changed. And the boys and girls of Primary are already managed in communicative and different learning codess. For this reason, part of the CEU of Elche's Education degree, part of its students, has designed and implemented interactive spelling books, which they have already applied in the Santa María Jesuitinas, Salesianos San Rafael and CEIP Puig Jover schools.
According to the teachers of Teaching, Monica Belda and Gloria Garcia, «Through these books, Primary Education students learn not only the spelling rules, but they also learn to make correct use of them. Each topic is explained briefly and precisely and then they present a series of interactive activities to reinforce what they have learned.
The goal was to design a optimal interactive manual to encourage the assimilation of spelling content. To do this, Primary Education students had to achieve a remarkable command of Spanish spelling and know how to adapt the RAE rules to Primary Education classrooms. Based on this premise, they presented a spelling manual so that their future students can learn inductively to write correctly. All this through synchronous or asynchronous teaching-learning.
The importance of learning laterality
The laterality automation in students it can interfere with or benefit learning and development. For this reason, CEU Elche students of the first grade of Infantile practice and become aware of their laterality with games of the hand, foot, hearing and sight.
According to the teacher Carmen Diez Gonzalez placeholder imageThey have been surprised to learn the phases of laterality and have become aware of its importance. Since the adequate automation of laterality favors the processes and acquisition of writing, calculation, spatial and temporal orientation, reasoning and balance, among others.

www.informacion.es
Eddie is an Australian news reporter with over 9 years in the industry and has published on Forbes and tech crunch.