IIt is the snakes and ladders element of every British and Irish Lions tour that is endlessly fascinating. For Conor Murray, the ups and downs have been unusually tough, from being named tour captain to being isolated from Covid to not starting the first test. Now he's back in the box, looking to outwit the two former Munster coaches in charge of South Africa.
Murray, sensible as he may be, admits that the past few weeks have been a "roller coaster", which he hopes will culminate with the Lions taking an unbeatable 2-0 lead in the series on Saturday. However, the time he spent with the Springbok duo of Rassie Erasmus and Jacques Nienaber in 2016-17 taught him not to take anything for granted.
According to the 32-year-old scrum-half from Ireland, the pair have a "good cop, bad cop" relationship and will have been perusing their computers again this week for new Lions weaknesses to exploit. "We have to be prepared for some surprises," says Murray, chosen to start ahead of Ali Price in the second fundamental test. "Rassie and Jacques like to think about the game very deeply, so they are going to look at everything that we are doing. Rassie can surprise you sometimes, so we have to be prepared for anything. "
Based on Murray's experience in Munster, Erasmus is the most demanding foreman and will expect an ultra-physical response to South Africa's defeat in the first test. "He was a tough player, he expected toughness from his players. If the physical side of things was ever missing or if someone shied away from it, they would tell them.
"There was definitely a time and place for that toughness in Munster and then Jacques was the good cop. They worked in tandem. If Rassie tried someone in Munster's locker room, Jacques would calmly talk to them and tell them what Rassie really meant and that he comes from a good place. "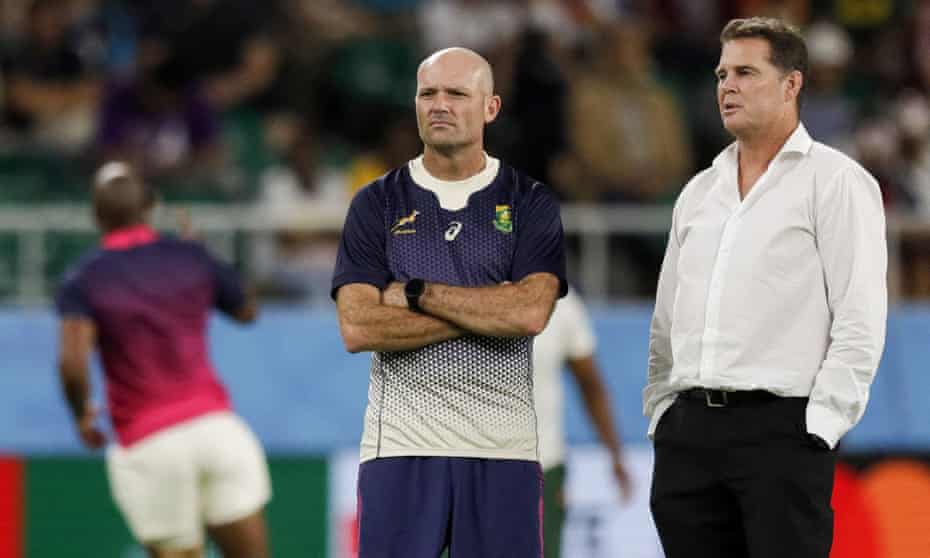 The Lions, accordingly, fully anticipate a "Bok-lash" from their hosts. Along with just about everyone at Lions camp, Murray has been slightly taken aback by Erasmus's antics on social media this week, but thinks it's just a sideshow to the main event. "Like any coach after a loss like that, he is going to try to lift his team up and cheer them up emotionally. Will you try to speed them up for that battle one and more? Probably. Rassie can say a lot of things, but he will certainly have a definite plan for how they want to go out and attack the game.
"I don't know what his game plan is with Twitter or what the fun is, really. It's just a funny, weird thing that's happening as a subplot. I don't think it takes pressure off anyone. We are fully aware of what will come out of the tunnel on Saturday and we have to face it ".
The respective tactical contributions of Murray and his counterpart, Faf de Klerk, will also be highly relevant, with blonde Sale No. 9 central to the success of South Africa's territorial game. The Irishman's box-kicking ability is also among his strongest suits and explains why, at least initially, the more agile Price has been preferred.
Win those disputable aerial duels and subdue the boisterous De Klerk and, in the opinion of the Lions, they will be halfway there. "Faf is central to everything they try to do. The way you run the game; the energy you are trying to create. It's going to be a showdown and he's leading that too. You are not afraid of getting stuck. You always want to win your individual battles and there are many on the field. It's going to be a proper test. Yes, South Africa will come back and be a little more excited, but we are also excited about what we can do on Saturday. "
If anyone should know exactly what to expect at the end of a Lions series, it's Murray. In Australia in 2013, he came off the bench to help clinch the series win against the Wallabies in Sydney; Four years ago in New Zealand, his crucial second Test attempt greatly helped the Lions secure a 1-1 result in the series.
This time around, Murray will always cherish the day that Warren Gatland invited him to take over, temporarily as proved, as tour captain from the then-injured Alun Wyn Jones. "After the Japan game in Murrayfield we were looking forward to the cap ceremony. I was kneeling on the couch and Gats kicked my shoe.
"I looked up and the last thing I expected him to say was, 'Do you want to be the captain of the tour for the rest?' It was an incredible feeling. I guess as the messages came in, you had an idea how big it was. Captaining the team, being on the bench, starting … this tour has had almost everything for me. "
For Murray and the Lions, the next few days could be the most emotional of all.

www.theguardian.com
George is Digismak's reported cum editor with 13 years of experience in Journalism