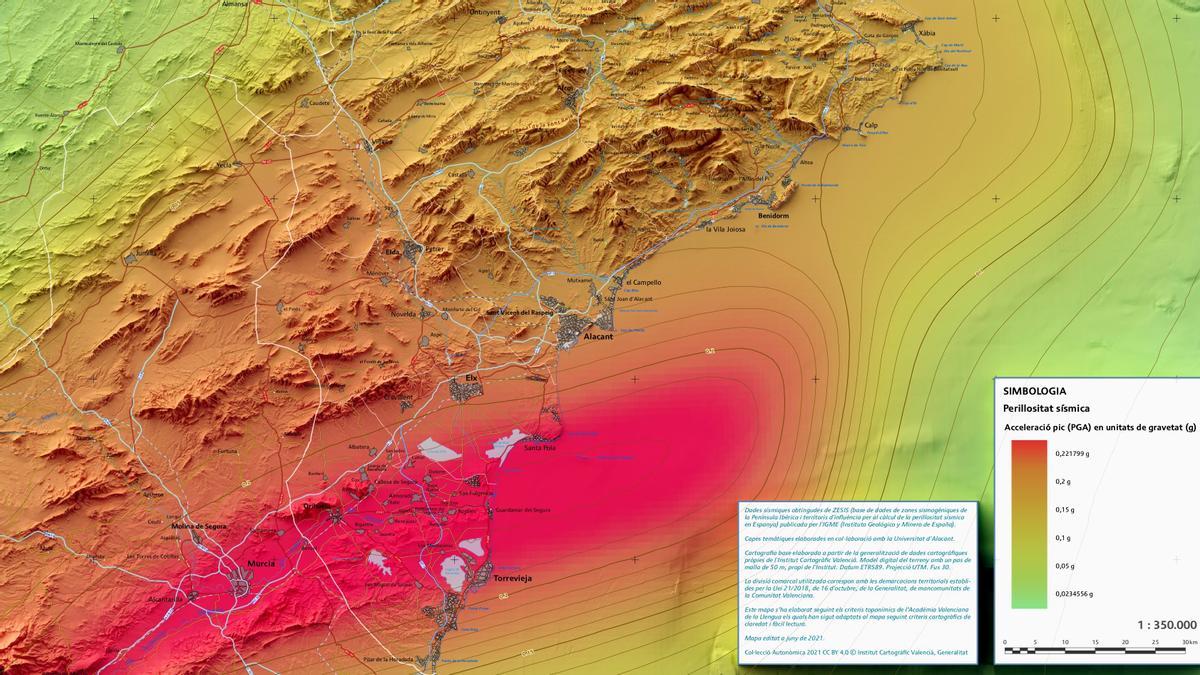 The Minister of Urbanism, Arcadi Spain and José Delgado, responsible for the Seismic Unit of the University of Alicante, have presented today at the San Vicente Campus the map of seismic activity of the Valencian Community, which draws the probability of a earthquake in the period analyzed, about 475 years. The map makes it clear that the entire Valencian Community is an area of ​​seismic danger, but the Vega Baja and the fault that exists between the limits of the provinces of Alicante and Valencia are the most dangerous. Delgado has stressed, however, that "we should not be obsessed with the issue that an earthquake is going to occur and, in fact, all the earthquakes that have occurred this summer in the province of Alicante are nothing extraordinary and they do not differ much from the situation of other years, it has not been extraordinary ".
Delgado did have an impact on the fact that "what must be taken into account is that when building the current technical standard must be respected as much as possible. The map that we have made reflects the areas where more or less high ground accelerations can occur, according to historical data and the seismic resistant standard sets the criteria with quality. There we must be rigorous as citizens ".
The map represents a complement for technicians when planning constructions. Delgado has stressed that it is not above the norm, but it can help. "The skill is useful in many facets. To design emergency plans, anti-seismic design. Anything that involves implementing measures to improve the response to earthquakes is important, "Delgado said.
Torrevieja It currently has the record for destruction by an earthquake. It was 6.15pm on March 21, 1829, when the earth shook with an intensity of 6.6 on the Richter scale in Vega Baja, the Alicante region that suffered its great and devastating earthquake. It was Saturday, it was already night, and most of the neighbors were caught at home. In houses of various heights, without foundations, with little resistant wooden beams and in narrow streets, so that they were falling and dragging those of the neighbors with them. There was no stone on stone in Torrevieja, Guardamar had to be redesigned and Almoradí suffered even more.
In the region of the Vega Baja were "devastated" 2,965 houses, another 2,396 "broken", following the terminology of the time. The damage count was detailed by churches (30 neither more nor less in" Orihuela and his party ", two in Almoradí, another two in Formentera … 47 in total), by bridges ( four) or by oil and flour mills (86 and ten respectively). But the hardest count was that of the dead and wounded: 386 and 375 in the region, 192 and 150 only in Almoradí, where the greatest damage was recorded .

www.informacion.es
Eddie is an Australian news reporter with over 9 years in the industry and has published on Forbes and tech crunch.