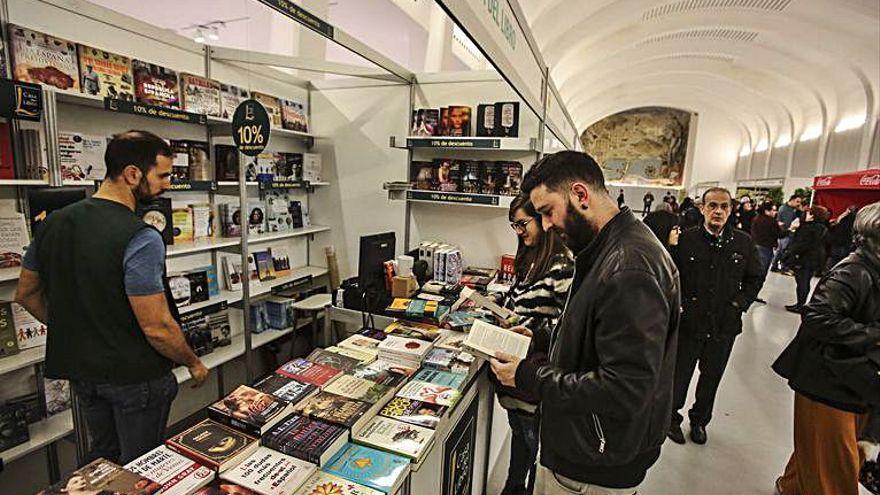 Last May 3 Manresa presented the new edition of the Alicante Book Fair, a fair committed to being the best in its own words. It is the one with the largest budget, of course, but it is not organized by the previous organizers, who did not have even a quarter of the budget that the awarded company now has. It is a company that does not have any experience in organizing book fairs, but it is an event company that already carried out one for the PP months ago. It was the worst rated of all, but it was the cheapest. That is its great merit, it seems.
The thing started bad, since on March 15 they made a presentation to the booksellers with absolutely nothing organized, giving a list of authors or strangers or those who had only called to check dates (two months before the fair). Come on, if they had pronounced the surnames Hustdvedt or Murakami, they would have been so comfortable at that time.
They then confirmed that they did not manage neither parking nor hotel sponsorship nor free booth. With the one that is falling on the guild. The booksellers let them know that this was not a City Hall party and that a book fair without booksellers was going to be strange. Dani Simón obtained parking permits in his first year as a councilor, María Dolores Padilla obtained an agreement with the Meliá when she had been in the position for less than a year. Manresa is already going for two years of exercise, if we can use such a noun. The booksellers asked to reduce the fair to a weekend given the precarious circumstances due to the pandemic, to which Manresa refused.
Finally, on April 14 no bookseller had signed yet, nor did they know where it was going to take place. Yes, just a few days ago. Two days later it was discovered that several authors had fallen and that on the final payroll there were more writers from Malaga than from Alicante. By contract there must be eight "first swords." Do the math according to yesterday's presentation.
In the absence of booksellers, on April 27, a few days before the presentation, they say that "maybe" the booths are subsidized. Desperately. We will see from which administration that subsidy comes, if from the Department or from another Administration.
Let's go back to the beginning: the Fair is presented and the media announces that there are only four writers from Alicante at the Alicante Book Fair 2021. We have a very large list of writers and writers who, in addition, have published work very recently, something that Antonio Manresa must totally ignore. It does not occur to him to say anything else to the councilor that "the writers are who they are" or "those who have wanted have come." In Alicante there are writers like Mariano Sánchez Soler, which presented a new work not three months ago and has been a finalist for the Valencian Critics Awards a few days ago, in addition to being the author of more than eighty titles. OR Gerardo Muñoz, which presents three books at this time – one of them presented in Campello (!) a few days ago – and which also has a long list of published volumes. Or the journalists Mario Martínez and Emilio Soler, who published an essay gem on The Quiet Man recently. There is also our brand new National Prize for Children's and Young Adult Literature, Elia Barceló. O Lola blasco, National Prize for Dramatic Literature, which was invited a few months ago to participate in the Guadalajara Book Fair, but the Guadalajara in Mexico. OR Chus Sanchez, which has presented a book while the winning company organized this edition without apparently knowing it. OR Juan Antonio Rios, with a new essay last January, or the poets Juan Ramón Torregrosa, also a finalist for the Valencian Critics Awards a few days ago with Tongue Lotion, or Jose Luis Ferris, Azorín y Adonáis award, which presented its poetic anthology a month ago, or Agustin Perez Leal, Gerardo Diego International Award; or Josi Alvarado, which won the SGAE award for LGTBI literature and has also been a finalist in the Valencian Critics Awards, or Pilar Blanco Diaz. O Mateo Darrán, with a new novel this season, or the recent winner of the Planet Eva García Sáenz de Urturi, O Fernando Parra Nogueras, which published in January The Anthropoid; or Eduardo Boix… And these are not what they are, because there are many and many more. And they have not gone not because they have not been invited, but because Manresa surely does not even know that they exist. There are many municipalities that cannot afford a book fair and Alicante has to be their capital fair.
But perhaps the most bloody thing of all is that very recently fourteen writers from Alicante (some already mentioned above) published the book of solidarity stories for the pandemic Everything was March and they have not been invited to participate to promote sales of which 100% of benefit goes to Alicante Gastronomic Solidarity.
If only Manresa had exhibited some humility, he would not deserve to take all these accounts out of him now. If he had not defended himself by attacking, as always, perhaps we could be condescending with him, forgiving him that he is far from the training of the responsibility that, stricto sensu, he holds. But no, Manresa is exhibited as a peacock and despises the writers of Alicante, saying in a few words that there is no more than what we see, and placing on them the responsibility that the Fair is not better. As if the writers were rivals on a tatami. Treating us all of fools and fools.
I know that quite a few writers have been outraged by his contempt, with their regrettable clumsiness and are considering speaking out. I do not know if they will or will leave for impossible a disconsolate and faltering local cultural administration. I hope that, with or without a pronouncement, a debate will be opened about what this city should demand on the map of Spanish Culture and what must be done in order not to have to put up with one more Manresa on the Culture chair.

www.informacion.es
Eddie is an Australian news reporter with over 9 years in the industry and has published on Forbes and tech crunch.