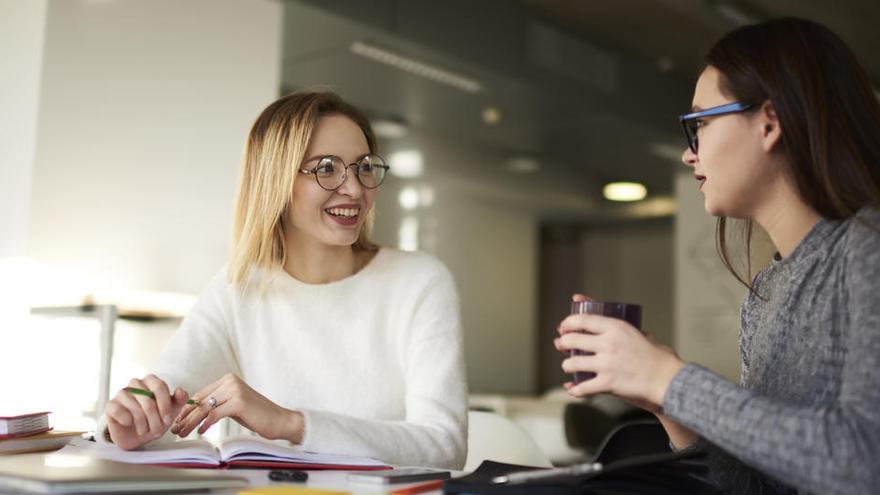 The role of women in the world of journalism and communication is obviously growing: women occupy almost seventy percent of the student places in the fifty Faculties of Information Sciences in Spain, but they barely constitute three percent of those who run the media and journalistic companies. This was revealed in the meeting organized by the Foro Periodismo2030 and the AXA Foundation with six outstanding women journalists, who also commented on the conclusions of the macro-survey carried out by GAD3 and the AXA Foundation for the Journalism2030 Forum, with a total sample, nationwide, of 4,300 people.
The Periodismo2030 Forum is an independent organization of parties and institutions dedicated to reflecting on the future in the new era that is born after the pandemic. It has the support of various universities and journalistic organizations and with the agency of the United Nations for Training, Unitar-UN.
The virtual meeting between the six women journalists It is the seventh debate between leading communication professionals that has been held since the forum was born on October 15, sponsored by a group of professionals – currently seventy – and the AXA Foundation.
The six communication professionals agree that, soon, control of information will be in female hands. Francine Gálvez, journalist and former presenter of the TVE news programs, believes that "in 2030 the current situation will change radically, there will be a new journalism with equality between men and women." For her part, the journalist and parliamentary chronicler Ketty Garat stressed that "the system still inherits very masculine, and even macho, patterns that make women make the personal decision to give up their career."
Marisol López Del Estal, director of the centennial newspaper La Opinion-El Correo de Zamora, belonging to the same editorial group of this newspaper, stresses that "the goal is to achieve equality, but for that we need to win in independent and rigorous journalism; if we manage to train citizens with a critical spirit, we will have advanced towards equality ". Another participant, Marta Pastor, who directs several programs on equality at RNE, agrees with this last opinion: "Journalism is rigorous and truthful, or it is not journalism. I am very hopeful ", although" as long as men and women, boys and girls are educated on equality ".
Maria Luisa Melo, Huawei communication director, imagines in 2030 "a diversified journalism, with more women presiding and directing the media and exercising a much more transparent journalism than right now".
Finally, the journalist Elsa Gonzalez, former president of the Federation of Press Associations of Spain, was "very optimistic, because now is the right time for female talent to be used."
According to the survey by GAD3 and the AXA Foundation for the 2030 Journalism Forum, women are less interested in national and international political information than men: 80 percent compared to 74 in the case of national politics and 68 compared to 59 in the international. Women prefer the Culture, Society, Environment and Health sections.
The biggest difference between the sections that interest men more than women is found in sports: 67 versus 33 percent. But the survey contains some other data that those responsible for Journalism2030 consider "surprising and worthy of study." Thus, another important factor revealed by the survey is that women give less credibility to private media. This is how 19% of those surveyed think compared to 27% of men, who consider these media to be more reliable.
Television is the main source of daily information for 67% of women, five points above men, with 62%. Men, on the other hand, choose more the radio (39 vs 32%) or digital newspapers (48 vs 43%) for regular information.
In general, men follow journalistic gatherings on the radio more than women (41% compared to 30%), although both sexes prefer to follow them on television (64% men and 65% women).
The difference is greater between women and men if we talk about getting informed through social networks. In this section, 46% of women declare themselves users of these networks to obtain information compared to men (39%).
Approved scraping for the media
In general, women trust a little more – the difference, however, is not significant – in the media, they give them a score of 5.7 out of ten compared to men, who give it a 5.5 , although both give them a not too wide pass, as can be seen.
Greater contrast offers the fact that men declare themselves more aware of the present, 91%, compared to women, with 88% of those surveyed.
As we pointed out at the beginning, the survey shows that women are more interested in health information, 86%, compared to 77% of men who claim to be interested in health issues. In the cultural sphere, it is also women who show the greatest interest in these topics, 75%, compared to 66% of men. The same happens with news related to the environment: 80 percent of women choose this information ahead of men (72 percent).

www.informacion.es

Digsmak is a news publisher with over 12 years of reporting experiance; and have published in many industry leading publications and news sites.