Fernanda Paul
BBC World News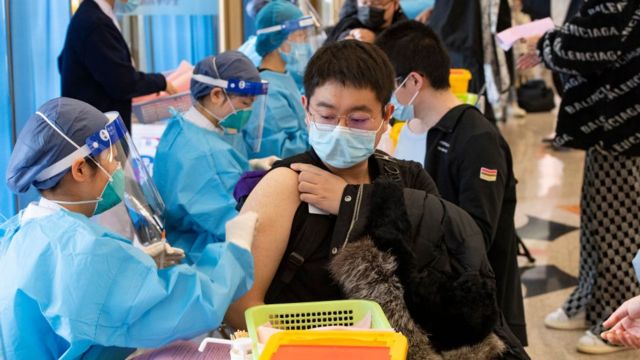 The marathon race to vaccinate the population against COVID-19 poses gigantic challenges for much of the world.
While some countries are advancing at a rapid pace – this is the case of Israel, Chile or the United Kingdom – others have received questions about the slowness of their process in the midst of the largest inoculation program in history.
China seems to be one of them. Despite starting its campaign in July last year and being one of the largest vaccine manufacturers in the world, its slow Immunization coverage has generated that authorities and experts from that country have to go out to but Explaintions.
According to data from Our World in Data, as of March 14, China had administered 4.51 doses per 100 people.
This is a relatively low figure when compared to countries like Israel, which to date has administered 109.8 per 100 people or the United Kingdom, the United States and Chile, which have managed 39.7, 33.5 and 38.8 per 100 people, respectively.
But if you look at the absolute numbers, China is not bad.
According to the latest data provided by the authorities of that country, until Tuesday, March 14, almost 65 million doses, a figure that is second only to the United States, which to date has administered 110 million vaccines.
And, unlike other countries, the Asian giant has a greater challenge as it is the nation with the most inhabitants in the world: nothing more and nothing less than 1,400 million inhabitants.
That is, almost a fifth of the world's population.
What is China's plan to vaccinate its entire population? How urgent is this campaign for them? How to explain this supposed slowness in their process while they export millions of doses abroad?
At BBC News Mundo we solve these and other questions to understand what is behind the inoculation process in the country with the most inhabitants in the world.
1. Acceleration of your campaign
Beijing's top medical adviser, Nashan Zhong, noted in early March that while inoculation progress in China may appear slower compared to other countries, there are plans to accelerate it and reach the 40% of the population in July, that is, 560 million people.
To achieve this goal – and considering that it has already administered 65 million doses – the Asian country would need an average of around 4 million injections per day.
What's more, Gao Fu, director of the China Center for Disease Control and Prevention, said the plan is to vaccinate between the 70% and 80% of its population between the end of 2021 and mid-2022 in order to achieve herd immunity.
It is a challenge that will undoubtedly test the tremendous industrial power of the country. The big question is whether the capacity really exists.
"China will have to vaccinate more than a billion people with two doses, so in total it needs more than 2 billion doses. And that will take some time because they will need to manufacture all those doses, it is really a lot of people, "he explains to BBC News Mundo Benjamin Cowling, Professor of Epidemiology at the University of Hong Kong.
The academic adds that for this the greatest limitation will be in the supply of the doses.
However, the official News Agency of the Chinese government, Xinhua, reported that the country's large pharmacies – China National Pharmaceutical Group (Sinopharm), CanSino Biologics Inc (CanSinoBIO) or Sinovac Biotech Ltd – currently have the capacity to produce up to 2 billion doses of Covid vaccines per year and that they are increasing their production.
This would be enough to inoculate its population and even continue with its ambitious export program to other countries.
Speaking to state media in early January, the president of Sinopharm, Yang Xiaoyun, confirmed that your company could produce 1.000 million doses in 2021, which would provide inoculation to 500 million people.
But not everything is the liquid of a vaccine.
"The liquid is very important but we also have to think about what is required of million syringes, where they are particularly scarce, in addition to health personnel and people to help in the process, "says Cowling.
Still, the epidemiologist assures that China may surprise with its potential in terms of logisticsithat.
"They are going to have to install mass vaccination centers in all the cities of the country. But their great strength is logistics. We have seen them doing mass testing exercises, where they managed to test entire cities with millions of people in less than a week. They are able to get a lot of helpers and community workers, "he says.
2. Control of the pandemic and lack of confidence
China has been especially successful in containing the pandemic with strict measures and minimizing new cases.
And that, precisely, has played against the vaccination plan of the Asian giant because people do not perceive that there are too many risks.
"Some experts say that because the initial lockdown was so effective, most cities no longer have virus outbreaks, so ordinary people don't feel the urge to get vaccinated," he explains. Howard Zhang, editor of the BBC's Chinese service.
"Now with summer just around the corner, many people unsure about the long-term effects of vaccines, they just want to wait a little longer," he adds.
In September last year, Gao Fu assured that China "has already survived the impact of covid-19 several times" and that, as long as there is no serious outbreak, there is no need for mass vaccination.
So far, China has prioritized people between 18 and 59 years old who are at increased risk of infection and transmission, as critical workers (in the areas of Health or Transportation, among others) and public service employees.
And although a citizen can request the vaccine voluntarily (in case he has a scheduled trip, for example), Howard Zhang says that "the voluntary acceptance rate is low."
The reason? "Many point to the initial confusion and the traditional lack of trust in the medical establishment due to the slow adoption," he explains.
However, Howard asserts that there are indications that the government of Xi Jingping is increasing the mandatory vaccination program, by asking all state-owned companies and foreign companies contracted by the government to vaccinate their employees.
"China has a very powerful state machine. If the central government chooses to force vaccination of the entire population, it will most likely do so fairly quickly," adds the BBC editor.
3. Vaccine diplomacy
China has implemented a successful plan of export of vaccines to the world, becoming an anchor country in this complex massive inoculation process.
According to calculations by the news agency The Associated Press (AP), China has compromised around 500 million doses to more than 45 countries, many of them strategic partners.
Latin America has not been the exception. Chile, Mexico, Argentina and Brazil are some of the countries that have benefited from the Asian giant's production.
So have a score of nations in Asia and Middle East.
And although many may wonder why China is exporting its doses at such a high level if it does not yet have a large percentage of its own vaccinated population, the truth is that "vaccine diplomacy" brings several benefits.
One of them, said by the Chinese authorities themselves, is that the immunity of the rest of the world will also end up benefiting them by reducing the importation of new cases.
But there are also important reasons political and economic.
"If you want international prestige, if you want your vaccine to be recognized, you must use it outside your borders," he tells BBC News Mundo Steve Tsang, Director of the SOAS China Institute at the University of London.
"China wants prestige, recognition, to be at the top. It is trying to be recognized as the greatest leader of all time. How will it do it if it does not present itself as a leader against covid vaccines?"
Tsang says that it is also important for Xi Jingping to show Europeans, Americans and British that they do export and that they do not block the transfer of doses as countries like Italy have.
And, unsurprisingly, their influence is being used to their advantage.
As Howard Zhang explains, Beijing recently announced that anyone who wants to travel to China will have an "easier" visa application process if they can show that they have received "vaccines made in China".
However, many fear that the borders of the Asian country will remain closed until next year.
But if they deliver on their promise to accelerate their vaccination plan, China could once again surprise the world with its powerful industry and management skills.
Now you can receive notifications from BBC News Mundo. Download our app and activate them so you don't miss our best content.

www.bbc.com
Eddie is an Australian news reporter with over 9 years in the industry and has published on Forbes and tech crunch.