Marcos Gonzalez Diaz
BBC News Mundo correspondent in Mexico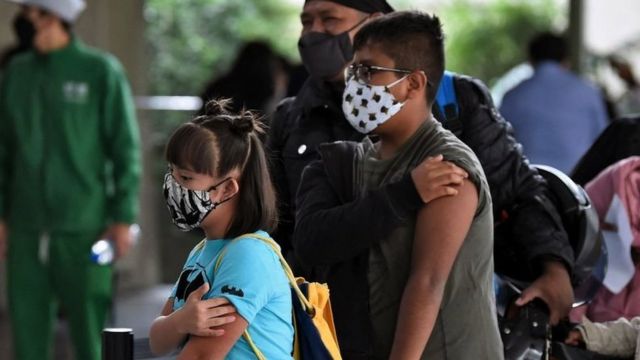 The Justice of Mexico increased its pressure on the government of Andrés Manuel López Obrador and gave him an ultimatum so that all adolescents in the country can be vaccinated against covid-19.
So far, Mexico is only immunizing minors between the ages of 12 and 17 who have a chronic disease, considering that there is not enough scientific evidence regarding the effect of the vaccine on children.
But on Wednesday it became public that a court gave the government a period of five days to include all adolescents in the vaccination plan or, otherwise, will denounce possible judicial contempt before the Attorney General's Office.
When a first resolution of this court was released two weeks ago, López Obrador announced that he would challenge it.
However, the Mexican government has not yet taken a position on this new judicial ruling. BBC Mundo requested a response from the Ministry of Health, but received no response.
Some health experts have criticized the Mexican government's position in recent weeks, which runs counter to the strategy of most Latin American countries.
However, the Pan American Health Organization (PAHO) affirmed this Wednesday that currently "The priority groups (for vaccination) in the region are not children".
Judicial decisions
The confrontation between the Justice and the Mexican government over the vaccination of minors against covid-19 comes from afar.
For weeks, hundreds of children have been immunized in the country only after their parents or guardians present amparos before the courts, Especially since on August 30, face-to-face classes in schools were resumed after the closure due to the pandemic.
At the end of September, the government rectified its strategy and since this week it has been vaccinating 1.5 million young people between the ages of 12 and 17 with comorbidities such as cancer, HIV, diabetes and serious cardiovascular, kidney or lung diseases, among others. Pregnant adolescents were also included.
However, two weeks ago it was learned that a federal court in the State of Mexico ordered the authorities to extend vaccination to all minors of this age, regardless of your health.
Although the resolution was issued to resolve a specific appeal filed by the parents of a 15-year-old girl, it was specified that the order had general effects on the entire population and that the national vaccination plan had to be modified within 48 hours.
"It is emphasized that the effects of this precautionary measure include not only the minor complainant, but to all those under 18 years of age ", it read in the ruling.
However, President López Obrador was quick to clarify that the judicial decision would be contested and that it was not final.
"When an amparo is presented, the person who requests it is protected, it cannot be extended," he said, while ensuring that it is not possible to define a public policy based on the "interest of a person or a group." .
However, the president clarified that "legally, this will be respected" and assured that if necessary, a new contract would be signed with Pfizer, the only vaccine authorized in Mexico for adolescents between 12 and 17 years old.
Days later, the same court announced that on October 14 it received a request for an extension from the Ministry of Health to comply with the resolution.
Finally, this week he announced his decision: grant a period of five business days Since its legal notification for the government to include adolescents in the current vaccination plan, which is scheduled to conclude in March 2022.
Why aren't all teens vaccinated?
Mexico's position on adolescent vaccination differs from that of the vast majority of Latin American countries, which in some cases even they are already immunizing younger children.
The last to join was Nicaragua, which this week began vaccinating children between the ages of 2 and 17 with the Cuban vaccines Abdala and Soberana. Peru, for its part, announced that on November 2 it will start immunizing people from the age of 12.
However, López Obrador insisted a few days ago that "there is no medical recommendation [sobre la vacunación de menores], they still do not define ".
The doctor Malaquías López, A spokesman for the Covid-19 Commission of the National Autonomous University of Mexico (UNAM), believes that the main reason for vaccinating minors is not only to protect them and that the Mexican government does not understand the real reason.
"The reason for doing it is to break the circulation of the virus. It is impossible to reach 90% of people with immunity, which is what we need, if they are not vaccinated. Otherwise, the virus can continue to replicate and even new strains emerge that would destroy all the accumulated immunity, "he criticizes.
The Mexican Secretary of Health, Jorge Alcocer, said Tuesday that children "have wonderful immune systems" and that the application of the vaccine could "hinder that learning" of their defense system.
"I don't beef my grandchildren. If they have a comorbidity, go ahead, "he said.
"It is outrageous to say that this vaccine does affect the immune system of your grandchildren, but the others [vacunas] no. It is absolutely foolish ", López responds, concerned that this encourages some parents not to immunize their children against diseases such as measles or tuberculosis by relying on their natural defenses.
"Despite how good the immune system is in young people, there are some who will not be able to handle the infection and those pay very dearly," he recalls in conversation with BBC Mundo.
For the specialist, behind the opposition of the Mexican government to the vaccination of minors is "the technical inability of the health authorities and the stupidity and political closure of the president " faced with the need to change their strategy.
"The government is going to resist as long as it can, but I think the judges are correctly interpreting the problem as a matter of law for all citizens, not just adults," he says.
PAHO, however, assured this Wednesday that children are not a priority group for immunization against covid-19 in Latin America and the Caribbean at this time.
Although he clarified that doing it or not is "a sovereign decision" of each country that the organization cannot "support or criticize," he emphasized that less than half of the region's population has a complete vaccine schedule.
"We still have many older adults who have an enormous risk of dying from covid -19," said the deputy director of PAHO, Jarbas Barbosa.
In Mexico, which this Wednesday added 386 deaths and almost 5,000 new cases of coronavirus in the last 24 hours, almost 62% of those over 18 have a complete vaccination scheme and 80% received at least one dose.
Now you can receive notifications from BBC News Mundo. Download the new version of our app and activate them so you don't miss out on our best content.

www.bbc.com
Eddie is an Australian news reporter with over 9 years in the industry and has published on Forbes and tech crunch.