Jake Horton
BBC Reality Check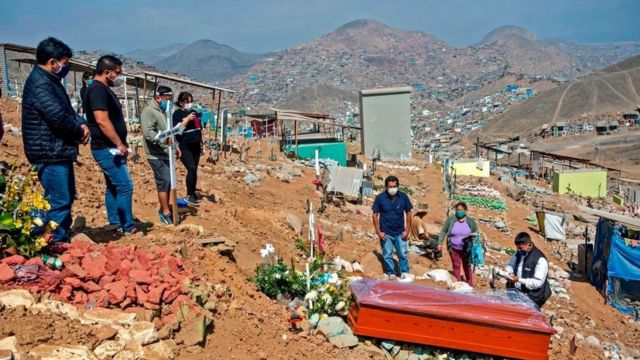 The most recent figures make it the country with the highest death rate from covid-19 in relation to its population.
A review of the criteria that were used to count the victims of the pandemic revealed that deaths from covid-19 in Peru are more than double those previously believed.
But why has this Latin American country been so hit by the disease?
1. How many people have died?
Until recently, deaths in Peru were only attributed to the pandemic if there was an examination that confirmed that the victim had the disease.
But, during the pandemic, the "excess mortality" figures suggested that the COVID-19 casualty rate was much higher.
The "excess mortality" is the difference between how many people die in a year and how many would have been expected to die based on data from previous years.
Since the beginning of the pandemic, Peru has registered around 150% more deaths than expected.
Following a review by the Peruvian government, the criteria for counting deaths from COVID-19 have been expanded to include people who died within 60 days of a positive test, as well as suspected cases without a positive test. .
This includes people whose clinical evaluation or medical tests suggest they had COVID-19, as well as those who have been in contact with a confirmed case.
Countries record COVID-19 deaths in different ways, making direct comparisons difficult.
However, the latest figures from Peru mean that its per capita death rate is now one of the highest, if not the highest, in the world.
The official death toll is over 180,000, in a country of less than 33 million inhabitants.
2. Why has Peru been so affected?
Peru imposed one of the strictest and earliest lockdowns in Latin America in March 2020, ahead of the UK and some other European countries.
This lasted until the end of June 2020.
The country's borders were closed, curfews were imposed, and people were only allowed to leave their homes to buy essential items, but infections and deaths continued to rise.
A second lockdown was introduced in the capital, Lima, and nine other regions in January this year, following a wave of infections that brought hospitals to the brink of collapse.
Experts say Peru's health system was poorly prepared and underfunded.
Also there has been a shortage of necessary oxygen to treat COVID-19 patients and the entire country has around 1,600 beds of intensive care units, a number far fewer than some neighboring countries.
3. A very slow vaccination
Peru's vaccination campaign has been slow, with less than 4% of the country fully vaccinated.
This figure lags behind many other Latin American countries.
Brazil and Mexico have fully vaccinated about 10% of their population. Chile, which is the country that has advanced the most in vaccination, already has more than 40% of its population fully vaccinated.
Peru has obtained sufficient doses to vaccinate its entire population, but many of these vaccines have not yet been delivered and the injections applied in the country so far have been insufficient to stop the infections.
Covid-19 cases remain high, with more than 4,000 reported per day.
There are also several social and economic factors that can help explain why Peru has struggled to contain COVID-19 cases.
Around the 70% of the labor force in Peru works in the informal sector, which is one of the highest rates in Latin America.
These jobs are unpredictable by nature and mean that many workers have to choose between going to work or not having enough money to survive.
The government has passed major support measures to help people who lost their jobs and businesses that lost income due to the pandemic, but only around the 38% of Peruvian adults have a bank account, which makes fast digital payments practically impossible.
"Peruvians who went to work had to use public transport and sell goods in very crowded markets," Peruvian economist Hugo Ñopo told the BBC.
More than 40% of households in Peru do not have a refrigerator, according to a 2020 government survey.
Many households "do not have the logistics that allow them to stock up on food for many days," says Ñopo.
"They have to go out to supply themselves frequently and, above all, to the markets," he adds.
Since the beginning of the pandemic, the markets on which many Peruvians depend have been identified as "the main sources of contagion" by the government.
In addition to this, the latest National Household Survey suggests that 11.8% of poor households in Peru live in overcrowded homes, making social distancing difficult and allowing the virus to spread more easily.
Now you can receive notifications from BBC Mundo. Download the new version of our app and activate them so you don't miss out on our best content.

www.bbc.com
Eddie is an Australian news reporter with over 9 years in the industry and has published on Forbes and tech crunch.