Sarah Rainsford
BBC News, Perm, Russia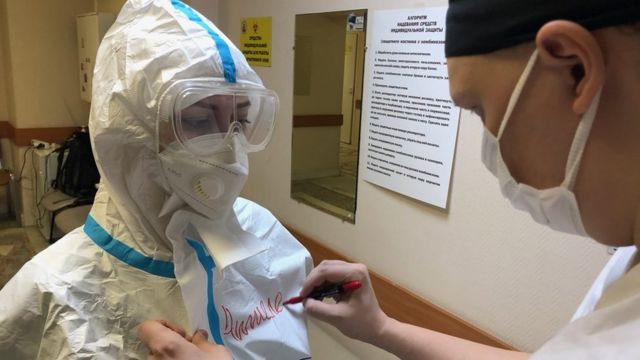 Protecting yourself for a shift in the covid-19 ward is a process that the doctors at the Perm Regional Hospital have perfected over months of practice.
They quickly don disposable suits before attaching plastic masks to their faces. Then a colleague helps them put on a double layer of rubber gloves glued to their wrists.
With a pandemic year gone by, the virus this team is fighting is part of everyday life and their careful daily routine is a reminder of the risk.
Last fall, covid-19 hit the hardest in Perm, after sweeping from Moscow through the regions, and the number of sick and dead skyrocketed.
But in Russia there is very little talk about the death toll from coronavirus.
Full data showing excess mortality is no secret, but they never stand out.
And the preliminary count released each day by the government significantly minimizes the impact.
Names and numbers
Valery Gilyov fell ill in September with the classic symptoms of covid. As a security guard at a Perm television station, he began posting a diary on social media describing the ambulance calls that never came.
In his last post before he died, Gilyov wrote that I was finally in the hospital but it felt "very bad".
"I think he could have been saved," his son-in-law Viktor Morzhin tells me, recalling how Valery loved taking his grandchildren to taekwondo and hip-hop contests.
"I think the health service, the authorities, just weren't prepared for so many patients."
In that spike in covid infections in the fall, 2,388 people died from the virus in Perm, according to the state statistics agency Rosstat.
But the data on excess deaths in Perm, the number of people who die above the expected norm, is double that number during those four months, according to the same source.
Meanwhile, the city government tally has only reached 1,869 for the entire pandemic.
Higher mortality in two Russian cities
Excess mortality in Moscow: 28,233
And 2020: 149,281; and 2019: 121,048
Excess mortality in Perm: 5,683
And 2020: 40,123; and 2019: 34,440
The history of the demographer
"I don't even look at those numbers," says demographer Alexei Raksha, claiming that the daily data in Russia has been "smoothed, rounded, shortened" to look better.
The functionaries they have always denied it.
Alexei worked at Rosstat for six years until, he says, he was forced to leave last summer for talking too much about covid.
But he indicates that the Rosstat figures are critical in assessing the true cost of the pandemic and, like many experts, uses excess mortality as the best indicator.
"If Russia stops at 500,000 excess deaths, that will be a good scenario," argues the now independent demographer.
Calculate that the current death toll is 450,000, a giant leap from the 94,267 deaths posted online on March 19 by covid headquarters in Russia.
Nevertheless, even that lower number is rarely cited by officials.
"With covid, you choose between the economy and the lives of the people, mainly the lives of the elderly", this is how Alexei sees the logic of the government.
We meet in a cafeteria; there has been no lockdown here since spring.
"The Russian state chose the economy. They won't say it, but it's obvious," he says.
Resist confinement
Most of the covid restrictions were lifted across the country in June, in part to hold a referendum that would allow Vladimir Putin to remain in power.
In Perm, the health system began to feel the consequences in autumn.
In early October, Artyom Boriskin posted a video online showing lines of ambulances.
The ambulance nurse remembers having to leave the sick at home because the hospitals did not have space for them.
When ambulance crews started catching COVID, he says patients waited "from two to 20 hours" for the arrival of assistance, even several days.
"I think the measures taken were not enough to reduce the number of new cases," argues Artyom.
And he considers that the government resisted a second confinement "because then it would have had to pay people" to stay at home.
"The restrictions should have been tighter. I think we would have had fewer illnesses and fewer deaths."
Herd immunity?
A few months later, there is a little hint of spring on the icy streets of Perm.
There's also minimal signs of presence of the pandemic beyond people with masks.
Shops are open, buses are busy, and curfew for bars only starts at 01:00.
But these days, the infection rate is low in Russia, perhaps because so many people have already had the virus.
Alexei Raksha calculates that up to a third of the population may have been infected, judging from excess mortality data.
However, the Perm regional hospital has not stopped admitting covid cases.
"We managed to stabilize this problem, but it has not gone anywhere," says chief physician Anatoly Kasatov, standing next to a gold-painted statue of Lenin that now decorates a hospital corridor along with some flower pots.
But would not you agree that the government should have imposed stricter lockdowns.
The decision is made by representatives of all official fields, he points out, not just healthcare.
Difficult story
Raksha suggests that there is another reason why Russians don't care about the dead like others: this country has experienced terrible upheaval in its recent past, with the collapse of the Soviet Union.
"Europeans or Americans have not experienced bad times like the 90s in Russia," says the demographer.
"It was worse than the Great Depression in America. Compared to those times, which Russians still remember, this covid crisis is nothing."
The tens of thousands of families directlyAffected people do not think it is "nothing", of course.
But Russia's official narrative, broadcast to the living rooms on state television, is that it has managed this pandemic. better than most: that the country is on the road to recovery, just as Europe slides into another miserable cycle of restrictions.
The awkward numbers are hidden here. The stories of the dead are simply not told.
Now you can receive notifications from BBC Mundo. Download the new version of our app and activate them so you don't miss out on our best content.

www.bbc.com
Eddie is an Australian news reporter with over 9 years in the industry and has published on Forbes and tech crunch.