Norberto Paredes @norbertparedes
BBC News World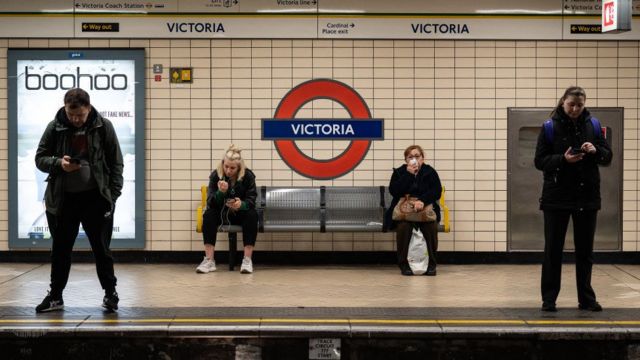 With cars, merchants and pedestrians everywhere, the streets of central London already resemble what they were before the pandemic.
On July 19, the British government plans to lift the few remaining restrictions, allowing much of the country to return to relative normalcy.
English nightclubs will reopen their doors, social distancing will no longer be mandatory, social events will no longer have a guest limit and even wearing masks will be optional, British Prime Minister Boris Johnson announced on Monday.
"If we don't move on now that we've done so much with the vaccination program to break the link (between infections and hospitalizations), When we will do it?", asked the president.
His plan will be confirmed on July 12, after a final data review, and only applies to England. The country's three other nations, Scotland, Wales and Northern Ireland, independently handle their health affairs and have decided to wait a little longer.
Many view the central government's decision skeptically, at a time when the number of coronavirus infections does not stop increasing.
"Ending the requirement to wear masks in public transport would be an act of gross negligence on the part of the government," criticized this Monday Bobby Morton, spokesman for the Unite union for workers in the sector.
"Infection rates continue to rise and the use of masks not only reduces transmissions, but also helps reassure drivers and passengers who are nervous about using public transportation," he added.
On July 5, the UK registered 27,334 new cases of coronavirus, 4,466 more than the previous week. The contagion curve has been steadily increasing throughout the country since the end of May, driven by the delta plus variant.
Also known as AY.1, this new mutation spreads faster, binds more easily to lung cells, and is potentially resistant to monoclonal antibody therapy, a powerful intravenous infusion of antibodies to neutralize the virus.
Use of optional masks
The controversial announcement of the prime minister to make the use of masks optional has sparked an intense debate in the country.
According to the president of the British Medical Association, Dr Chaand Nagpaul, it makes no sense to stop wearing masks in closed public spaces under the current circumstances.
"It has been shown that masks reduce the spread of this infection and we cannot understand why, at a time when there are exceptionally high levels of cases, we would want (more) people to become infected, "he said in an interview with the BBC's Today program on Monday.
Despite criticism, the government alleges that the country "will have to learn to live with covid" and will have to find ways to deal with the virus "exactly as we already do with the flu," as the newly appointed Minister of Health, Sajid Javid, specified.
Virologist Julian Tang of the University of Leicester agrees that we may have to learn to live with COVID-19, but thinks the matter could be treated with more caution.
"You can keep the mandatory use of masks indoors and relax social distancing measures to some extent. Nor do you have to do everything at once", he tells BBC Mundo.
"When winter arrives, maintaining the use of masks indoors will be vital, because the health system will be dealing with many cases of covid-19, in addition to flu and other respiratory viruses, and the staff will be under a lot of pressure," he adds .
The professor of Respiratory Sciences points out that he is not opposed to reopening the country, but believes that lifting all restrictions at the same time is "risky and reckless."
According to a YouGov poll released Monday, the 71% of the people questioned They said masks should remain mandatory on public transport for some time after restrictions are lifted, while only 21% do not consider it necessary.
66% of respondents supported the mandatory use of masks in closed shops and public places for an additional period of time, while 27% opposed it.
Less deadly
Although the number of cases is currently high, deaths have remained relatively low, suggesting that the UK's advanced vaccination program has made the virus less deadly.
This Monday, there were only nine deaths from coronavirus, within 28 days after a positive test, despite more than 27,000 new cases.
With a similar number of infections (25,366), but with a lower vaccination rate, Colombia reported 570 deaths the same day.
In January this year, one in every 60 cases of infected people in the UK resulted in the death of a patient; today the risk of dying after contracting the virus is less than one in 1,000 cases.
The number of hospitalizations has also dropped dramatically.
The government's plan once again makes the UK the world's laboratory. No other country has tried to lift restrictions amid a rapid increase in cases.
The risks
The British government is thus betting on the immunity wall built by its vaccination program. But as the summer wears off, the outlook could change dramatically.
"Once the restrictions are lifted, the number of infections will continue to increase and, in winter, some cases of coronavirus in asymptomatic older people will become more severe," explains virologist Julian Tang.
"In addition, for that period it is possible that older people, who were vaccinated in January or February, are already losing the antibodies. It is true that there is already talk of a third dose for the fall, but obtaining and distributing those vaccines will take several months, "he continues.
"All of that will be difficult to handle, considering that, at the same time, older populations will have to get the flu vaccine."
Tang believes that people are overestimating vaccines And remember that some of them are not as effective compared to the variants that are currently circulating.
There are also not many details about persistent covid-19 and its effect on people who have already been vaccinated.
¿What restrictions are expected to be lifted?
The rule of maintaining social distance of more than 1 meter (except in some situations, such as ports of entry to the country and certain medical settings).
There will be no legal requirements that require covering the face (but its use in hospitals and closed and crowded public spaces will continue to be recommended).
Nightclubs will be allowed to reopen their doors.
Social contact will no longer be limited.
There will be no limits on the number of guests at weddings and funerals.
There will also be no limits to the number of people at concerts, theaters or sporting events.
Fully vaccinated people will not have to isolate themselves after coming into contact with people infected with COVID-19.
Alejandro Madrigal, professor of hematology at University College London and an expert in immunology, believes that both economic and social factors push for decisions like that of the British government.
"There have been many promises that this would end quickly and it is normal for countries to want to get out of the health crisis ASAP".
Madrigal does not doubt that the cases will increase, but believes that the indicators on which the Boris Johnson government relies to lift all restrictions allow him to conceive that, despite the increase, there will be less severity in the cases.
However, he considers it necessary that people continue to protect themselves and maintain "a bit of social distance", due to the delta variant and "other mutations that may arise."
"There have been cases of fully vaccinated patients who have had to be hospitalized. This shows that although the vaccine protects, we still have to maintain some protection mechanisms".
In a few months it will be seen if the British government's decision was the right one or if, on the contrary, it turns out to be another error of judgment.
"The United Kingdom has been an example in terms of the high vaccination rate that has been achieved in the population. In this new world laboratory we learn from those who respond well as from those who respond poorly," he says.
This Mexican-born scientist affirms that he will continue to use a mask in closed and crowded places, in addition to maintaining social distance "whenever possible", despite already being fully vaccinated.
"It is likely that we will have to wait between six months and a year to find out how this pandemic is finally going to be controlled," he concludes.
Now you can receive notifications from BBC Mundo. Download the new version of our app and activate them so you don't miss out on our best content.

www.bbc.com
Eddie is an Australian news reporter with over 9 years in the industry and has published on Forbes and tech crunch.