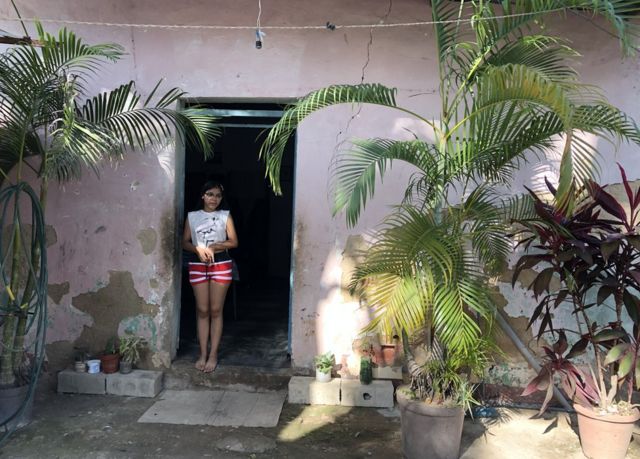 Being the neighborhood teacher was a role that Valeria Torres, a 16-year-old Venezuelan, did not expect to play, but it was her turn when the word began to spread.
First a cousin came to her, then another … and she was followed by neighbors, whose education was adrift due to confinement due to the covid-19 pandemic and the closure of schools.
So Torres improvised a kind of classroom at his home in Maracay, a city in central Venezuela, and placed the dining table just outside the front door, the only corner where natural light enters.
There BBC Mundo finds her sitting, among stacked books and notebooks, ready to receive her next student.
"My cousins ​​did not understand (their tasks) and they needed help. As it was within my power to help them, I helped them, and then more children who were not my family arrived," he says while attending a long list of duties that he has to deliver. in a few days.
There was a time when there were 10 students in that same room, also classmates from his school.
It is not a small thing for this small house of blocks and a zinc roof in the La Pedrera neighborhood, where Valeria lives with her mother, her brother and five other people.
In December, for example, "there were so many things to do, in addition to my tasks, that I felt that I could no longer. But I had to do it," says the young woman.
So in January he began to take care of each child separately.
"I can't attend all of them together, so first I ask each of them the due date of their homework, and those who have to deliver faster I attend first. I try to help one child per day, to save time also for me and do my activities, "he explains.
At home, nothing seems to deconcentrate her: not the crowing of a rooster that comes from the dirt patio, not the scampering of other children, not the movement in the kitchen, where her mother prepares some beans. Valeria stares at the notebook, through her thick black-rimmed glasses.
The young woman supports students between 4 and 16 years old who, like her, have been out of school for almost a year and suffer from poor distance education.
He does it while face-to-face classes are resuming, something that, as announced by President Nicolás Maduro, will take place next month, when schools have been closed for one year.
"In March we will start the face-to-face, partial classes, with biosecurity at the level of the entire educational system Venezuelan, "said the president on Friday, during an activity in the government palace that was broadcast on state television.
"We are controlling the pandemic and with biosecurity measures and the arrival of vaccines we are going step by step," he added, referring to the 100,000 doses of Russian Sputnik V that were about to arrive in the country.
Indeed, that initial batch of the total of 10 million units agreed with Moscow arrived on Saturday and will be applied in the first instance to medical personnel and vulnerable people, and to teachers later.
Online education and prerecorded classes
The closure of schools was decreed in March 2020 as a result of the pandemic, which has left a little more than 130,000 positive cases and 1,233 deaths, according to official figures questioned by oenegés.
Like in other countries, the Venezuelan authorities opted for teaching online and offering prerecorded classes on the state television channel.
"Distance education, without a doubt is the best," said President Nicolás Maduro in September. "Each family, a school, do not worry, we will maintain the educational services of the country via online and with teleclasses".
"In this distance education we include everything, absolutely everything, all communication, digital, television, radio platforms, social networks, the website (…) and we were gaining experience because we were not prepared for teleclass or for television education, and we have been making progress, "Education Minister Aristóbulo Istúriz added in January, during an interview on the government channel.
However, these alternatives have been strongly criticized during these months from various sectors, both because of the very poor internet service in Venezuela and the content of the classes.
"Between 80 and 90% of students are affected by a system where does not learn anythingBecause there is no platform that works for it, "Orlando Alzuru, president of the Venezuelan Federation of Teachers, told BBC Mundo.
The Venezuelan educational system, in which some 7,100,000 students are enrolled according to figures from the National Institute of Statistics, was already hit before the pandemic by the deep economic crisis of recent years.
"Distance education is not suitable for the Venezuelan systemIt is a very big scam to the nation, "added Alzuru after recalling the constant electricity and internet failures and the low purchasing power of teachers and families to buy technological devices.
BBC Mundo contacted the Venezuelan Education authorities to assess the distance education offered this year, but did not receive a response.
A cell phone and a dollar
For Valeria and her students, the lessons online are not an option: they don't have fixed internet at home. And neither are televised lessons.
The improvised teacher assures that she was always a good student and that she is very disciplined.
Proof of this is the letter-size sheet that he fixed in his refrigerator with some magnets in the shapes of the letters and in which he reads a list of all the tasks that he has to deliver in the next few days. Out of 10, he has already advanced four.
"I don't have a lot of free time," he acknowledges. And it is that his day divides it between his own responsibilities and the commitment acquired with his students. "But when I have it, I take it to see my friends or sleep."
On Saturday afternoon that BBC Mundo is at home, one of them, Valery Castañeda, 13, visits her.
It is not a day with a lot of workload, so the two friends take the opportunity to catch up.
"We come here to do our homework," explains Valery, who is in seventh grade (first year of secondary school) and says that since the closing of the schools, he has not received a lesson or an explanation. "Nothing".
"My teacher doesn't teach me, she just sends me my homework on WhatsApp"continues the young woman, who also does not have internet at home and with what little her mother can help her, she goes to Valeria so as not to lose the year.
Valeria helps herself with a cell phone: she recharges it with a dollar —The equivalent of an official monthly salary— every two days, which he tries to perform at his best by browsing only to investigate topics related to his tasks and those of his students.
"It is not enough for me to investigate all that is mine or that of the people I help, it is very difficult," he says, and when he finishes doing so he disconnects the device from the mobile network so as not to consume so many megabytes.
"The parents of the companions, despite the pandemic and the high cost of living, sometimes help her with what they can and give her money that is useful for her internet," explains her mother, Laura Guzmán, a hairdresser. at home that does not have a fixed salary.
Valeria clarifies that she did not start teaching expecting some kind of remuneration, although she admits that this money sometimes helps her at home.
"Sometimes I want to eat something and there is not enough or it is not enough for everyone, because there are many of us. I cannot be selfish and I tell my mother to grab it to buy."
Valeria's fears
She is not the only one who contributes to the family. Her older sister, Valentina, went to Chile and from there she sent her mother the US $ 30 rent for the little house in La Pedrera.
– Would you like to leave the country like her?
"I would be a little scared," he confesses.
He also has another fear: "That when he enters the university he does not have any knowledge" due to the learning stop during the pandemic.
That's why she doesn't let her guard down, something she learned from her mother, the person she claims most admires.
"Even if he doesn't know how to do something, he tries and succeeds," he says of her, who has also had to dust off what she learned decades ago to help her daughter out.
Meanwhile, Valeria is looking forward to returning to face-to-face classes, and already has a plan for when she finishes high school: she will study law.
"No, I don't like it," he assures with a smile. "I have no patience for children."
Now you can receive notifications from BBC News Mundo. Download our app and activate them so you don't miss our best content.

www.bbc.com
Eddie is an Australian news reporter with over 9 years in the industry and has published on Forbes and tech crunch.